To say that Tesla Motors (NASDAQ:TSLA) has had a good year would be the king of understatements. In the year-to-date, Elon Musk's electric car wunderkind has seen its shares rise by nearly 210%, making the respectable 16% gain of the S&P 500 look like the epitome of underperformance.
Tesla Vs. S&P 500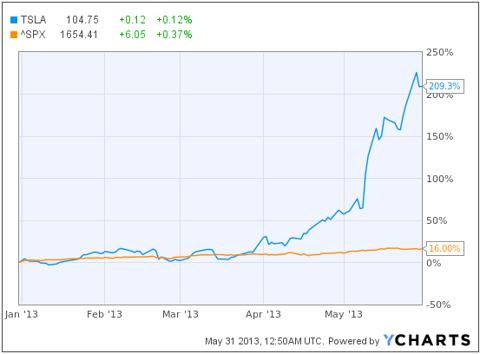 Source: YCharts
As the chart above illustrates, Tesla had been performing roughly in-line with the S&P 500 for much of the current year. However, this began to change in April, when the stock began what's been a stratospheric run that has been driven by two things: better-than-expected earnings and Tesla's unveiling of its "Supercharger" network.
A company that just earned 8-cents a share in its most recent reporting quarter shouldn't exactly be a stock market darling - but Tesla isn't just any company to investors. In many ways, it represents the future: worldwide sales of plug-in electric vehicles are expected to grow by 54% on a compound basis over the next eight years from just 120,000 vehicles in 2012 to 3.8 million by 2020. That's around 6 times the 9.3% annualized growth rate in the sales of cars in the United States this year.
That so many electric vehicles are expected to be sold is a sign of the times: with pump prices at well over $4 per gallon in some states and averaging over $3.60 throughout the nation, the impetus to shift away from fossil fuels remains strong. That said, some analysts anticipate that oil prices could fall by $20 a barrel from their current levels - which would presumably dampen the outlook for electric vehicle sales.
That's a fool's wager: even at $60 a barrel, oil prices would be at triple their level in 2001. What's more, the dip in oil price expectations is a result of the sluggishness in Chinese output, with the IMF recently cutting estimates for China's GDP growth.
Yet Chinese authorities could very well reverse-course on their decision to let the Chinese economy find its own footing and let Chinese businesses get used to the "new normal." What's more, recent policy changes in Japan and the green-shoots of stimulus in the Eurozone mean that the world economy's overall output could accelerate sooner rather than later - particularly since China is a major exporter to both these economies. In effect, a bet on falling energy prices is a bet against a re-acceleration of an economy that is still the fastest growing in the world.
In short, we do not anticipate that a fall in oil prices will significantly shift the demand landscape for electric vehicles.
Supercharge Me
Let's get this out of the way: Tesla isn't going to win any awards for best fundamentals or earnings per share. Currently, Tesla is expected to break-even in 2013 and earn around a dollar per share in 2014. Consequently, its forward P/E is something in the region of 107x - hardly an argument that the stock is undervalued.
What's more, Tesla isn't exactly cash rich. As can be expected from a company still in a relatively early state of its development, Tesla's quick and current ratios are well below those of its industry peers, although at levels still acceptable for a company its size. It also has more debt than its peers do, with $2.70 for every dollar of equity, compared with just $1.43 cents for every dollar of equity for its peer group.
What this means is that Tesla can't indulge in frivolous exercises since it has to husband its resources closely - any significant moves that its management makes are likely to be moves that are expected to yield the best results.
Where Tesla's story is compelling is in its future prospects: EPS is forecasted to grow by nearly 33% a year over the next five years - that's more than double the growth rate of automakers as a whole and is faster than industry leaders such as Ford and GM. Oddly, Tesla's growth rate trails Toyota's (NYSE:TM) 44% expected rate in the same period, with the Japanese automaker benefiting from its plans to assemble cars in China as well as possibly receiving a growth dividend from "Abenomics" in its home market.
That 33% growth rate might be understating things: Tesla's rollout of its Supercharger network to most major cities in the U.S. and Canada over the next six to eight months should enable it (and possibly other automakers keenly monitoring Tesla's moves) to overcome one of the biggest hurdles to its vehicle's wide adoption: short battery life preventing long-distance driving.
Success in this area could result in revenue growth rates that much faster than the 360% Tesla's expected to post this year. Indeed, half of the analysts covering Tesla upgraded their estimates for 2013. Oddly, however, only 20% upgraded their forecasts for 2014, which means that most are taking a wait-and-see approach towards Tesla's recent moves.
While we appreciate analysts' caution, our view is that Tesla's growth rate should hew more closely to what's expected for the industry in the long run - in that sense, 25% revenue growth for 2014 is probably going to come in on the low side, especially if its Supercharger bet succeeds.
We Like Tesla, But…
Our main concern with Tesla is that its recent valuation may have overtaken its success - anytime a non-Penny stock rises 200%, it opens itself up for profit-taking if its execution is less-than-perfect. That's where Tesla needs work: barring its first quarter surprise, it has missed expectations in two of its past four quarters. It needs to bat closer to 100% over the next few quarters to justify investors' optimism.
As such, we would recommend taking positions in Tesla only during a correction. There is no doubt that Tesla has good prospects - and could very well represent the future of the American automotive industry - but it may have gotten ahead of itself.
Disclosure: I have no positions in any stocks mentioned, and no plans to initiate any positions within the next 72 hours.
Business relationship disclosure: Black Coral Research, Inc. is a team of writers who provide unique perspective to help inspire investors. This article was written Jonathan Lara, one of our Senior Analysts. We did not receive compensation for this article (other than from Seeking Alpha), and we have no business relationship with any company whose stock is mentioned in this article. Black Coral Research, Inc. is not a registered investment advisor or broker/dealer. Readers are advised that the material contained herein should be used solely for informational purposes. Investing involves risk, including the loss of principal. Readers are solely responsible for their own investment decisions.