By Stuart Burns
As this graph shows, in spite of greater exports, the domestic rare earths prices in China continue to fall.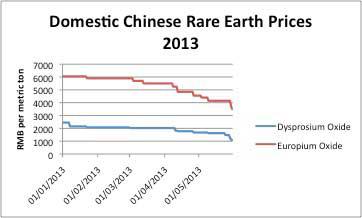 Source: MetalMiner IndX
Although this graph only tracks one heavy rare earth and one light rare earth, the trend is similar across the board. After appearing to stabilize for a while in February and March, prices have recently fallen again.
Some analysts are suggesting prices have troughed. Morgan Stanley is reported in Resource Investing News as saying prices could start to come back up following another 12% across-the-board price decline in May. The bank does add a caveat, however; that more supply from Molycorp and Lynas Corporation in the second half of this year could put more downward pressure on prices.
And there lies the great unknown: when China had a near-monopoly on rare earth metals, it could indeed control the price, although not very intricately. As much material was illegally exported as it was legally, making control difficult and, in part, leading to the severe clampdown on illegal mines.
But now China's control over the supply chain is threatened not from within, but from without.
New suppliers like Molycorp (MCP) and Lynas (OTCPK:LYSCF) are already significant-enough producers to influence the price (Molycorp is running at about 7,000 tons per year, compared with China's current run rate of some 20,000+ tons per year), and with ongoing investment likely to raise this figure, China's days of having a stranglehold on the market are, if not over, then at least severely limited.
Greater demand from Japan and a recovering US market should, in theory, lift rare earth prices as Morgan Stanley predicts, but there is no evidence of that so far.
A period of better availability and stable prices would certainly benefit consumers, and after the volatility of recent years, would go some way to slowing the demand destruction that resulted from high prices and supply uncertainty in the wake of China's attempts to control its supply market.