The higher consumer sentiment and increasing personal income numbers have drawn me towards investing in high-end retailers. A few of these companies traded on the NYSE are Michael Kors (KORS), Ralph Lauren (NYSE:RL), Coach (COH), and Estee Lauder (NYSE:EL). KORS and COH focus on handbags, wallets, shoes and, like RL, sell other accessories and wearables. EL sells higher-end skincare. Through 2014, I see a rise in the luxury retail sector, but I prefer to invest in individual companies instead of ETFs.
Over the past year, KORS has significantly outperformed EL, RL, and COH. KORS was up 65%, EL up 27%, RL up 19%, and COH down 12%. Using five metrics, I believe Michael Kors has the most to gain, followed by Coach, while Ralph Lauren will likely underperform its competitors. I am fairly neutral towards Estee Lauder. Using DCF analysis (data shown at the end), the implied growth rates of these KORS, RL, COH, and EL are estimated. I will use net revenue and income growth, comparable store sales, international exposure, return on invested capital, and fashion trends to determine which retailer is most attractive.

1. Implied Growth Rates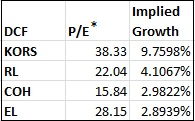 *The implied growth on EL is lower than those of RL and COH, despite the lower P/E, because free cashflow was used to calculate the implied growth rates.
KORS, the most recent of its peers to IPO, has very high growth expectations. Sales increased 63% and 69% from 2011 to 2012 and 2012 to 2013 respectively. Gross margins increased from 59% in 2011 to 62% in 2013. Only 17.5% of KORS' sales are generated outside of the U.S., leaving high potential for growth through expansion in emerging markets. Alongside, SG&A expenses, as a percentage of revenues, have decreased from 37.7% in 2010 to 28.5% in 2013, demonstrating that KORS has been able to effectively take advantage of economies of scale.
RL, given its performance over the past few years, may find difficulties achieving the market's estimated implied growth rate. Sales increased 1.2% (2.9% without any adverse currency effects) in 2013. In 2012, revenues increased 19.3%, also excluding currency effects. In 2011, revenues grew 13.7%, but without acquisitions and currency effects, the adjusted growth rate was 10.8%. SG&A expenses, as a percentage of sales, consistently remained around 43%. RL currently only generates 13.1% of its revenues from Asia, so its May 2011 Asia-Pacific Restructuring Plan and E-Commerce Expansion has significant upside potential. However, I am still skeptical of the efficacy of RL's Asia-Pacific Restructuring Plan since, despite the 46% increase of sales in 2012 in Asia, sales in Asia fell 6% in 2013.
COH revenues, if 4Q2013 analyst revenue predictions are correct, will increase 6.1% in 2013. The previous year, sales, without currency effects, increased 13.6%, and in 2011, 13.3%. SG&A expenses also remained consistent, at 41%. The majority of sales (89%) are made in Hong Kong, Macau, mainland China, Singapore, Taiwan, and through the internet. Since COH already operates in higher-growth markets, expansion would need to be made in less-attractive emerging markets. Along with slowing top-line growth, COH may find it difficult to increase sales. Despite this, the low implied growth rate of COH leads to attractive upside potential.
EL has been gaining ground in the three regions it operates in: The Americas; Europe, the Middle East & Africa; Asia/Pacific. Each of its product categories, skin care, makeup, fragrance, and hair care, has also been growing year-over-year. However, this trend is increasing at a decreasing rate. In 2011, 2012, and 2013, respectively, the company grew revenues 13%, 10.3%, and 5% (if analyst predictions for EL's fourth quarter are correct). However, EL has been able to increase gross margins from 76.5% in 2010 to 79.5% in 2013. Operating margins have increased from 10.1% to 13.5% in the same period. EL may find it difficult to further attain growth through margin expansion since its gross margins are already so high. By comparison, Christian Dior's operating margin for their perfumes and cosmetics group for 2012 was 14.9%, so there may still be room for EL to increase operating margins. However, EL's slowing growth and already high gross margins may make it difficult to increase profits.

It appears KORS, if it can sustain its current trajectory, can easily beat the 9.8% implied growth rate from the DCF calculation. Conversely, RL will need to adjust its business model to attain its implied valuation.
2. Comparable Store Sales
Analyzing comparable store sales will help us determine if growth is attained through store count expansion or through additional demand. Higher comparable store sales show that each store is generating more revenue, which is much more sustainable for growth.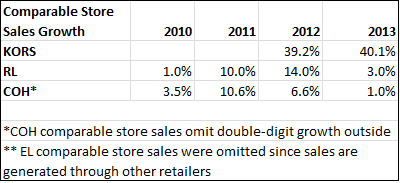 Michael Kors has achieved very high same-store sales growth, while Coach and Ralph Lauren are lagging.
By analyzing the number of stores each retailer has, it is clear that KORS is expanding the most, increasing its store count significantly. This trend will likely continue as KORS' cashflow from operations increases (223% increase in CFO since 2011). In 2013, RL's revenues increased only 2.9% due to the closing of 867 stores and a 3% increase in comparable store sales. If this trend continues, RL will eventually experience negative top-line growth. Similarly, COH is shutting down its stores, though growth is primarily driven through internet sales.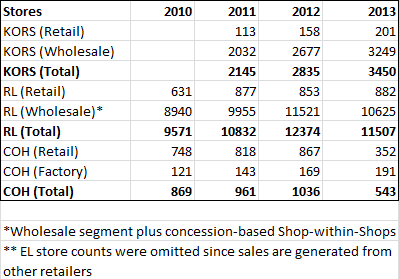 3. Currency Exposure
With the rising U.S. dollar, heavy QE in Japan, and the (since February) depreciating Euro, international exposure, despite larger markets, will hurt revenues.
Michael Kors, in 2013, only generated 6.1% of its sales from Europe and 1.3% in Japan. Ralph Lauren generates 37% of its revenues outside of North America, which makes it much more susceptible to currency shocks. Specifically, 21% of sales are from Europe, and 12% from Asia. Coach is even more susceptible to currency shocks, with 48% of sales coming from international regions, particularly China and Japan. Coach's first quarter 2013 earnings showed a 40% increase in sales in China. However, currency exposures may give Coach a boost as the Yuan appreciates against the USD. Finally, Estee Lauder generates 37% of its sales from Europe, the Middle East, and Africa, and 21% from Asia. Similar to RL, EL may be hit hard with the depreciating Euro and appreciating USD. Thus, KORS, which has the least international exposure, will likely be less affected by currency shocks. RL and EL will suffer from the depreciating Euro, while COH may gain due to the appreciating Yuan.
4. Return on Invested Capital
So how well do these companies create value for investors? The return on invested capital can be used to determine this. COH's ROIC by far exceeds those of KORS, RL, and EL. However, KORS' ROIC is on an upward trend, while COH's ROIC may have stagnated above 50%. By comparison, this shows that there is still room for KORS' ROIC to grow (to COH's level). EL's ROIC is also increasing, albeit at a much slower pace than KORS. Using ROIC analysis, KORS, COH, and EL are attractive investments, while RL, although still generating positive returns, may underperform its peers.

5. Fashion Trends
It is very important for these luxury retailers to set and follow the fashion trends each season. KORS has been successful in this regard. Michael Kors topped the ten most searched American fashion brands worldwide ranking put together by Digital Luxury Group and published in February 2013. Ralph Lauren came in third. Estee Lauder was the second most searched luxury brand in China in its industry, beat out by Chanel. Coach in China was out-searched by Louis Vuitton, Chanel, Gucci, and Burberry. However, Coach is the most-searched luxury handbag brand. This is particularly important since 65% of Coach's revenues come from handbags.
These trends can also be viewed through analyzing gross margins. Since 2011, KORS was able to increase its gross margins 440 basis points, significantly more than each of its peers, implying that consumers are either willing to pay more for KORS' merchandise or that KORS has been able to get better deals from its suppliers.

Conclusion
KORS outshines its competitors in each category. High overall growth, comparable store sales, increasing gross margins and return on invested capital lead KORS to be, in my opinion, the best investment among its peers, RL, COH, and EL. Ralph Lauren may underperform its peers as growth stagnates, although its Asia-Pacific Restructuring Plan could pick up steam. However, since the implied growth rates of COH and EL are lower than RL's, despite the higher revenue growths achieved in previous years, money should be placed in companies other than RL.
Coach's 2.3% dividend yield, along with growth potential and its high return on invested capital, also make this company an attractive investment. Although growth should be lower than Michael Kors', the dividend will make COH well-suited for a value-oriented investor.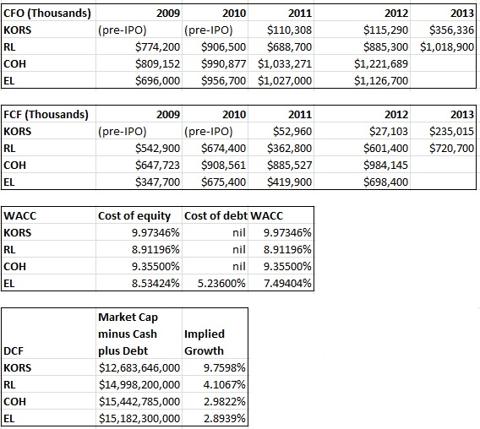 Disclosure: I have no positions in any stocks mentioned, but may initiate a long position in KORS over the next 72 hours. I wrote this article myself, and it expresses my own opinions. I am not receiving compensation for it (other than from Seeking Alpha). I have no business relationship with any company whose stock is mentioned in this article.