The share price of Pricline.com (PCLN) has risen by 32% over the past 12 months and is currently near its 52-week high. Despite the recent small pullback, I believe investors should buy the shares on any price weakness at the moment. My view is based on the following reasons:
1. Priceline offers a great growth potential, but the stock is still trading at an attractive valuation relative to its peer. According to the chart shown below, Priceline's consensus 2-year EBITDA and EPS growth estimates are generally in line with Expedia's (NASDAQ:EXPE), while the company's 2-year revenue and 5-year EPS growth forecasts are considerably above those of the peer. On the profit side, Priceline's various profitability margins and capital return metrics are also significantly above Expedia's. In terms of leverage and liquidity, Priceline carries a lighter debt load as reflected by its lower leverage ratios. Both firms' free cash flow margins are fairly consistent, but Priceline's interest coverage ratio as well as its current and quick ratios are much higher than those of Expedia, reflecting a healthy debt service and balance sheet condition.

Despite Priceline's superior long-term growth potential, robust margin performance, as well as its healthy liquidity position, the stock's forward P/E multiple is only 18% above Expedia's. After accounting for the 5-year earnings growth estimate, Priceline's 5-year PEG ratio is even 30% below Expedia's figure, suggesting a tempting valuation on a relative basis (see chart above).
2. Priceline's forward P/E is currently trading at a 32% premium over the same multiple of S&P 500 Index (see chart below).

However, this somewhat sizable market premium still presents a good entry point provided that 1) the current premium is notably below the 12-month average at 41%; and 2) Priceline's consensus revenue, EBITDA, and EPS estimates have experienced multiple upward revisions over the past 9 months and the current figures are largely above the historical levels (see charts below).


In addition, the notable market premium should also be warranted by the following facts:
1) Priceline's 5-year earnings growth estimate at 21% is substantially above the average estimate of 8.2% for the S&P 500 companies.
2) Priceline also offers a superior profitability with robust margins and capital returns, which are substantially above its industry and the market averages.
3) Moreover, Priceline enjoys a solid market share in the online travel agent ("OTA") services sector, which is currently experiencing tailwinds such as the shifting of consumer travel booking habit from offline to online and mobile device migration.
3. From a historical standpoint, the current stock valuation appears completely reasonable. The stock's trailing P/E multiple is now trading slightly below its 5-year historical average (27.8x vs. 29.1x) (see chart below).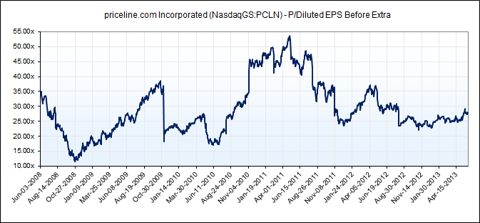 While Priceline's historical revenue, EBITDA, and EPS figures and the future consensus estimates for the current and next 2 fiscal years are showing a modestly declining trajectory, the company has been able to drive up its capital return and profitability margins over the past 5 years (see charts below).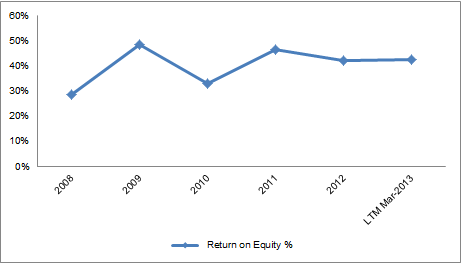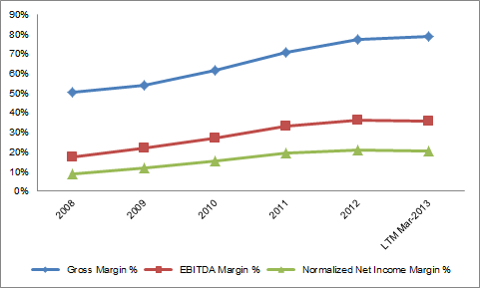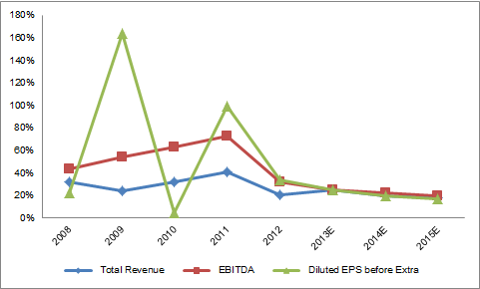 4. Market sentiment on the stock remains strong. Of the total 26 analyst ratings compiled by Thomson One, there are four strong buy and 19 buy ratings. Both Deutsche Bank and Cantor Fitzgerald upgraded their ratings to buy in May. In a Deutsche Bank research note dated May 20, Ross Sandler commented on the company's prospects, which I tend to agree with (sourced from Thomson One, Equity Research):
"PCLN is the clear global secular winner in the OTA space, owing to its unique supply footprint, industry-high growth rates and margins, and over-exposure to our preferred international hotel bookings. We believe it should start to see margins stabilize in 2H13 as it comps the negative ROI period that began in mid-2012. Earnings should grow at a 20% CAGR over the next 3 years, which should allow PCLN's multiple to expand back to 20x EPS, the upper end of its historic range. Our prior concerns around competition and margin compression are well understood by consensus, hence if trajectory improves, we see upside to consensus."
Bottom line, given the solid fundamentals and inexpensive valuation, I believe the recent price drop is just a small hiccup and investors should acquire the shares on weakness for an attractive risk-reward potential.
All charts are created by the author except for the consensus estimate tables, which are sourced from S&P Capital IQ, and all financial data used in the article and the charts is sourced from S&P Capital IQ unless otherwise specified.
Disclosure: I am long PCLN. I wrote this article myself, and it expresses my own opinions. I am not receiving compensation for it (other than from Seeking Alpha). I have no business relationship with any company whose stock is mentioned in this article.