Concerns that interest rates are going to rise has caused many bonds to decline sharply in a short period of time. While the 10-year U.S. Treasury bond yield has moved higher, it is still around 2%, which is really not much to get excited about. Furthermore, we have seen sharp pullbacks like this before, and in the past few years, it has been a great buying opportunity.
There are a few reasons why this pullback appears to be a solid buying opportunity. First of all, the move down has seemingly been too far and too fast, especially in closed-end funds. That has created an oversold level for the bond sector. This could also indicate a sharp "snap-back" rally is possible from currently oversold levels, which is something we have seen before. In addition, while bond yields have moved up a bit, an even larger move in rates seems unlikely because the economy is still not very strong. Recent economic data in the United States and China have both been very underwhelming. We are also still in a low interest rate environment, so many investors are still going to want high yields even if the 10-year bond has moved from a 1.8% yield to just over 2% recently. Finally, the move in interest rates is likely to crimp some demand for housing and that could snuff out economic growth for that sector in the coming months. If that happens, fears about higher rates and the Federal Reserve tapering will seem very overblown in hindsight and this will turn out to be a great time to "be greedy when others are fearful" as Warren Buffett says.
I agree that investors should be selling slow growth stocks with a 2% or 3% yield, but the baby has been thrown out with the bath water because nothing so big has happened in the economy to make yields of about 7% or even more, unattractive. Here is a closer look at two oversold high-yield picks that could be poised to offer investors very generous dividends and even rebound potential from the recent pullback:
Invesco Van Kampen Advantage Municipal Income Trust (NYSEMKT:VKI) is a closed-end municipal bond fund that primarily invests in higher-yielding bonds. It was trading around $12.80 just a couple of weeks ago, but what appears to be irrational selling has pushed these shares to about $12. Closed-end funds or "CEFs" can trade for a premium or a discount to the net asset value and savvy investors can take advantage of periods of volatility like we see now. In fast moving markets, some CEFs may not have high levels of liquidity and that can cause the share price to drop well below reasonable levels. As of June 3, 2013, this fund has a net asset value of $12.71 and that implies a discount of about 4.33% since the current share price is about $12.16.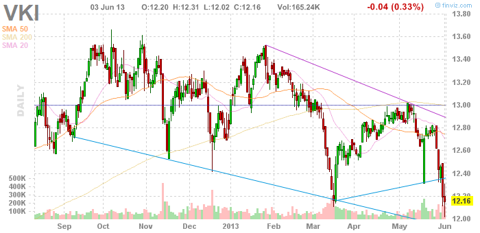 As the chart shows, this stock also experienced a sharp pullback to the low $12 level in March. However, that was a major buying opportunity and the shares rallied all the way to about $13. Now we have another sharp decline, which appears to be a buying opportunity. With these shares showing strong support in past sell-offs at about $12, the downside risks might be limited at current levels. This is another strong reason to consider buying now.
This fund pays a monthly dividend of just over 7 cents per share and this provides a tax free yield of nearly 7%. When factoring in the tax benefits, this is a taxable equivalent yield of nearly 11%. As of 5/31/2013, the average coupon is 5.55% and the average maturity is 16.63 years. There is some duration risk when buying longer-term bonds, but over the next 5, 10, or even 15 years, earning tax equivalent yields of nearly 11% is still likely to be very attractive. Since this is a closed-end fund, it seems that short-term risks like the pullback in the past couple of weeks is a risk factor. However, if you take advantage of these buying opportunities and purchase when the shares are trading below net asset value, you are likely to do just fine. One other big reason to consider the pullback as a buying opportunity is because municipal bonds are prone to seasonal weakness in April, and May, as investors sell some positions for tax bills, which come due around this time. This and other muni bond funds might be poised to shake off that weakness in the coming weeks.
Here are some key points for VKI:
Current share price: $12.16
The 52-week range is $12.02 to $14.26
Earnings estimates for 2013: n/a
Earnings estimates for 2014: n/a
Annual dividend: about 7.1 cents per month, which yields about 7% tax free
SPDR Barclays Capital High Yield Bond (NYSEARCA:JNK) is a solid option for investors seeking income. This fund invests in high-yield bonds that pay investors a very generous yield, and since it has a very diversified portfolio, downside risks are reduced. This is an
exchange traded fund rather than a closed-end fund so it always trades around net asset value. It is very liquid thanks to high volumes that are traded in this ETF, and this also reduces risks for investors.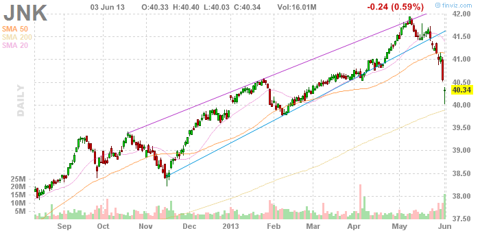 As the chart shows, this ETF was trading for about $42 in May, but a recent pullback of about 4% has created a nice entry point. Junk bonds are not as sensitive to interest rate risks that can come with an improving economy because when the economy gets better, credit quality generally improves and that can mitigate risks for investors. Also, junk bonds are typically shorter in duration when compared with municipal bonds and that also lowers risks. It's worth noting that this ETF has a 200-day moving average of about $40, and that means it is currently trading near a key support level. It also means that downside risks when buying at around $40 might be limited since this is such a strong support level. Nothing has changed so much in rates or in the economy to cause a yield of nearly 7% to be unattractive and that makes this pullback worth considering.
Here are some key points for JNK:
Current share price: $40.22
The 52-week range is $37.56 to $41.95
Earnings estimates for 2013: n/a
Earnings estimates for 2014: n/a
Annual dividend: about 21 cents per month, per share which yields nearly 7%
Data sourced from Yahoo Finance. No guarantees or representations are made.
Disclosure: I am long VKI. I wrote this article myself, and it expresses my own opinions. I am not receiving compensation for it (other than from Seeking Alpha). I have no business relationship with any company whose stock is mentioned in this article.
Disclaimer: Hawkinvest is not a registered investment advisor and does not provide specific investment advice. The information is for informational purposes only. You should always consult a financial advisor.