The recent media and investor frenzy in 3-D printing has been focused on pure play companies that are publicly traded such as 3D Systems (NYSE:DDD), Stratasys (NASDAQ:SSYS), and ExOne (NASDAQ:XONE). These companies have garnered this attention as 3-D printing continues to push forward making strong inroads into both the industrial and personal consumer markets. But prudent investors should consider the "3-D space" as a much larger entity, a jump in technological, industrial, and societal evolution and not as an industry with a handful of 3-D printing companies.
FARO Technologies (NASDAQ:FARO) is a company that should interest investors in the 3-D space as this article will illustrate.
Files before Form
There are many high-growth opportunities in the 3-D space beyond the few pure-play 3-D printing companies, and many can be found in the 3-D scanning and imaging industries. Like the personal computer and the Internet, 3-D printing and 3-D scanning have a synergistic relationship. Yes, 3-D printers can fabricate almost anything given to them but they need the schematics or a plan file first. These files are usually created using CAD (complicated computer-aided design) programs. While a myriad of CAD templates for 3-D printing already exists, the use of 3-D scanners and imaging technology will enable end users on both the consumer and industrial level to take a physical object and turn it into a digital 3-D model. Once the file is created from the scanner it can be modified or reproduced on a 3-D printer to create copies of the original object.
How much of a growth opportunity exists in 3-D scanning? More than most investors realize. In a research report out just this week from MarketsandMarkets, the CAGR (Compound Annual Growth Rate) of the 3-D scanning market is projected to be 26.7% over the next 5 years. According to the MarketsandMarkets report, 3-D scanning is now and will continue to be a larger global market than 3-D printing alone.
3-D Imaging Market Revenue and Y-O-Y Growth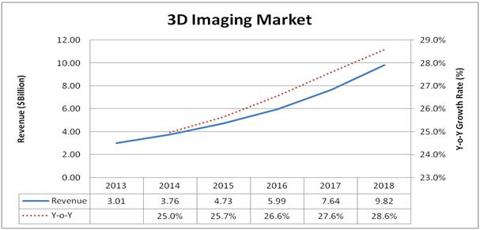 Source: MarketsandMarkets
The figure given above highlights the overall market opportunity in terms of absolute dollar value and year-on-year (Y-O-Y) growth. The global 3-D imaging market is expected to grow from $3.01 billion in 2013 to $9.82 billion by 2018, at an estimated CAGR of 26.7% from 2013 to 2018.
FARO Technologies
FARO Technologies bills itself as "The world's most trusted source for 3-D measurement technology." It develops and markets portable CMMs (coordinate measuring machines) and 3-D imaging devices that permit high-precision 3-D measurement, imaging and comparison of parts and compound structures within production and quality assurance processes, allowing companies to maximize efficiencies and improve processes. FARO has 15,000 customers who are operating more than 30,000 installations of its 3-D scanning products in The United States, Brazil, Mexico, Germany, The United Kingdom, France, Spain, Italy, Poland, Netherlands, India, China, Singapore, Malaysia, Vietnam, Thailand and Japan.
| | |
| --- | --- |
| Industry | FARO Customers |
| Aerospace | Boeing, Lockheed Martin, Northrop Grumman, EADS Airbus, Snecma, Rolls Royce, GE Aerospace, Nordam, BAE, Dassault Aviation, Hughes Brothers, Fiat Avio, Heggemann,Vought, Raytheon, Sikorsky, Bell Helicopter, Eclipse Aviation, Goodrich, NASA, KAI |
| Automotive/Motorsports | DaimlerChrysler, General Motors, Ford, Honda, Toyota, Nissan, Porsche, Volkswagen, BMW, Opel, Jaguar, Lotus, Audi, Aston Martin, Renault, Fiat, Vodafone McLaren Mercedes |
| Auto/Aero Suppliers | Johnson Controls, Magna, Faurecia, Securit St. Gobain, Plastic Omnium, Lear Corporation, Delphi Automotive, Thyssen, Webasto, Eberspächer, VDO, Karman, EDAG, Sommer Alibert, Contitech |
| Consumer Goods | Harley Davidson, Polaris, Bombardier, Xerox, Hewlett Packard, Mercury Marine, Amanda, Braun Corporation, Eastman Kodak, Miele, Steinway&Sons, Bulthaupt, Siemens Haushaltsgeräte |
| Electric Power Generation | General Electric, Westinghouse, Southern California Edison, ABB Power Generation, Hydro Quebec, Siemens, Voith Hydro, Turbo Care, Potomac Electric, Power Turbine Technology International |
| Heavy Equipment | John Deere, Case Corporation, Caterpillar, Komatsu Dresser, Clark Industries, Ingersoll Rand, AGCO, HAY and Forage, Renault Agriculture, Volvo Construction Equipment, Alstom, Thermo King, Dennis Eagle, Evobus, Linde |
Source: FARO Technologies.
FARO has just over 1,000 full-time employees with 12% of those in research and development. The company has a market cap of $640M and per Thompson Reuters a modest 5-year PEG ratio of 1.3.
Reaching beyond the growth in the 3-D scanning market, FARO is prepared to capitalize on the personal 3-D printing market. In April it launched a new application called "SCENECT," which allows personal users to quickly a complete 3-D model that can be processed in CAD formatting, thereby making the leap from scan to print. This software is based on its "SCENE" program used by industrial customers, which provides the same "Scan to Print" operation.
Scanning FARO's Fundamentals
| | | | |
| --- | --- | --- | --- |
| Year | 2010 | 2011 | 2012 |
| Sales in US dollars | $192M | $254M | $273M |
| Gross Margins | 59% | 56% | 55% |
| Current Ratio | 4.6 | 4.7 | 5.2 |
| Net Cash Flow | $14.9M | $8.7M | $27.9M |
| Cash and Equivalents | $50.1M | $64.5M | $93.2M |
| Diluted EPS | $ 0.68 | $1.39 | $1.34* |
Source: FARO 10-K
* The small decline in net in EPS was attributable in part to legal fees of $3.7M in fiscal 2012 associated with FCPA Monitor and Nikon Patent cases, both of which were substantially and favorably resolved during 2012. Earnings for 2012 were also negatively impacted by changes in foreign exchange rates on sales by $8.7M compared with 2011.
The selected fundamentals above justify FARO's stock outperforming both the Nasdaq and Morningstar Scientific & Technical Instruments composites.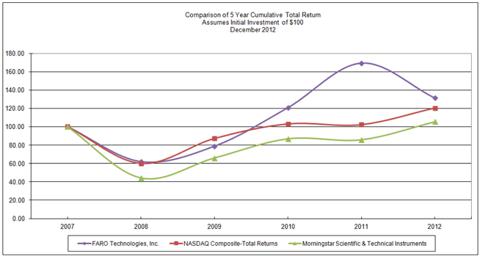 Analysts are expecting a return to higher growth, particularly in 2014.
Fiscal
Year End

Consensus
EPS Forecast

High EPS
Forecast

Low EPS
Forecast

Number of
Estimates

2013

$1.46

$1.60

$1.35

4

2014

$1.79

$1.85

$1.74

3
Source: Zacks Investment Research
FARO's Q1 of 2013 was slightly weaker than expected, coming in at .27/share versus analyst expectations of .28/share. In the first-quarter conference call CEO Jay Freeland commented that "The business climate across Europe and parts of Asia remains weak. CapEx budgets of many customers continue to be frozen or slow moving and financing is difficult to arrange particularly in China and India." Later in the conference call he also stated that "it does seem like at least the sentiment would appear that customers are going to feel more inclined to buy in the second half of the year," which historically has been FARO's strongest. During the first quarter FARO increased its sales and marketing headcount by 17.8% and its account manager headcount by 22%. The company expects to generate "meaningful sales volume" within six to nine months from expansion to new territories and additional depth in high-potential existing territories.
Strong Balance Sheet and Looking for Acquisition(s)
Despite a weaker first quarter, FARO managed to increase its cash and cash equivalents by $11M to just under $105M. It has an extremely healthy current ratio of 5.3, and reported in its First-Quarter 2013 filing that its capital, anticipated cash flow from operations, and credit facility will be sufficient to fund long-term liquidity requirements for the foreseeable future.
More intriguing, it appears ready to go shopping. CEO Jay Freeland commented in the Q1 conference call: "The types of the acquisitions that we look at give the opportunity to expand the portfolio, expand the complete offerings of the customer base, allow us to more aggressively penetrate the verticals that we tend to be best in and give us the opportunity to have a complete suite of products for those customers. There are several companies out there that are of extreme interest. And without saying where we would be in dialogue with any company for sure, the procedure of acquisitions is something that is of high interest."
New Patents and Increased R&D
Cutting-edge technology is short-lived technology. The companies that succeed are the innovators who judiciously and skillfully expand their research and development into new frontiers, and FARO appears to be doing just that. FARO has 257 existing patents and has filed for 16 new patents so far in 2013. During the period from 2010-2012, expenditures in R&D increased approximately 40%.
Year

Research and Development

Expenditures

Research and Development Headcount

Patents/Patents Pending

2010

$12.7M

87

133

2011

$15.2M

104

158

2012

$17.6M

104

257

Q1 2013

$5.1M

115

273 (as of 6/3/13)
Conclusion
The evolving 3-D space has already generated some extremely rewarding investments. Industry analysts now expect a 26.7% CAGR in 3-D scanning over the next 5 years, a rate that runs parallel to growth in 3-D printing. I believe prudent investors will consider companies operating in the 3-D scanning industry, especially those like FARO with "scan-to-print" products for both the personal consumer and industrial markets. Despite FARO's weak first quarter, I believe the stock is a buy based on the additional sales and marketing staff that should ramp up sales in the second half of the year. FARO has a history of steadily increasing investments in R&D and has a patent portfolio that doubled in the last two years. More significantly, FARO has a balance sheet that allows the company to go on an acquisition hunt with cash.
Disclosure: I have no positions in any stocks mentioned, and no plans to initiate any positions within the next 72 hours. I wrote this article myself, and it expresses my own opinions. I am not receiving compensation for it. I have no business relationship with any company whose stock is mentioned in this article.