As the first and largest U.S.-traded Chinese online gaming company, Shanda Interactive Entertainment (NASDAQ:SNDA) has many followers: Covered by 16 brokerage firms, SNDA's market cap exceeds $3.5 billion and its average trading volume was 1.3 million in the last three months. This article analyzes the best times to buy SNDA historically (see graph below), and discusses investment strategies.
1. The first great period to buy SNDA was the first three months after its IPO on May 13, 2004. At that time, online gaming was a new concept to most investors in the U.S., where console games dominated the video game market. As a result, investors were generally cautious on SNDA, the first Chinese online gaming IPO on U.S. exchanges. What they ignored was that the Chinese online gaming industry was at the expansion stage of its life cycle, driven by fast-growing Internet usage, PC ownership, and broadband penetration in China. From August to the end of 2004, Shanda reported great earnings for 2Q04 and 3Q04, and its stock surged to around $45.40 on December 30, 2004, quadrupling its $11 IPO price.
Graph: Four Best Opportunities to Buy SNDA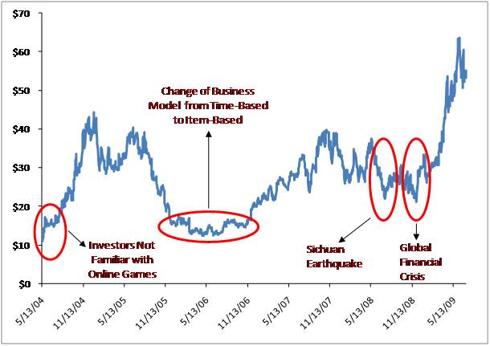 2. The second great opportunity was the whole year of 2006. In 2005, Shanda's core game Mir 2 was bothered by illegal private servers run by unauthorized companies, and faced strong competition from new games such as WoW and Yulgang. In late 2005, Shanda started its strategic transition from time-based business model to the item-based model, which allows free access by players but sells virtual items to make money. This new concept caused investors to be cautious again, and Shanda's stock was weak as a result. Most investors did not know that Shanda made the change because the item-based model was already proven to be very lucrative for private server operators. Shanda's move countered private servers, expanded revenue potential, and won back users from competitors, killing three birds with one stone. Entering 2007, Shanda's stock began to soar, as investors realized the item-based model was becoming increasingly successful and popular in China.
3. The third great period was the two months following the Sichuan earthquake on May 12, 2008. The severe earthquake caused some disruptions to online gaming companies, and investors worried about its impact. However, the earthquake only had limited short-term impact because it was not recurring and it did not change the healthy fundamentals of the Chinese online gaming industry.
4. The latest great opportunity to buy SNDA emerged between mid-September and late November 2008, amid the global financial crisis. During this period, Shanda's stock fell sharply as major market indexes plunged and investors worried about Chinese players reducing their spending on games. Many investors did not realize that in terms of average spending, online gaming had become a widespread and inexpensive form of entertainment in China. When the economic slowdown increasingly constrained people's budgets, they first cut more expensive entertainment, such as going to bars and cinemas, and they shifted their spending to less expensive online games.
Investment strategies for investors: The common characteristic of these four opportunities was the great uncertainty surrounding Shanda at those times. Smart investors view these uncertain periods as potential opportunities, and try to discover hidden gems by doing in-depth research on what's really happening to the company, its industry, and its customers.
Disclosure: No positions.