After the dramatic decline of the price of platinum by 23.3% from its peak price of $1,923.7 an ounce on August 22, 2011, to $1,461.8 an ounce on May 31, 2013, one might ask if an investment opportunity has arisen. In order to find out if now it is the right time to invest in platinum, the fundamental parameters of this precious metal - demand, supply and reserves - require analysis. In my previous article, I summarized the global demand for platinum. In this article, I will discuss the tendency of platinum supply, platinum mining costs and platinum reserves.
Mine Production
On May 13, Johnson Matthey PLC published its "Platinum 2013" report, all the supply data for this article were taken from this report.
The total world platinum mine production rose from 2.53 million ounces in 1975 to 5.64 million ounces in 2012 while the Compound Annual Growth Rate (OTCPK:CAGR) was at 2.19%. At this point, the growth rate was less than the growth rate of the world platinum demand, which was at 2.70% over the same period.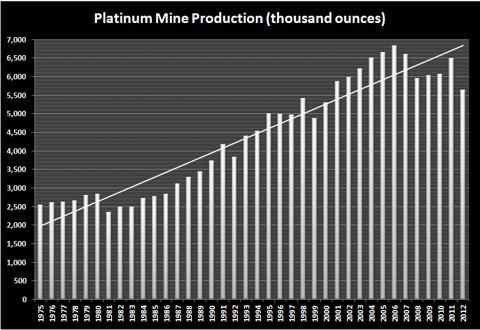 World mine production of platinum is remarkably small, 175.4 tonnes in 2012, especially compared to the 2,856.8 tonnes of gold mine production in the same year. Approximately 73% of the global production this year came from South Africa and 14% from Russia. Since mines in South Africa seldom suffer from interruptions due to electricity shortages and miners' strikes, a future shortage of supply is expected (see my article South Africa's Mining Problems).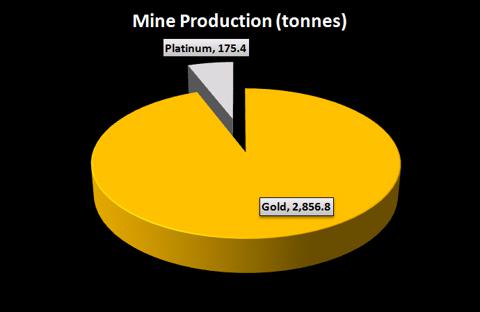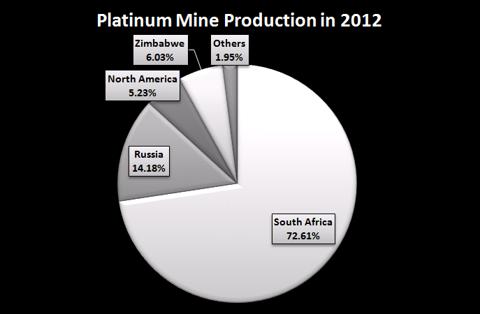 Production of Platinum Recycled
The total world platinum recycled production rose from just 10,000 ounces in 1982 to 1.13 million ounces in 2012. Platinum recycled accounted for 8.2% of the world platinum supply in 2000 and for 16.7% of supply in 2012. The increase in the price of platinum has made its recovery more profitable.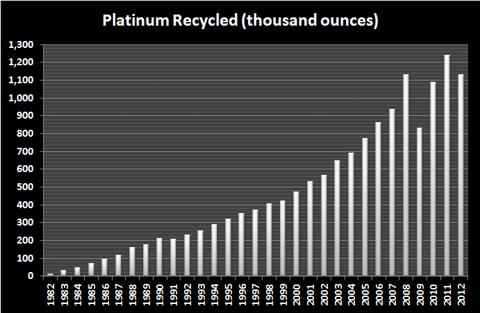 Platinum Supply minus Demand
The chart below emphasizes the surplus or deficit of platinum supply over demand since 1975. The 2013 and 2014 figures are Impala Platinum's estimates.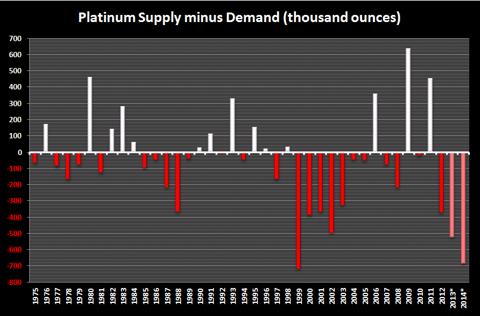 After a surplus of 450,000 ounces of platinum in 2011, the world platinum balance suffered a deficit of 375,000 ounces in 2012. According to Impala Platinum (OTCQX:IMPUY), the world second largest platinum miner, a huge deficit of 525,000ounces is expected in 2013 and another large deficit of 685,000 ounces in 2014.
World Proven Platinum Reserves
According to the U.S. Geological Survey's 2013 report, the aggregate unmined known reserves of platinum group metals are equal to 66,000 tonnes. Considering 2012 mine production of 179 tonnes platinum and 200 tonnes palladium, it means that there is an underground platinum left for another 174 years.
Cost of Mining Platinum
According to Anglo American (OTCPK:AAUKY), the world largest platinum miner, the expected cost of platinum production in 2013 is between 16,000 to 16,500 South African rand an ounce. Since the actual exchange rate is 10.06 rand to U.S. dollar, the average expected cost of platinum production this year is $1,615 an ounce, much higher than the actual market price of platinum which is about $1,462 an ounce.
Summary
The platinum market is expected to remain in a huge deficit of 525,000 ounces this year and another large deficit of 685,000 ounces in 2014. In addition, South Africa's mining sector, which is responsible to about 73% of global platinum production and possesses almost all global reserves of platinum group metals -- 95.5%, has suffered from many problems which are not going to be solved in the near future. Furthermore, the cost of producing platinum is higher than the actual market price, and the global demand for platinum continues to rise. All these factors lead to the conclusion that platinum price should rise in the future, and now it is the right time to start investing in platinum.
Disclosure: I have no positions in any stocks mentioned, and no plans to initiate any positions within the next 72 hours. I wrote this article myself, and it expresses my own opinions. I am not receiving compensation for it (other than from Seeking Alpha). I have no business relationship with any company whose stock is mentioned in this article.