Last September, I penned an article in Seeking Alpha titled "Covered Calls For Income Can Cost Dearly In Long-Term Gains." The premise? In a period of low interest rates, current yield starved investors were either:
paying exorbitant multiples for high dividend portfolios such as the Utilities Select Sector SPDR, XLU; and/or
trying to write calls against their holdings or a broad basket of S&P500 stocks, such as the SPDR S&P500 Trust ETF, SPY.
I emphasized the risks of both of these strategies. Unfortunately my article was quite timely and many investors have paid dearly.
Ponying up for XLU made you vulnerable to sharp declines if the market weakened. This has turned out to be the case. From last October 1st to June 1st of this year, XLU has gained only 4%, compared to almost 13% for the broader market over this span. XLU has been hit really hard in the last few weeks as interest rates have risen.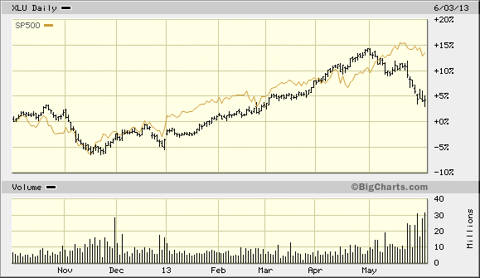 What about writing the covered calls? Don't forget the "heads you win small, tails you lose big" matrix of outcomes I warned about with such a strategy:
stocks which gain sharply get called away with only token premium income.
stocks which fall sharply are retained and the premium income offsets only a tiny portion of the loss.
Again, over the last eight months, investors who pursued a covered call strategy have been skewered by both horns of this dilemma. You can see this by looking at the performance of the Powershares S&P500 Buy/Write Portfolio ETF, PBP.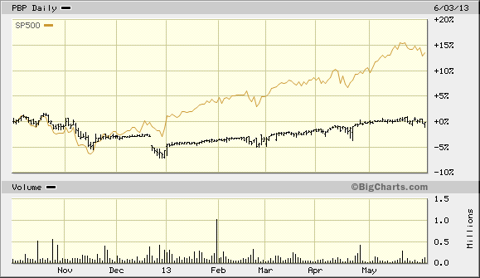 The performance of the CBOE S&P500 Buy-Write ETN, BWV, is similar.
I wrote this follow up to emphasize this underperformance goes beyond the traditional maxim "writing calls in a bull market is a bad idea." In the article last fall I warned that premium income from writing calls was very poor because the (implied) volatility of options on the SP500 was very low compared to recent historical levels.
While there have been some spikes in volatility over the last 8 months, in general volatility has remained subdued: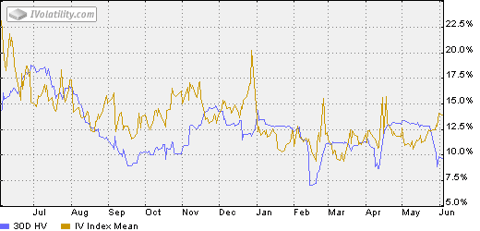 What does this mean for investors seeking income on their portfolios?
Until the premiums on calls become much larger (i.e. implied volatility becomes much greater) you should avoid buy write strategies.
Be careful about overpaying for high dividend payers. Make sure there is solid growth in the dividend and both earnings and cash flow coverage of the payment is solid. Unless there is a chance dividends will grow, your investment is basically a Bond, and will fall in value as interest rates rise.
In summary, call writing will continue to be a poor mechanism for earning premium income for the foreseeable future. When the situation changes, I will follow up this article with strategies investors can follow.
Disclosure: I am long SPY, XLV, IHI. I wrote this article myself, and it expresses my own opinions. I am not receiving compensation for it (other than from Seeking Alpha). I have no business relationship with any company whose stock is mentioned in this article.