June was another disappointing month for most retailers, as unseasonably cold and wet weather dampened prospects, in addition to the fact that stores were up against comps from last year when consumer had stimulus checks in their pockets. The best performers continue to be teen retailers Aeropostale (NYSE:ARO) and The Buckle (NYSE:BKE), as well as off-price retailers TJX and Ross Stores (NASDAQ:ROST).
For the 33 retailers we track that report monthly sales data, overall net sales for June were $34.144 Billion, a 2.6% decline from June 2008. On a comparable same-store basis, sales were down 4.7% from the prior period vs. a gain of 2.1% last June. The optimism we saw back in April when things seemed to be improving for the most part has disappeared, as just about every retailer mentioned how tough the retail environment is, and how the frugal consumer has really changed the landscape. Things aren't expected to pick up through the summer, but the hope is that an early back-to-school season will bring at least marginal improvement starting in September.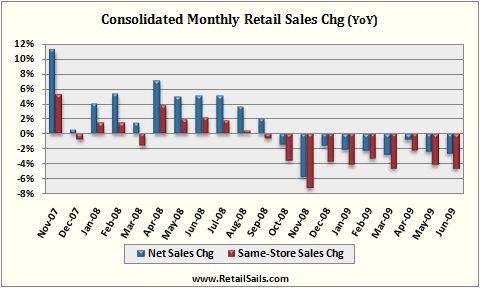 Apparel & Accessories Stores:
Total net sales for the month declined 9.3% to $3.550 Billion from a year ago, while same-store sales decreased 10.6% on top of a 4.4% decline a year ago. This was the worst performance for the group since January, and there was deterioration almost across the board, with the exception of continued standouts Aeropostale and The Buckle, which have both performed unbelievably well throughout the recession. It's clear they have taken market share from pricier rivals who were slow to adapt, and off-price retailers have certainly benefited as well.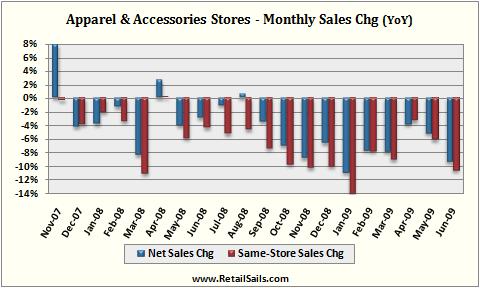 Department Stores:
Total net sales were $6.989 Billion, a decline of 7.7% from June 2008, while sales were down 8.9% on a comparable same-store basis from the year ago period. The sector has been moving sideways since the start of the year, with luxury retailers consistently posting the worst results. Though some stores showed improvement, most notably upscale retailer Saks (NYSE:SKS) which posted only a 4.4% comp decline vs. a consensus estimate of -11%, it was almost entirely due to severe markdowns and large promotional events. Consumers continue to trade down to discount and off-price shops, and mid-tier names such as Kohl's (NYSE:KSS) and JC Penney (NYSE:JCP) are the most likely in this group to benefit in the near-term.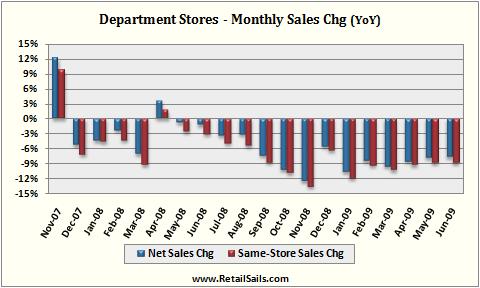 Discount & Variety Stores:
Total net sales decreased by 2.2% to $16.396 Billion from the same period last year, while same-store sales were down by 4.6%. The sector has succumbed to the cutbacks in consumer spending just like the others, but has out-performed on a relative basis. The strongest performers have continued to be off-price retailers TJX and Ross Stores. Wholesale clubs have performed fairly well, but as gas price inflation and foreign exchange boosted their resulted a year ago, performance is now being negatively skewed by the same factors. Pricesmart has been an extremely strong performer throughout the recession, but growth has slowed significantly over the past year.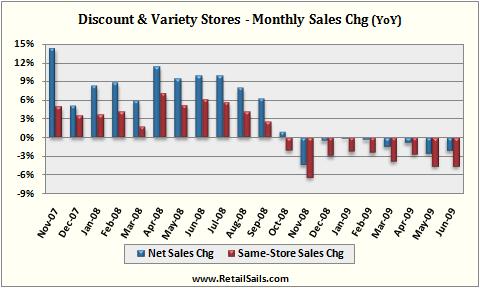 Drug Stores:
Total net sales were $7.209 Billion for the month, an increase of 5.6% from a year ago, while comparable same-store sales were up 2.3%. This sector is once again an out-performer for the month, driven almost entirely by robust pharmacy demand, as front-end sales continue to be relatively soft. The goal for both companies is to drive store traffic through pharmacy and health services, while improving the customer experience to improve front-end sales. Nearly 8 million customers a day are served between the two companies, so by leveraging their store networks and the convenience factor, there is certainly room to take market share away from competitors for items such as basic necessities, cosmetics, and accessories.
| Company | Net Sales | Net Sales Chg | Same-Store Sales Chg |
| --- | --- | --- | --- |
| Rite Aid (NYSE:RAD) | $1.973 Billion | -2.5% | -0.6% |
| Walgreen (WAG) | $5.236 Billion | 9.0% | 3.4% |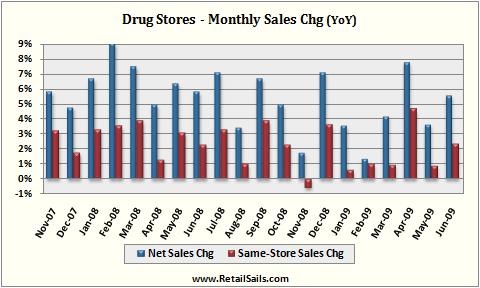 Disclosure: No Positions