Fighting for greater market share in the midst of cut-throat competition, more and more companies are opting to transform their businesses by optimizing operations and innovation by leveraging technology. Moreover, the reluctance of businesses to organically develop IT departments due to its associated high costs along with globalization and regulatory changes, could drive the growth for outsourced technology services.
This report focuses on analyzing the yearly financials of Infosys (NASDAQ:INFY) for the recent years. Overall, the company reported YoY revenue growth of 5.78% in FY13 and 15.78% in FY12, rounding to a CAGR of 11% as the upward trend continued towards offshore technology services.


*Source = YCharts
The share prices of Infosys and Wipro (NYSE:WIT) have depicted an oscillating behavior. Specifically, Infosys's share price dipped below Wipro's on January 11, when the third-quarter results were announced due to its underperformance against the index.
Rising immediately afterwards, the share price repeated the same behavior April 12, when the fourth-quarter results were released and revealed a drop in net profit.
Financial Analysis
FY12 FY11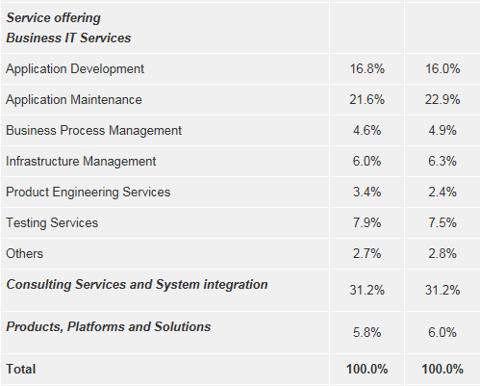 Analyzing segments, Consulting services and system integration was the primary driving factor of growth (31.2%) in FY2012, followed by Application maintenance (21.6%), Application Development (16.8%) and others. The departments contributed to the revenue growth in the same proportion in FY11 as well.
Infosys Ltd

Wipro Ltd

Relative growth of Infosys , as indicated by CAGR, is slightly higher than its competitor, Wipro (9.78%). The company has also outclassed Wiper on YoY growth basis as well, by reporting 5.78% annual growth in FY13 and 15.78% in FY12 compared with Wipro's 4.84% in FY13 and 14.96% in FY12.
Infosys has designed a Global Delivery Model to provide the best to its clients worldwide, one of the reasons for its continuing growth. The company is also in the process of developing specialized systems, processes and solutions along with cost-effective delivery capabilities, which could give Infosys a competitive edge over its peers.
"We were able to maintain our margins through efficiency improvements despite increased operating expenses. We remain focused on making the right investments for profitable and sustainable growth in the longer term," said Rajiv Bansal, Chief Financial Officer of Infosys . The company registered a slowly rising expense to sales ratio of 5.85% in FY13, from 5.68% in FY12, and 4.42% in FY11. Infosys was able to translate the revenue growth into EBITDA CAGR of 6.79%.
Infosys Ltd.

Wipro Ltd.

Infosys registered a sharp growth of 29.51% in its cash flow from operations [CFO] in the period FY12, which dropped to 3.39% in FY13, of which other operating activities has been a major contribution factor. Conversely, its competitor's CFO depicted a plummeting trend as it was not able to effectively manage its cash conversion cycle.
Moving onto its cash flow from investing "CFI," there have been increasing out flows in this section in FY 13 and FY12, primarily due to the capital investments in the company continues to make to develop its process to be fully equipped itself to cater to the expected demand and capture untapped markets like customer-specific products and services. Infosys has also significantly increased its long-term investments in FY13. In contrast, Wipro's CFI has taken on a positive trend as it chooses to monetize its investments in FY12.
Cash flow from financing [CFF] is also following a negative trend, largely due to the payment of dividend followed by a small chunk of borrowings in FY13 and only dividends in FY12. On the other hand, Wipro's CFF has plunged in FY12 due to dividend payments whereas in FY11 along with dividend payments, net borrowing was also a major factor of its negative CFF.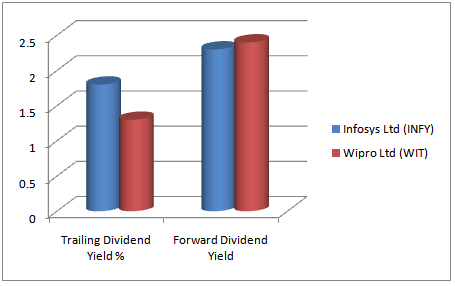 *Source: Yahoo Finance
With reference to the bar chart, Infosys has offered a higher dividend yield in contrast to its competitor, Wipro for the past years. However, the trend is expected to reverse in the forthcoming year by Wipro offering a slightly higher dividend yield.
Future Outlook
The industry as a whole has great growth potential and within the industry Infosys has bright future prospects as it is planning and working to its best to meet customer requirements on a world-wide level. The overall direction of its fundamental variables proves Infosys Ltd to be able to outclass its competitor, Wipro Ltd, in the years ahead. In my opinion, stock of Infosys is a lucrative long position investment for equity investors focusing on growth prospects.
Disclosure: I have no positions in any stocks mentioned, and no plans to initiate any positions within the next 72 hours. I wrote this article myself, and it expresses my own opinions. I am not receiving compensation for it (other than from Seeking Alpha). I have no business relationship with any company whose stock is mentioned in this article.