Excessive rainfall in the Great Plains and central Midwest region has helped lift grains related exchange traded funds as traders bet on damage to winter crops and disease-related yield losses.
The Teucrium Corn Fund (NYSEARCA:CORN) increased 4.6% over the past week, Teucrium Soybean Fund (NYSEARCA:SOYB) gained 3.5% and Teucrium Wheat Fund (NYSEARCA:WEAT) rose 2.8%.
"Excessive moisture across the Midwest has raised concerns for disease-related yield losses" for soft, red winter wheat grown in the Midwest, Luke Mathews, a commodity strategist at Commonwealth Bank of Australia (NYSE:CBA), said, Bloomberg reports.
The northern Great Plains and central Midwest experienced more than double the normal rainfall in the past two weeks.
"Rainy weather is starting to have a material impact on corn-planted area," Morgan Stanley analysts including Adam Longson said. "Farmers in the northern states are more likely to claim insurance on acres not completed by the end of May, owing to the shorter growing season."
Moreover, in parts of central Europe, Germany, the Czech Republic and Austria saw flooding after recent storms - Germany is Europe's second-largest wheat grower.
Mark Schultz, chief analyst at Northstar Commodity Investment, believes that the two-month rally in corn could extend into June.
"Corn should make a quick jump to test the January highs if futures close above the March peak," Schultz said in a separate Bloomberg article. "The corn market is moving into a bull phase that may last through June until more is known about planted area, and the health of the crop already planted. We should see fund money flow back into the corn market."
Teucrium Corn Fund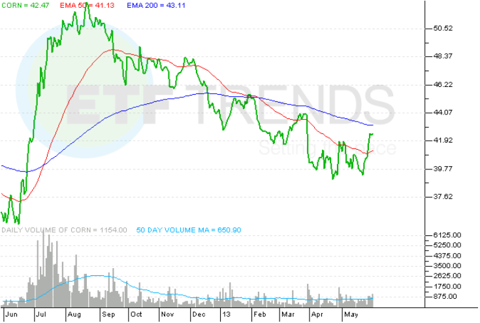 Max Chen contributed to this article.
Disclosure: I have no positions in any stocks mentioned, and no plans to initiate any positions within the next 72 hours. I wrote this article myself, and it expresses my own opinions. I am not receiving compensation for it. I have no business relationship with any company whose stock is mentioned in this article.