What a difference 31 days can make. In my last article on month-end trends in exchange-traded product (ETP) flows, I wrote that investor sentiment in April had cooled, giving way to a significant slowdown in global ETP inflows (a mere $9.2 billion, vs. the average $23.2 billion of monthly inflows experienced in the first quarter of this year). Discouraged by less positive economic growth forecasts, investors seemed to be backing off from the market -- and those that did participate acted in a decidedly risk-off manner.
Apparently this cautionary period was only temporary as May flows painted a much more confident picture. Despite a last-minute dip, ETP inflows in May finished the month at $26.5 billion, up substantially from April's number. And while April's subdued activity wasn't enough to knock ETP flows off their record-setting pace for the year, May flows certainly added fuel to the fire: Year to date, ETP flows are up 24% over the same time period last year -- plus, they've broken through the $100 billion mark.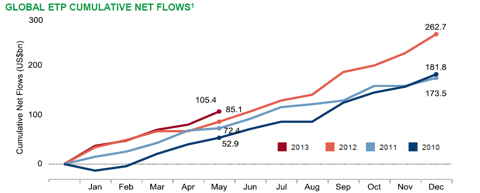 Source: BlackRock ETP Research and Bloomberg.
So what exactly was tempting investors back into the market in May? It seemed that economically sensitive investments were the order of the month. Equity funds took the lead with $26.9 billion, or >100% of inflows for the month. We saw a significant shift away from defensive sectors and into cyclical ones, while investors continued to trim gold exposure in the face of more moderate inflation expectations. Fixed-income flows posted a third strong month in a row with $5.6 billion in inflows, but for the first time this year the short maturity category with $2.8 billion inflows for the month was eclipsed by funds in the intermediate maturity range with $4.2 billion.
Another notable trend was the increased interest in ETPs offering exposure to Japanese equities. At $10.2 billion, this was the largest monthly inflow on record for the category. Year-to-date flows in Japan equity ETPs have reached $23.1 billion, or 22.9% of all global equity ETP flows. To put this in perspective, the pace of flows so far in 2013 is already more than double the levels seen annually in both 2011 and 2012. We'd conjecture this increased interest has been bolstered by the accommodative monetary policy adopted by the Japanese Central Bank.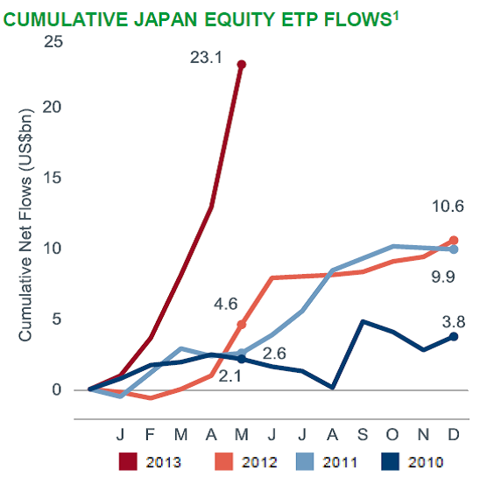 Source: BlackRock ETP Research and Bloomberg.
Sell in May and go away? Not if you're an ETP investor.