Next Monday, Canadian apparel maker lululemon (NASDAQ:LULU) will report its fiscal first quarter results after the bell. Investors are widely anticipating this report, after the company gave low guidance for Q1 due to a pants problem. While shares initially took a hit on the news, they have skyrocketed since, hitting a new 52-week high during Tuesday's trading. But with shares rallying the way they have, should investors look for a pullback after earnings? Today, I'll preview the company's report, and analyze whether we have seen the usual "buy the rumor, sell the news" event.
Q1 Preview:
Let me briefly recap the events surrounding the pants problem as they pertain to quarterly results. A couple of days before reporting Q4 results and giving Q1 guidance, analysts were looking for $353.66 million in Q1 revenues and $0.44 in earnings per share. I had thought that lululemon, which had been known for giving conservative guidance, would guide to $345 million to $350 million in revenues, and $0.41 to $0.43 in earnings per share. Then we had the pants problem, and a few days later they reported earnings.
When lululemon reported Q4, they gave the following guidance for Q1:
Revenues of $333 million to $343 million. Guidance includes negative revenue impact of $12 million to $17 million.
Earnings per share of $0.28 to $0.30. Guidance includes negative earnings per share impact of $0.11 to $0.12.
146 million diluted shares, 30% tax rate.
The company also gave the following guidance for the fiscal year:
Revenues of $1.615 billion to $1.64 billion. Guidance includes negative revenue impact of $57 million to $67 million.
Earnings per share of $1.95 to $1.99. Guidance includes negative impact of $0.25 to $0.27.
146.6 million diluted shares, 30% tax rate.
This company has been notorious for giving conservative guidance. The table below shows the company's guidance against actual results for the last nine quarters. You may notice a trend. As a small note, the company split its stock after Q1 of 2011, so any earnings per share numbers presented before that quarter are pre-split.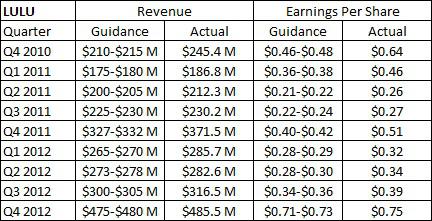 With the company giving conservative guidance in the past, analysts are expecting a solid quarter. However, expectations are not as high as I thought they might be going in, and that is thanks to the pants problem. This has led to some uncertainty, and I think analysts are being a little conservative themselves as a result. Current estimates call for $341 million in revenues and $0.30 in earnings per share. Revenues are at the high end of the company's range, and earnings per share are at the top end of the range.
There are a few other items to watch in this quarter's report, including the following:
How much do margins come down as a result of the pants issue?
How are inventory levels looking?
Has the company's balance sheet gotten better/worse, and how much cash/investments do they have?
Update on store openings / international expansion?
Obviously, investors will also be looking forward to the company's Q2 and updated full year forecast. Here are the current analyst estimates:
Q2 revenues of $328.83 million.
Q2 earnings per share of $0.33.
Fiscal Year revenues of $1.64 billion (top end of guidance).
Fiscal Year EPS of $1.99 (top end of guidance).
Past trading around earnings:
The table below shows the post-earnings trading performance of lululemon. In all of the eight quarters below, the company reported earnings before the opening bell. This time around, things will be slightly different as they are reporting after the bell, not before.

*Quarter was before 2 for 1 stock split, which is why it seems like the stock dropped so much.
**Company pre-announced pants problem a few days earlier, and stock dropped on that news.
Now the most recent quarter, Q4 of 2012, is a bit misleading in the chart above. On Monday, May 18th, the company announced its pants shortage after the bell. This sent the stock lower by nearly $2.00 the following day. Additionally, in the prior two trading days (Friday and Monday), the stock had lost more than $4.50. Thus, the stock had already taken a hit going into earnings, which is why I almost consider this a "throwaway" quarter as to the post-earnings reaction. The real move had been made going into earnings.
If you throw away the last quarter, or even count it as a loss because of the pre-earnings drop, either 3 of 7 quarters (or 4 of 8 if you count it as a loss) have seen the stock lower at the close when they reported. That doesn't sound favorable to the bears. However, look at the far right column. In the last seven quarters, the stock has been down at some point during that day's trading, and in six of those seven times it's been down more than two percent at some point. So even if the stock closes higher after reporting, there has been a post-earnings decline in some respect at the last seven reports.
Comparable valuations / the recent run up:
Shares of lululemon have certainly shaken off the pants problem, and have raced higher since bottoming in the low $60s after the issue. You can see the impressive rally in the chart below, and the stock did hit an intra-day 52-week high on Tuesday before pulling back.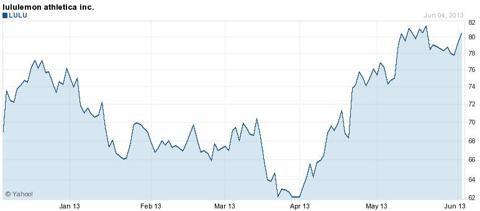 (Source: Yahoo! Finance)
One of the reasons why lululemon has been such a favorite of short sellers in recent years is the high multiple the stock trades at. Yes, this company is growing faster than most apparel names, but that growth comes at a cost. The table below shows some growth and valuation comparisons against Under Armour (NYSE:UA) and Nike (NYSE:NKE).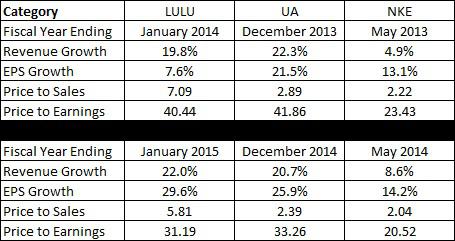 In terms of price to sales, lululemon trades at a massive premium. The price to earnings number is slightly below that of Under Armour, and it has been for a while. I've stated that Under Armour has been overvalued in the past. Remember too though that the pants problem is costing lululemon in both revenues and earnings, so these valuation numbers would be a bit lower if not for the pants issue.
Such a high valuation carries high expectations with it. That's part of the reason why I showed above that the stock has traded lower after reporting earnings (during the day) seven straight times. Since the company gives conservative guidance, that guidance is often below what analysts expect, and thus the short sellers come back. Given the large rally we've seen, conservative guidance will most likely knock this stock back down a little.
One wrinkle - short interest:
One risk to the downside at this quarterly report is the large short interest base in lululemon. At the most recent update from NASDAQ, more than 23.4 million shares were short. That's 16.2% of the outstanding share count, and 17.5% of the float, based on share numbers from Yahoo!
That's a lot of short sellers that could need to cover, and if we get a solid report, a nice short squeeze could occur. Short interest in lululemon has certainly soared over the past year, more than doubling, as you can see in the chart below.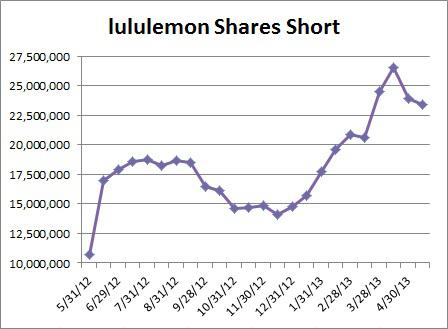 Final Thoughts:
Shares of lululemon have raced higher, shaking off a pants problem. I was one of the first to defend the name, and I expected shares to bounce back. However, I figured we'd be around $70 going into this report, not above $80. Right now, the stock feels overheated to me, and I fear a pullback may come, no matter what the earnings report says. This company is known for giving conservative quarterly guidance, so if their Q2 forecast is light, shares seem likely to pull back. Obviously, if we go into earnings at $77, there is a lesser chance of a pullback as there is at $85 into earnings. Short sellers love the name, and if this company doesn't have a blowout or raise the yearly forecast by a fair amount, I think we could see $75 or lower early next week.
Disclosure: I have no positions in any stocks mentioned, and no plans to initiate any positions within the next 72 hours. I wrote this article myself, and it expresses my own opinions. I am not receiving compensation for it (other than from Seeking Alpha). I have no business relationship with any company whose stock is mentioned in this article.
Additional disclosure: Investors are always reminded that before making any investment, you should do your own proper due diligence on any name directly or indirectly mentioned in this article. Investors should also consider seeking advice from a broker or financial adviser before making any investment decisions. Any material in this article should be considered general information, and not relied on as a formal investment recommendation.