In my article "Nvidia Again Faces 2 Extreme Threats" I have already covered how integrated graphics solutions, where the GPU is integrated into the CPU die, are a threat to discrete graphics and hence, to Nvidia (NASDAQ:NVDA).
In this article, I'll take it one step forward and show how two specific reasons make this threat an even clearer and more present danger.
Power consumption
The inevitability of integrated graphics does not end with cost. Generally speaking, a solution including a CPU plus discrete GPU will also prove itself to consume more power than an APU with integrated graphics.
Take for instance the latest Haswell chips from Intel (NASDAQ:INTC). The i7 4558U carrying the highest-performing integrated GPU seeks to be competitive with Nvidia's 650M discrete GPU. The i7, running both a CPU and GPU, carries a TDP (Thermal Design Power) of 28W. The Nvidia 650M card, targeted at the mobile segment, alone carries a TDP of 45W, to which we'd still have to add an entire CPU at 15-20W or so.
The TDP can work as a proxy for power consumption. What this means is that a laptop built around discrete graphics would most likely either have to carry a much larger battery, or suffer from much lower battery life. That is, it would both cost more - because of the discrete GPU and the larger battery, weigh more and have lower battery life. Not the kind of compromise anybody looking for a laptop is going to find desirable.
The relevance of this can be gleaned from the fact that mobile GPU revenues are more relevant for Nvidia than desktop GPUs (Source: Merrill Lynch/BofA research, as reproduced below). On top of this, Apple probably represents 13% of Nvidia's revenues, and there's some risk that it will eventually completely migrate towards Intel's integrated solutions. Indeed, this might happen as soon as the next Apple WWDC developer conference, starting June 10. There is thus a potential short-term negative catalyst for Nvidia here.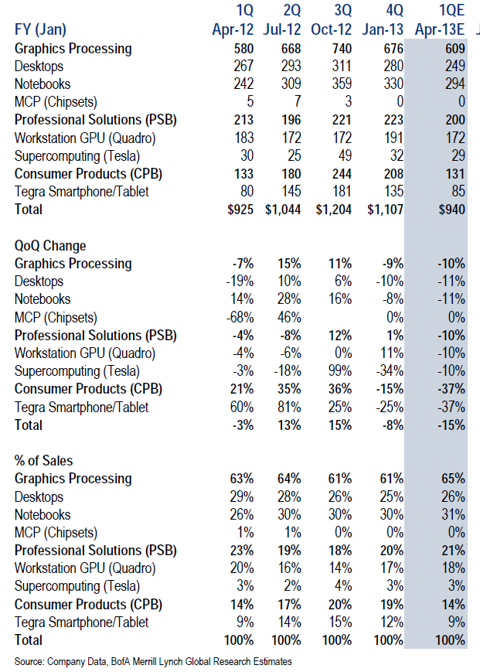 Sleekness
Not having to have a discrete GPU on board can make for much sleeker devices needing both less internal real estate for the board, and less complex cooling.
The end result is an ability to make sleeker and lighter laptops or ultrabooks which the public will value higher even as they require less cost to build. This marketing argument is not lost on the OEMs, including Apple, and it too works against Nvidia and discrete GPUs in the mobile world.
With laptops having clearly dethroned desktops in the PC world, this is obviously a further worry for discrete GPUs (Source: Mary Meeker, "KPCB Internet Trends 2013," D11 Conference).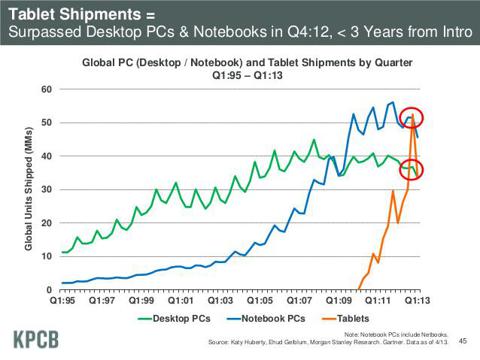 Not all is lost, though
While losing a good chunk of mobile revenues and profits could have a materially adverse effect on Nvidia, not everything is as bad as it seems. A slide from the 2013 Analyst Day presentation explains why: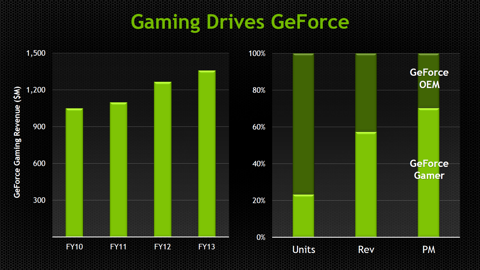 As we can see, OEMs represent the overwhelming majority of GPU units. However, when it comes to revenues, the distribution is much more balanced between OEMs and gamers (retail buyers). And when it comes to profits, around 70% of those come from the gamers.
Now, while integrated graphics can satisfy much of the mainstream needs for graphics, they certainly cannot satisfy a gamer. This might happen down the road - this is an ongoing threat which is not going away - but it won't happen even with Haswell, so it's not a short-term threat.
Conclusion
Integrated graphics present a secular challenge for discrete GPU makers like Nvidia. The new Haswell generation by Intel might already be a problem in as much as it might take away a significant chunk of Nvidia's notebook share, since integrated GPUs not only present a cost advantage, but also a power consumption, weight and "sleekness" advantage.
Nvidia's main hope resides in the fact that although OEMs represent the overwhelming majority of GPU units shipped and half the revenues of this segment, they account for just around 30% of the segment's profits with the rest going for retail gamers. This (Haswell) generation of integrated graphics might be enough for the mainstream consumer, but it certainly isn't enough for gamers.
On the other hand, the integrated graphics menace is not going away - it doesn't end this generation, so long term, this threat cannot be dismissed even if today Nvidia's vulnerability is still contained.
Finally, there's the risk that the coming Apple WWDC might produce a negative catalyst for Nvidia, if Apple announced that it's favoring Haswell solutions over its present use of Nvidia 650M discrete graphics. Nvidia discloses in its 10-K that one customer represents 13% of its revenues, and this customer is probably Apple.
Disclosure: I have no positions in any stocks mentioned, and no plans to initiate any positions within the next 72 hours. I wrote this article myself, and it expresses my own opinions. I am not receiving compensation for it (other than from Seeking Alpha). I have no business relationship with any company whose stock is mentioned in this article.