By Bryan McCormick
Today I wanted to show how rapidly sector breadth deteriorated after the S&P 500 hit its peak in mid-June. That is illustrated here with an updated SPX chart and some of its nine sectors viewed on a daily, year-to-date basis.

The histogram of lighter blue vertical bars is the S&P itself. The zero line is there because this is a graph showing percent returns, not price. The lines scattered on top of the histogram show the various sectors.

At the peak in the S&P 500, six sectors were briefly all in the green for the year. There are now just three that are positive year to date--technology, materials, and consumer discretionary, in descending order of positive returns.

Technology is now the best-performing sector, shown in light green, which you can follow by watching the Technology Select Sector SPDR (NYSEARCA:XLK). That exchange traded fund is up 12.9 percent year to date. The worst sectors--the industrials and financials, represented by the Industrial Select Sector SPDR (NYSEARCA:XLI) and Financial Select Sector (NYSEARCA:XLF) funds--are in pink and dark green, well below the zero line.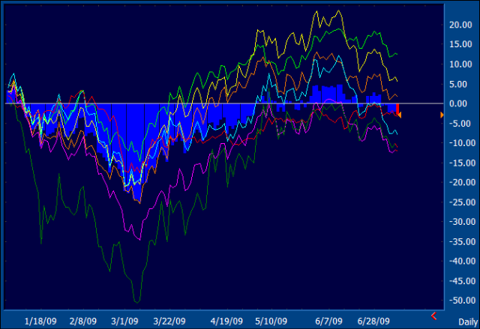 Up until mid-June, the materials sector was the best-performing industry, shown by the yellow line on the chart. It was up well over 20 percent at one point, but is now up 6.1 percent.

Consumer discretionary is barely hanging on to its gains, at 1.99 percent. If that should slip as well, only technology and materials would remain positive. And, given the weighting factors--with technology 21.86 percent of the index and materials just 3.18 percent--it is really technology that is pulling the index up virtually by itself.

That would be fine as long as tech stocks report great earnings in the next several weeks. If they do not, that leaves the index extremely vulnerable.

The more broadly the index is supported by a multitude of sectors performing well, the better off it is. The narrower the breadth, the weaker it may become if that sector or sectors fail to perform.

Watching sectors in relationship to the broader index offered an early clue that something not bullish was in development. Watching them over the next several weeks may help us discern the next big move.
(Chart data provided by Thomson Reuters)