Meredith Whitney comes out swinging in her compelling new book released this week titled, "Fate of the States: The New Geography of American Prosperity." She makes her point as forcefully as ever about the precarious situation with some state finances and the tectonic fiscal shift to states in the central United States.
In many ways, this highly-anticipated book is her most comprehensive response to a controversy that started on December, 19th 2010 when CBS' 60 Minutes aired a segment titled ``State Budgets: The Day of Reckoning". According to the headlines after that CBS story aired, Whitney had predicted up to a hundred or more municipal bond defaults in 2011. The price tag: hundreds of billions of dollars. The fallout began almost immediately -- the relatively staid $3+ trillion municipal bond market got spooked, investors started pulling money of out funds, and advisors were scrambling to reassure nervous clients.
Here's the problem: she didn't make that specific prediction. During one segment of the interview, she claimed there would be "a spate of" 50 - 100 defaults by local governments. During another segment, she rightfully took the credit agencies to task for being too complacent; they would need to start worrying about their ratings within the next 12 months she warned. Everyone immediately put the proverbial apple and orange together and all of a sudden there was a prophecy of a muni default tsunami in 2011.
Once the headlines were out there, the story took on a life of its own; since then Whitney's "dire prediction" and credibility have been inextricably linked to the fate of the municipal bond market. In subsequent interviews and articles, she stuck to her conviction that there would be sizable muni defaults and emphasized that there was no specific timeline to this forecast. Everyone's attention should be on state and local government off-balance sheet debt expenses and the runaway train of unfunded pension and benefit liabilities estimated to be almost $1.8 trillion in mid-2011. Whitney argued that these would undoubtedly force them to raise taxes, sell assets, and would threaten their ability to provide basic services. Across the board, the fiscal disclosure by these governments was inconsistent and incomplete, making the task of finding the size of the problem even more difficult.
For a while it looked like Whitney may just have been correct but off in her "timing". There was indeed a spate of high-profile municipal bankruptcies in a stretch of 2011 - 12, such as Jefferson County in Alabama, Central Falls in Rhode Island, San Bernardino and Stockton in California. In fact, Stockton became the largest city to file for Chapter 9 protection when it went bankrupt in July 2012.
Nevertheless, Whitney had little to show for her efforts to shift the conversation away from the infamous "prediction" to the more meaningful analysis underlying state and local finances. Meanwhile, her critics have had a field day as it became clear (in strictly technical terms) that a wave of defaults wouldn't materialize. The panic the muni bond market that started after the 60 Minutes story was only temporary. In fact, municipal bonds had a great year in 2011; the Barclay's municipal bond index returned 10.7% and the iShares S&P National AMT-Free Muni Bond ETF (NYSEARCA:MUB) up 8.7% (both handily beat the S&P500 which was up a paltry 2.1% that year). In fact, the muni default rates peaked in 2010 at 0.11% and fell to 0.06% in 2011. The bullish performance continued into 2012 with stronger returns for lower quality and longer-dated bonds.
But the endless discussion about muni bond defaults and attacks on Whitney's credibility are distractions; the underlying analysis was revealing a far more interesting story: economic power in the US shifting away from longtime coastal strongholds towards the interior corridor.
This divergence in recovery between the "have" and "have not" states forms the main narrative in "Fate of the States". The book opens with a detailed history of how some states and local governments got into a deep fiscal mess. While that ground is well covered, Whitney uses it as fodder to argue that many of these "have not" states are unlikely to emerge from their budget quagmire anytime soon. In the meantime, other states that were not saddled with crippling debts in the post-financial crises era are seeing their economies growing and are able to make the necessary investments to attract businesses and residents.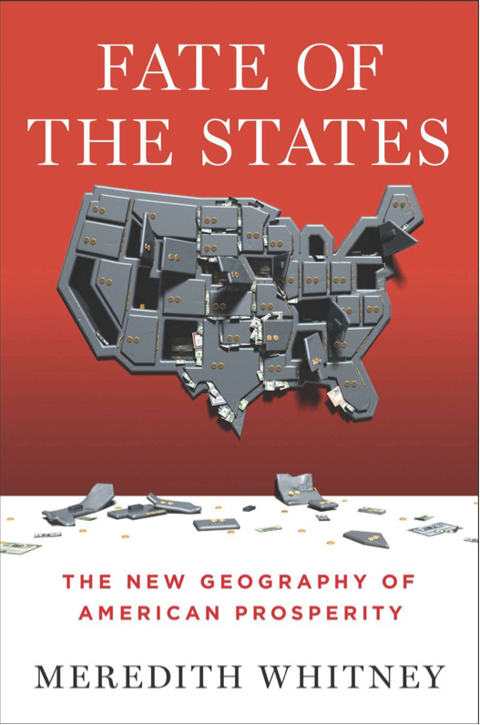 Some major points and themes from the book include:
"The negative feedback loop from hell": states and local governments that are so cash strapped cannot afford to make the necessary investment in infrastructure, education, public safety, libraries, and other basic public services. Their solution is tax hikes, other levies, and spending cuts. This prompts business and wealthier individuals to move away, lowering the overall tax base and revenues, making the problem worse.
States and municipalities that experienced the housing boom and bust (such as New York, New Jersey, California, Arizona, Nevada, and Florida) have shown little or negative growth. Money saved through spending cuts at the state level only accounted for half of what was necessary to close budget gaps. One-time or short-term solutions -- tapping "rainy day" funds, federal stimulus money, increasing taxes, and more borrowing -- have all ended or are reaching their limits. In the near term, these struggling states cannot climb out of their budget woes without rapid and sustained re-inflation of the housing market, which is unlikely.
The "difficult truth" of pensions: there simply isn't enough money to fully fund pensions and provide for all the other government services. Her analysis of the severity of this "debt bomb" is probably the scariest part of the book. Recent estimates put the total underfunding at a staggering $1.4 trillion (this figure is separate from the muni debt). Politicians have used all kinds of accounting maneuvers to hide the underfunding for years. Combined with the health insurance that is promised to current and former employees, the total state pension obligation is almost 40 percent higher than the bonded debt. The State of Illinois is one of the worst offenders with a total of $204 billion in unfunded pensions, health care, and bonded debt - this works out to almost $13,000 per capita.
Since local governments get a higher percentage of their revenues from transfers than states do, being at the bottom of the "food chain" hurts municipalities much more during hard times. States can (and do) receive money from the Federal government in times of need. But states can also close budget gaps by sending less money to their local governments. During 2012 and 2013, states cut payouts to local governments to the tune of $1 billion. The decline in property tax revenues and the mounting debt and pension obligations only exacerbates the issue.
A far different and much more positive story is playing out in states in the "central corridor" of the US, which she terms the new "emerging market". Here she is referring to the 17 states that extend from Colorado to Indiana and from Texas to North Dakota. Collectively these states experienced an 8 percent growth from 2008 to 2011, compared to 2 percent for the "housing-bust" states. This growth is structural and not dependent on asset inflation like a housing bubble. Unburdened by a crushing debt load, they can be much more nimble and make the necessary investments to attract residents and businesses. Texas has one of the lowest unemployment rates in the country and in North Dakota it's practically zero. While it would be easy to attribute their prosperity to the oil, natural gas, and agricultural booms in those regions, it's important to understand that these states didn't start in a deep fiscal hole.
The "smart money" (i.e., corporations and wealthy individuals) has already started to move to these central corridor states. From a fiscal perspective, the inequality between the states is the highest it has ever been. The "smart money" is choosing to move or expand their operations outside their home states to take advantage of lower tax burdens and improved services. The increased agility of businesses in the digital economy makes their geographic location less relevant and that much easier for them to move. The demographic shift will lag behind the business move - but it is very much underway.
Of course, corporations and people relocating to other parts of the country is nothing new. But Whitney's argument is that this trend is not being driven by the same external factors in the past, such as new technology, immigration, or the demise of a regional industry. The fiscal irresponsibility of some states is driving businesses and individuals to vote with their feet. The increased mobility created by the digital economy will only accelerate this process. The new "emerging market" states are more than happy to welcome their new residents with open arms.
Overall, "Fate of the States" is very well written and Whitney is to be commended for her exhaustive research. Although the book is chock-full of data and comparisons, Whitney does a good job by putting it in all in the right context. It is no easy task to make such a data-rich analysis a compelling read, but Whitney pulls it off.
Given Meredith Whitney's prominence, it's almost certain that her critics will tear apart her arguments and nitpick her data. Let's hope this book sparks meaningful dialogue rather than the unproductive post-60 Minutes "did her prediction come true?" debate. Those who go on "prediction watch" will once again miss the underlying story.
So the next questions are: 1) Is Whitney correct? and 2) what are the key takeaways for investors?
For residents who live in one of the "housing bust" states (such as myself in San Jose, California), the answer to the first question is as simple as looking out the window, reading the local paper, or subscribing to the newsletter of the local city councilperson.
In many ways, Stockton, CA is the poster child for every fiscal malady that Whitney discusses in the first part of her book. The Economist labeled this city of 290,00 residents as "California's Greece". Stockton was caught in the vortex of the housing boom fueled by subprime lending. As tax revenues filled city coffers, the politicians embarked on ambitious projects and made overly generous promises to public employee's pensions. The music stopped during the 2007-08 housing crash, revenue dried up, unemployment climbed close to 20 percent, and average home prices fell over 50 percent between 2006 and 2011. The bankruptcy filing in 2012 was simply the coda to what had already been a long nightmare of slashing public safety and other services, leading to one of the highest violent crime rates in the country. The legal morass of the bankruptcy is ongoing and indications are that bondholders and pensioners will end up with dramatically worse terms than what they expected. What makes this particular case so closely watched is that it could remove the stigma of bankruptcy for municipalities stuck in similar situations and set a precedent based on the final legal outcome.
Unlike Stockton, San Jose was never in danger of defaulting. But one doesn't have to look hard to see the impact of cuts to police, libraries, parks, and other city services. Every budget cycle is an exercise in choosing the "best worst option". The budget elephant in the room? Pensions, of course. San Jose mayor Chuck Reed, a Democrat, called reforming pensions "my number one priority because it's the biggest problem we face. It's a problem that threatens our ability to remain a city and provide services to our people." In 2012, voters handed Mayor Reed a victory by passing Measure B, a local ballot initiative that outlined aggressive pension reform. But the battle was far from easy nor was the outcome ensured. Reed, a Democrat, fought a pitched battle with his fellow party colleagues and the ballot measure pit neighbor against neighbor.
One has to wonder how many cities will be able to pull off the kinds of reforms that San Jose passed. And if they can't win the pension reform battle, what are their options?
So who is the poster child of this new "emerging market"? Clearly Texas comes out a winner in "Fate of the States" - and largely at California's expense. According to an Ernst & Young study cited in the book, Texas received the highest share of "mobile capital investments" (i.e., business investments that can be made anywhere and are not tied to a specific geographic region). This trend shows no sign of reversing.
The Texas-California rivalry highlights one shortcoming in "Fate of the States". While Whitney makes the state and municipal argument forcefully, she doesn't fully address the other factors driving the secular shift to the "corridor states". Specifically, the oil and gas boom is a big part of the Texas story, and is certainly the main force behind North Dakota's renaissance. But how long will this natural resource story last? Will this play out like a commodity-driven version of the housing boom and bust? Whitney doesn't provide any data to suggest that these "corridor states" will be more fiscally responsible with their newfound prosperity than their struggling counterparts.
What are the key takeaways for investors? Interestingly enough, Whitney doesn't spend much time discussing the impact of these fiscal and demographic shifts on the municipal bond market - or any financial markets for that matter. While I wouldn't call this a "shortcoming" of the book, it is certainly unusual given her day job as an Wall Street analyst.
Nevertheless, the message to muni bond investors has to be: be selective and "buyer beware". It's true that widespread defaults have not materialized. But municipal bond downgrades have increased significantly since the end of 2008 as the chart below shows.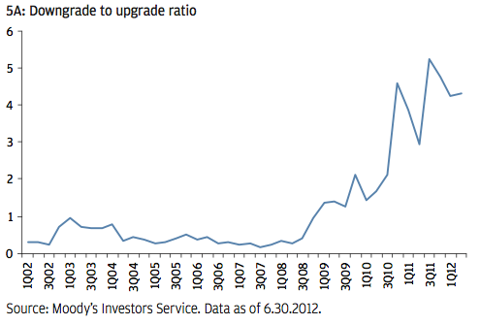 Debts issued by local governments comprise 75% of the multi-notch downgrades. This deterioration in credit quality will drive up yields but push down prices. Add to that the perception that overall rates are going higher as the Fed pulls back on QE, and you have the potential for much lower returns. For example, the MUB is down -3.75% this year. If you believe Whitney's analysis, municipal bonds issued by the "corridor states" would be a good, long-term bet.
Whitney herself has said that stocks (rather than muni bonds) are a much better way to take advantage of these shifts. In a CNBC interview this week, she touted Discover Financial Services (NYSE:DFS) as a great company that also has exposure to the growth in the "corridor".
Another way to play this secular shift is to invest in the regional banks with exposure to the "corridor". Though opinions will vary on the best ones, a few popular names are: PNC Financial Services (NYSE:PNC), Fifth Third Bancorp (NASDAQ:FITB), and KeyCorp (NYSE:KEY). The shares of all three are matching or outperforming the broader Financial Select SPDR (NYSEARCA:XLF) year-to-date. Investors who would rather buy into the sector can consider the SPDR S&P Regional Banking ETF (NYSEARCA:KRE) which is up over 12% this year, though lagging behind the XLF.
Besides the exposure to these growing local economies, regional banks are perceived to be relatively immune from the more onerous and costly aspects of Federal regulation (such as the Volcker rule) and have minimal exposure to toxic sovereign debt.
Disclosure: I have no positions in any stocks mentioned, and no plans to initiate any positions within the next 72 hours. I wrote this article myself, and it expresses my own opinions. I am not receiving compensation for it. I have no business relationship with any company whose stock is mentioned in this article.
Additional disclosure: I have no relationship with nor do I conduct business with Meredith Whitney Advisory Group.