World markets are under pressure this morning a day after the US markets had a rough Tuesday. The Dow's Tuesday streak officially ended and it shall be remembered as a great feat. It will be many years before another streak surpasses it, but yesterday led to a gut check among investors and worries developing in regards to the housing market.
Chart of the Day:
The good news is that the uptrend is still in place while we have already seen a pullback in the 10% neighborhood. One has to wonder if we are at the levels where we can see another bounce higher, as has been the tendency here.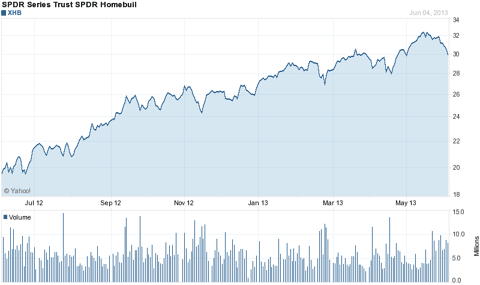 Chart courtesy of Yahoo Finance.
We have economic news due out today, and it is as follows:
MBA Mortgage Index (7:00 a.m. ET): N/A
ADP Employment Change (8:15 a.m. ET): 157k
Productivity - Rev. (8:30 a.m. ET): 0.5%
Unit Labor Costs (8:30 a.m. ET): 0.6%
Factory Orders (10:00 a.m. ET): 1.6%
ISM Services (10:00 a.m. ET): 53.5
Crude Inventories (10:30 a.m. ET): N/A
Fed's Beige Book (2:00 p.m. ET): N/A
Asian markets finished lower today:
All Ordinaries -- down 1.26%
Shanghai Composite -- down 0.07%
Nikkei 225 -- down 3.83%
NZSE 50 -- down 0.45%
Seoul Composite -- down 1.52%
In Europe, markets are lower this morning:
CAC 40 -- down 1.19%
DAX -- down 0.86%
FTSE 100 -- down 1.20%
OSE -- down 0.18%
Housing has been one of the few bright spots in the market these days and one of the fewer areas where growth targets, as it pertains to economic data, as been either met or surpassed. The fact that we now have many trying to jump the gun, so to speak and be among the first to call a top only demonstrates the level of fear snake bitten investors still possess and the state of Wall Street.
Lennar (NYSE:LEN) was among the losers in the homebuilder sector as shares fell over 3% yesterday. Investors and analysts were looking to falling lumber prices as evidence that housing and building in general were slowing while various analysts on Wall Street were issuing reports discussing the potential for a housing bubble redux. We believe this is hardly the case, as there is little in terms of housing supply out there and our connections in the industry describe the sector as finally having turned the corner and returning to normalcy in many areas of the country.
Investors connected the dots yesterday and did not just go after the homebuilders, but also others with exposure to the housing recovery via materials and retail operations, namely Cemex (NYSE:CX) and Home Depot (NYSE:HD) which both finished down over 3%. One could argue that if this downturn that many are beginning to buy into is for real, Cemex is a name which should be headed lower, along with others who are at the front end of the demand curve such as Wells Fargo (NYSE:WFC) and Regions Financial (NYSE:RF). It only makes sense that with fewer new housing units being constructed that there would be less materials needed along with fewer new mortgages issued for those units. That is reason we can buy into. However attacking Home Depot this early truly is jumping the gun as the homes which have been sold to purchase the new housing units are works in progress and require constant visits to home improvement retailers for the various projects around the home, especially when one is doing the work out of pocket.
We have been disappointed with Regions Financial's mortgage origination numbers over the past few quarters but figured all boats would rise with the rising housing tide. That was correct and we correctly called the top. With the drop now it is beginning to look like a buy.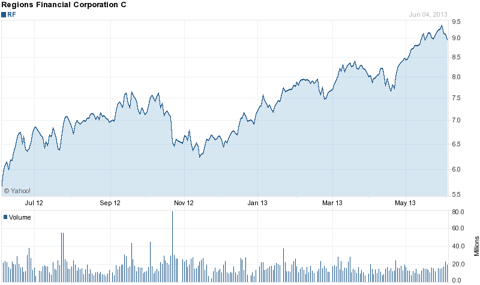 Chart courtesy of Yahoo Finance.
Yes fortunes at Home Depot are tied to housing and markets tend to react before the real numbers hit (cyclical businesses and all). Our theory that housing would continue to recover over the next few years has us at odds with Wall Street now, somewhere we are comfortable being because we were calling for a recovery when they were still predicting gloom and doom. There are a bunch of people always trying to be correct on Wall Street and not necessarily make money but rather a name for themselves or their firm. Bad predictions are rarely remembered but good ones make a career, thus we have a constant stream of those trying to front run peaks and troughs.
Look to add to the blue chips in the housing sector from the home improvement retailers to the builders to the large mortgage originators across the country. With the pullbacks we have seen in some of these names from their recent peaks, we have already seen 10% corrections and thus feel that many of those names have reached the status of a buy. Buying bull markets on dips is a sure way to make solid returns, so watch the sector as we move forward and nibble as opportunities present themselves.
Disclosure: I have no positions in any stocks mentioned, and no plans to initiate any positions within the next 72 hours. I wrote this article myself, and it expresses my own opinions. I am not receiving compensation for it (other than from Seeking Alpha). I have no business relationship with any company whose stock is mentioned in this article.