Orbcomm Inc. (ORBC), a leading provider of satellite data communications, has received a shot in the arm as Digi International Inc. (DGII) becomes a manufacturer of Subscriber Communicators for Orbcomm's global M2M (machine-to-machine) network. Recently, Digi acquired MobiApps Holdings, a developer of M2M communication products for Orbcomm's satellite network.
Orbcomm provides satellite communication services in more than 80 countries throughout the world. The company is the sole commercial mobile messaging system provider that is optimized for narrowband communications enabling efficient use of valuable wireless spectrum.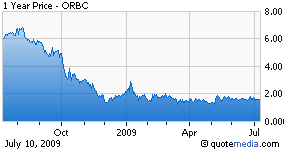 Demand for Orbcomm's services continues to grow at an accelerated pace as the company added over 16,000 net billable subscribers in the first quarter of 2009, registering a total subscriber base of approximately 476,000, an increase of 25.4% year-over-year. Market penetration of M2M data communications devices is anticipated to increase up to 1.5 billion total units by 2012. Therefore, we believe partnership with Digi will be very helpful for Orbcomm as its wireless M2M network can now reach a larger market.
While we view the satellite business as extremely competitive, not to mention the low margin and expensive operations, we also believe the barriers to entry for such services are substantial. In addition to Orbcomm, other major players in this market include Globalstar (GSAT), Loral Space & Communications (NASDAQ:LORL) and Globalcomm Systems (GCOM).
A key advantage for Orbcomm over its rivals is its ability to expand the proportion of OEM subscribers to overall billable subscriber communicators. OEM growth is important as it provides strong service revenue streams for the company. We maintain our Hold recommendation for Orbcomm.