Alarming Shifts in Healthcare
I'm not James Altucher, but I do believe in investing in companies that stand to benefit from "long-term demographic trends." These long-term demographic trends tend to be very transparent for the healthcare sector. The IMS Institute for Health recently released a report, Declining Medicine Use: For Better or Worse?, detailing their findings on the current state of healthcare. Salient aspects of the report are as follows:
"Total spending on medicines on a real per capita basis declined by 3.5%."
"Overall healthcare spending is growing more rapidly than spending on medicines and is expected to do so at least through 2017."
"Nominal spending on pharmaceuticals reached $325.8 billion in 2012, a decline of 1.0%."
"Losses of patent exclusivity led to $28.9 billion lower spending on affected medicines, taking the 5-year total "patent dividend" to $75 billion."
"In 2012, generics reached 84% of dispensed prescriptions, and spending in this segment grew by $8 billion."
"Patent expiries for products used by millions of patients have contributed to a 30% rise in the generic share of prescriptions over the last ten years" ("Generics are now dispensed 95% of the time when a generic form is available, up 1% from 2011.")
"Patient out-of-pocket costs have risen three times higher than they were 5 years ago, and seven times higher in consumer-driven health plans."
"The top 5 classes in 2012, based on spending, were oncologics ($25.9Bn), mental health ($23.5Bn), respiratory agents ($22.1Bn), antidiabetics (22.0Bn), and pain ($18.2Bn)."
These findings are rather alarming; especially in context to the healthcare sector's impressive 20.7% year to date performance. Based on the information within the report, current trends don't bode well for the healthcare sector… especially for big pharma.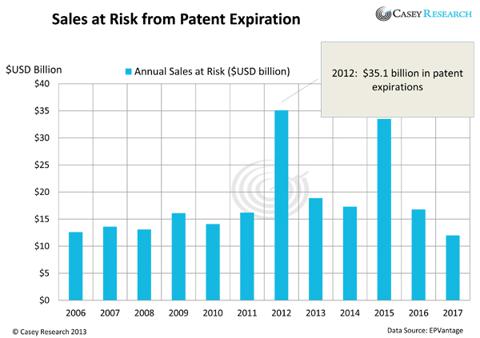 Source: Casey Research
Large pharma got slammed by the 2012 patent cliff, salient examples include:
Merck (NYSE:MRK) lost patent exclusivity of its asthma compound, Singulair, which was responsible for $5 billion/year or 16% of US sales. The introduction of generics led to a 67% fall in Singulair sales in 4Q12, resulting in a 7% decline in fourth-quarter profits.
Bristol-Myers Squibb (NYSE:BMY) lost patent exclusivity of its blockbuster blood clot medication, Plavix. This year, sales of Plavix dropped 95% with disastrous consequences for the company's revenue, which dropped from $5.25 billion to $3.83 billion.
The markets and the healthcare sector are at all-time highs, but unless prophylactic measures are taken, the healthcare sector is bound to be sent reeling as several highly-profitable patents expire in the patent cliff of 2015. So the question arises: which company stands to not only survive these bearish trends, but benefit greatly from them?
TrovaGene (NASDAQ:TROV)
As healthcare expenditures continue to grow from and concentrate in chronic and progressive conditions such as cancer, this foreshadows an increased focus towards early detection and prevention, especially as lifespans and cancer survival rates continue to increase. TrovaGene is a development stage biotech company with an established patent portfolio in transrenal, or urine-based molecular diagnostic (MDx) tests that allows for the detection of conditions such as cancer in their early stages. With several catalysts for the year of 2013, TrovaGene demonstrates the potential for significant returns for the long-term investor looking to capitalize on "long-term demographic trends."
Investment Thesis
Compelling Technology
As stated above, TrovaGene's novel urine-based technology allows for the creation of assays with the power to detect progressive conditions in their early stages. This is possible because of the "imperfect" nature of the human urinary system. Despite our bodies' efficiency in breaking down and removing "waste" as urine and feces, dead cells often survive the process and appear in our urine as transrenal nucleic acids. TrovaGene discovered that these transrenal nucleic acids had the potential to indicate the presence of multiple conditions. In contrast to invasive procedures such as blood sampling or biopsies, which take time and money, urine-based tests are non-invasive and offer significant logistical advances over incumbent diagnostic procedures.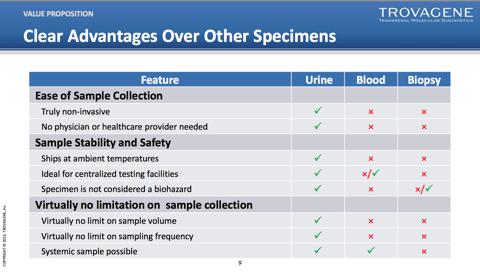 (Sourced from TrovaGene's Investor Presentation, Link)
As out-of pocket patient costs continued to rise over the past few years, patient visits, unsurprisingly, have also declined. As office visits continue to decline, TrovaGene's urine-based assays grow more attractive as urine is readily available, collectible from the comfort of home, and stable enough to allow for shipping. The simplicities of urine-based assays allow for more frequent testing, simultaneously increasing potential revenue streams and the odds of detecting conditions. Moreover, sample collection advantages indicate the potential for screening multiple conditions with a single sample from a patient.
Patent Portfolio Will Block Competition in the Transrenal Space
Patent exclusivity, which is always a salient concern in the biotech space, appears to be a non-issue with TrovaGene. The company currently boasts a patent portfolio consisting of 121 issued patents in addition to 47 pending patents. These patents not only provide concrete protection of its core urine-based business, but also allow for the monetization of the non-core applications of its technology through licensing deals and/or partnerships. More importantly, company management is committed to maintaining its established position through "the next 20 years of protection." This should result naturally as TrovaGene progresses with new discoveries, filings, and patents. At least for the foreseeable future, TrovaGene should have a monopoly on all transrenal-based diagnostic assays. The recent partnership agreement (See exhibit 10.1) with PerkinElmer (NYSE:PKI) appears to validate TrovaGene's IP strategy and strength.
Multiple Significant Avenues for Growth
TrovaGene is a molecular diagnostic company with extensive knowledge and patents in the transrenal space. Unlike pharmaceutical companies that must demonstrate not only efficacy but also safety in time and money intensive clinical trials, TrovaGene's position as a non-invasive diagnostic company only needs to demonstrate efficacy in terms of speed/sensitivity/specificity. As a result, its research/development/launch cycle is not only faster, but cheaper as well.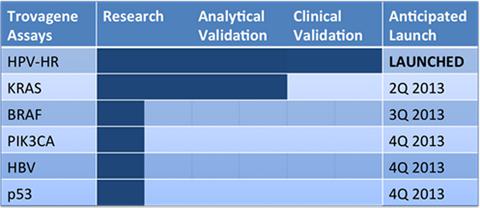 (Source: TrovaGene website, link)
The following is an overview of the company's assay targets:
HPV-HR (Human Papillomavirus - High Risk) is an incredibly prevalent STD within the US. The CDC states that, "approximately 79 million Americans are currently infected with HPV. About 14 million people become newly infected each year. HPV is so common that nearly all sexually-active men and women will get at least one type of HPV at some point in their lives." There are multiple genotypes of HPV, these genotypes are classified as high-risk, intermediate-risk, and low-risk types, based the likelihood that infection may progress to cause cancer. HPV has recently seen a surge in media coverage and public visibility as a result of actor Michael Douglas stating that HPV from oral sex was responsible for his oral cancer. In addition to HPV's role in causing cervical cancer, the STD has recently replaced smoking as the leading cause of all oral cancers, now responsible for over 72%. This has positive implications for TrovaGene's ongoing launch of its HPV assay. Given that HPV was predominantly viewed as a women's disease, increasing awareness among men should result in TrovaGene taking a significant portion of the HPV diagnostic arena. I say this in light of the current standard of HPV screening for men…which involves inserting a Q-tip up the urethra. On a conservative basis, let's say that of the 79 million currently infected, 10 million decide to get screened for HPV. Let's say that the 10 million are split evenly between men and women, and given the options- let's just say TrovaGene captures the entire male market, but none of the female market. If the assay costs $100 each (it will cost a lot more),

TrovaGene stands to gross half a billion just on its HPV-HR assay.

KRAS (Kirsten rat sarcoma viral oncogene homolog) is a gene that when properly functioning produces a KRAS protein that is essential for tissue function and growth. Consequently, mutations of the KRAS gene often precede the development of several cancers such as pancreatic (Steve Jobs), colorectal, lung, ovarian, among many others. As a result, the successful launch of

TrovaGene's KRAS assay will result in substantial new streams of revenue from screening of various types of cancer. The revenue from the KRAS assay should be recurring, as a result of the prevalence of relapse amongst cancer survivors.

BRAF (B-Raf murine sarcoma viral oncogene homolog B1) is essentially the same as the KRAS gene, where it is responsible for the creation of the B-raf protein that directs cell growth. Similarly, in 2002, mutations of the gene were shown to often precede many forms of cancers. These cancers include skin, thyroid, colon, and hairy cell leukemia. Again, all revenue from

TrovaGene's BRAF assay should be recurring.

PIK3CA (Phosphoinositide 3-kinase catalytic subunit alpha), again essentially the same as the KRAS and BRAF genes. In the spirit of being concise, ibid.
HBV (Hepatitis B virus) is an infectious virus that targets the liver that ranges in severity. Beyond the potential to cause death by liver failure, chronic infection with HBV dramatically increases the incidence of hepatocellular carcinoma (HCC) otherwise known as liver cancer. Although not as prevalent within the US, globally, there are 350 million chronic carriers of the virus. Given HBV's role in HCC causation, I assume this is the assay

TrovaGene is currently collaborating with PerkinElmer with to develop.

P53 (This should actually be TP53, tumor protein 53) is a critical gene within the context of cancer development. The TP53 gene allows for the creation of p53, a protein that regulates the cell cycle, thus functioning as a tumor suppression mechanism. This gene is critical for cell maintenance, demonstrated by the fact that over 50% of human tumors contain a mutation or deletion of the TP53 gene. As a result, the successful completion and launch of this assay would be instrumental in solidifying

TrovaGene's position not only in the transrenal diagnostic space, but also in the molecular diagnostic arena at large.
Even in consideration of the significant markets TrovaGene intends to target with its urine-based assays, what really excites me about the company is the fact that it intends on launching all six assays by the end of this year. Given the widespread applicability of transrenal nucleic acid based diagnostics, TrovaGene holds the potential to approach and rapidly enter additional markets, especially if its initial batch of assays is able to gain any sizeable traction.
Can TrovaGene Meet Stated Goals?
One diagnostic assay can be hard enough to execute on, but can TrovaGene support six in tandem? The answers can be found in the company's most recent 10-Q. Filed for the quarterly period ended March 31, 2013, the financials within appear to indicate that TrovaGene should be able to complete the development and launch of all six assays without any additional financing.
The Q1 filing reports that the company, which had $10.8 million on its balance sheets by the end of the fourth quarter of 2012, spent just under $1.7 million in cash in the first quarter of 2013. This resulted from an increase in operating expenses from $1.16 million in Q12012 to $2.5 million in Q12013, where research and development expenses more than doubled, presumably to ensure that self-imposed launch dates of the company's six assays will be met. At this rate of cash burn, TrovaGene has more than enough cash to continue operation until at least the end of this year.
Moreover, as stated earlier, TrovaGene began the launch of its HPV-HR assay in March of this year, although it may take time to build significant traction, any revenue from its HPV-HR assay should help offset the increase in expenses. In addition, the recent milestone-based partnership agreement with PerkinElmer for the development of an HCC assay in conjunction with the proposed launch date (4Q2013), leads me to believe that TrovaGene will imminently begin to receive milestone payments which should help offset the increase in spending.

(Sourced from Exhibit 10.1 of TrovaGene's Q1 10-Q)
The Molecular Diagnostic (MDx) Assay Market
Frost and Sullivan forecasts that MDx sales will exceed $6.2 billion by 2014 with a CAGR over 11%. Of the global in-vitro diagnostic (IVD) market ($48 billion in 2010), molecular diagnostics represents its fastest growing segment. As total spending on medicines on a real per capita basis continues to decline despite the continued increase in healthcare spending, it stands to reason that spending on diagnostic assays will continue to increase as a prophylactic measure against exponentially more expensive late-stage conditions. Although molecular diagnostic assays are typically priced at $300-$3,000 per test, the CMS has typically reimbursed the costs of MDx assays in an effort to promote early detection. And if that wasn't enough, here's the icing on the cake: The Affordable Care Act will require insurers to cover such tests. Government support indicates that MDx will eventually comprise the majority of the IVD pie.
This shift is illustrated by the changing landscape of diagnostic companies. In contrast to massive diagnostic companies such as Roche Molecular (a subsidiary of Swiss super-pharma Roche (OTCQX:RHHBY)) of which molecular diagnostics account for a small percentage of their core businesses, companies solely focused on MDx assays have begun to emerge. Such companies include:
Quick Company History
TrovaGene began as Xenomics, a nano-cap company founded in 1999 and based in San Diego, CA. The company began after its scientists discovered that cell-free nucleic acids were able to cross the kidney barrier and realized that these transrenal nucleic acids (TrNA) had the potential to indicate certain conditions. As detailed in Douglas W. House's article, Xenomics utilized the defunct company "Used Kar Parts, Inc." as a shell and became publically traded through a reverse IPO. In 2010, it changed its name to TrovaGene. After developing its TrNA patent portfolio, TrovaGene experienced a flurry of activity where financing was conducted, the company uplisted to NASDAQ, shares were reverse split, all while Sequenom management came aboard.
TrovaGene's Proven Management and Board of Directors
As stated earlier, many on TrovaGene's senior management team have worked together in other molecular diagnostic companies such as Sequenom. So the question remains, why would the management of what was then a $600 million market cap company leave to join a company over ten times smaller? Sequenom was on the cutting edge of cell-free DNA, demonstrated by its first-to-market maternal-blood trisomy assay. Although I haven't spoken to TrovaGene's management, I'd venture to say they left because they saw more opportunity in TrovaGene's TrNA technology.
Both TrovaGene's CEO Antonius Schuh and CFO Stephen Zaniboni have established track records in fostering development stage companies to acquisition. Starting with Schuh, after leaving his position as President and CEO of Sequenom, he served as CEO of Arcturus Bioscience Inc., a company that developed laser capture micro-dissection and reagent systems for microgenomics, which was later acquired by Molecular Devices Corporation. Following his success at Arcturus Bioscience, Antonius Schuh served as CEO of AviaraDx, a MDx company focused on oncology, which again was acquired by bioMerieux in 2008. After co-founding Sorrento Therapeutics, Inc. (NASDAQ:SRNE), he later joined TrovaGene in 2011 as its CEO. CFO Zaniboni also shares a similar story, where after leaving Sequenom, he served as CFO of Arcturus Bioscience. He then served as CFO of AviaraDx, where following its acquisition, he served as CFO of Sorrento Therapeutics, Inc. He then served as CFO of two other healthcare companies before finally joining TrovaGene as its CFO in 2012. In light of their track record, it's clear the two have good synergy in creating value for development stage companies within the MDx space.
TrovaGene's Board of Directors also share extensive experience in the healthcare sector, particularly in the development of companies that were later acquired for significant premiums. Thomas Adams, Chairman of the Board, has served senior management positions in two separate companies that were acquired (Leucadia Technologies (acquired by IRIS International) and Gen-Probe, Inc. (acquired by Chugai Biopharmaceuticals, Inc.)). Gabriele Cerrone, a director of TrovaGene since 2010, founded FermaVir Pharmaceuticals, Inc. and later served as director of Inhibitex, Inc. Both FermaVir and Inhibitex were acquired.
Catalyst Packed Year For TrovaGene
With six assays ambitiously slated to debut this year, TrovaGene has several catalysts for 2013 that will indicate its progress or lack thereof. Catalysts for this year are as follows:
Updates on the progress of its HPV-HR assay launch, revenues stated on future quarterly filings should provide a clear indication of the assay's traction.
The launch of its KRAS gene mutation assay in the second quarter.
The launch of its BRAF gene mutation assay in the third quarter.
The launch of its PIK3CA gene mutation assay in the fourth quarter.
The completion of the Proof of Principle on the HBV assay being co-developed with PerkinElmer in the second half of 2013.
PerkinElmer's subsequent HCC Option exercises.
PerkinElmer's decision to license TrovaGene's IP.
The launch of its P53 gene mutation assay in the fourth quarter.
With several transparent catalysts for this year, investors should see significant appreciation if TrovaGene is able to execute the completion of its six assays.
Critical Risks and Hurdles
Given that TrovaGene is the first MDx company with urine-based assays, it must demonstrate both efficacy and logistical benefits over competing MDx assays. If unable to convince the medical community, TrovaGene will fail to gain the sufficient traction necessary for the growth of its core business.
TrovaGene must release its stated assays on time. If the company falls short of expectations, share price could decline as a reaction.
TrovaGene's core business is contingent on the maintenance of its patent portfolio. If the company loses key patents, its outlook could be significantly affected.
TrovaGene could require an additional financing to ensure goals are met. In the unlikely event that the remaining $9 million is unable to complete the development of its remaining five assays, an additional round of financing should both dilute ownership and depress share price.
Conclusion
TrovaGene stands to benefit from current trends in healthcare and increased public awareness of molecular diagnostic procedures. With its novel technology, strong management and board, and cash on hand, the company should definitely be able to reach significant catalysts necessary for value creation. Moreover, given the large market opportunity for each of its six assays, remote traction on any of its assays should result in significant appreciation in share price. Even if TrovaGene is unable to deliver on its pipeline, downside risk appears to be minimized by PerkinElmer's interest in the company's transrenal IP. In consideration of other MDx companies that are typically valued in the $500 million range, often without significant revenue, I believe that TrovaGene is a steal at these levels for the long-term investor.
Disclosure: I have no positions in any stocks mentioned, and no plans to initiate any positions within the next 72 hours. I wrote this article myself, and it expresses my own opinions. I am not receiving compensation for it (other than from Seeking Alpha). I have no business relationship with any company whose stock is mentioned in this article.