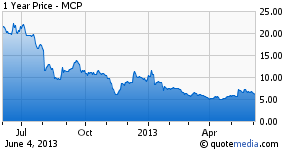 Molycorp (MCP) had a flicker of life a month ago and things looked like they could be heading in the right direction. Revenue was up 9% from Q4 2012 and beat estimates by 76%. The loss per share beat the adjusted loss per share estimate of $0.45 by $0.27, and the guidance created a buying frenzy. The stock proceeded to have a remarkable short squeeze ending the day over 30% up in the high 7's. The anticipation of Molycorp's Mountain Pass Mine excited investors and message boards were abuzz calling for an open over $10 in the upcoming days. In reality, the "bubble" popped after REE prices reached record highs in 2011 and the stock dropped. The hype of the bad, but better-than-expected earnings had worn off and reality had set back in. There were many reasons the stock fell from $70 a share to sub $5 in less than 2 years, and the factors that caused this sharp decline have not improved. Investors in Molycorp have seen massive dilution of their shares during this cataclysmic decline, and the main factor causing this, the declining rare earth market, isn't showing signs of improving anytime soon. In my article, I am going to cover why I believe, despite the short-lived optimism, MCP shares aren't going to sustain a positive move up in the foreseeable future.
First, the rare earth market has been hit hard these last few years and all of the stocks in the sector have been brought down with it. Due to the increased, and up to this point unhindered, smuggling of rare earths out of China, the prices of rare earths have steadily decreased. Su Bo, vice-minister of industry in china stated in a Reuters news release that:
"Unplanned exploitation and production of rare earths has affected the normal workings of the market, and illegally-produced rare earth products have reached downstream consumers through a variety of channels or been smuggled abroad, leading to a continuous decline in prices".
This smuggling has caused a sudden increase in supply and competition, both of which have brought a decrease in the stock price. In fact, this increased supply and falling price of rare earths has caused every stock in the sector to see at least a 75% fall in share price. Avalon Rare Metals (NYSEMKT:AVL) has seen shares decline by over 80% since 2011, declining from $7 per share to today's price of $0.82 per share.
Rare Element Resources (NYSEMKT:REE) has also been devastated; along with Molycorp and Avalon, it has fallen over 90% from $17 to $2 per share.
To sum it up, the last two years have pummeled this whole industry and things are not likely to turn around anytime soon. The price of rare earths is falling, and all indications point to it continuing to fall, bringing the industry along for the ride.
If you apply this declining price of rare earths to the situation Molycorp is in, the future looks quite dim. The company had to raise over $400,000,000 last year to keep operations going, diluting the shareholders and casting a dark shadow over its future. The day-to-day operating costs of the rare earth industry are very high, and to put it simply, Molycorp will burn through more cash than it can hope to make in the upcoming fiscal years. According to the Q1 2013 earnings report, the company raised over $400 million by diluting the float, that is, through additional stock offerings. At their current burn rate of $80 million per quarter, this should last Molycorp no more than two years, barring that REE prices don't continue to fall.
Rare earth prices have continued their descent, falling another 12% across the board in May. Su Bo also added in the same Reuters news release that:
"Problems in the industry that have accumulated over the long-term have still not been fundamentally resolved".
This statement alone tells me it will be a dark road ahead for Molycorp and the whole REE Industry. Although the company is trying to cut expenses, it is hard to do that without crippling operations and revenue. This decline in prices, with little hope of rebounding, is a nail in the coffin for MCP. If it does not turn around in the near future, Molycorp will be forced to dilute further, downsize operations, and sell assets. Until the prices of rare earths stops falling, Molycorp will not be able to get its Mountain Pass mine into full production, and will continue to post a loss and burn capital.
Conclusion:
Molycorp, and the rare earth sector in general, have plummeted the past two years, falling over 75%. The sector has been strongly affected by the sharp downturn in REE prices, which fell over 12% alone in May. Until these prices stop falling, the completion of the Mountain Pass Mine will not progress any further, and worse, the company will be forced to continue cutting operations and burning through its cash. Molycorp is in a race against time and how fast the market for rare earth can be turned around. Although they have raised enough cash to last them for the near future, if things don't drastically change in the next year, it will become very ugly for Molycorp and its investors.
Disclosure: I am short MCP. I wrote this article myself, and it expresses my own opinions. I am not receiving compensation for it (other than from Seeking Alpha). I have no business relationship with any company whose stock is mentioned in this article.