pSivida (NASDAQ:PSDV) is a leading provider of miniaturized, sustained-release drug delivery products, and is continuing the evolution of these systems. The company has developed three of only four products approved by either the U.S. or EU for long-term, sustained-release delivery of medication to treat chronic eye disease. It currently has 13.7 million in cash and no debt. The company expects to have enough cash to fund its operations until the fourth fiscal quarter of 2014 (stated here at 9:20 of Conference call).
The company recently announced on May 29th:
pSivida Corp. (ASX - PVA), a specialty pharmaceutical company that is a leader in the development of sustained release ophthalmic drug treatments, today announced that it has signed a funded technology evaluation agreement with a leading global pharmaceutical company. The agreement will evaluate pSivida's proprietary Durasert™ technology for this pharmaceutical company's select products in ophthalmology. The Durasert technology system delivers specific quantities of drugs directly to a target site in the body at controlled rates for predetermined periods of time ranging from weeks to months.
Their products and pipeline are truly remarkable for its current valuation.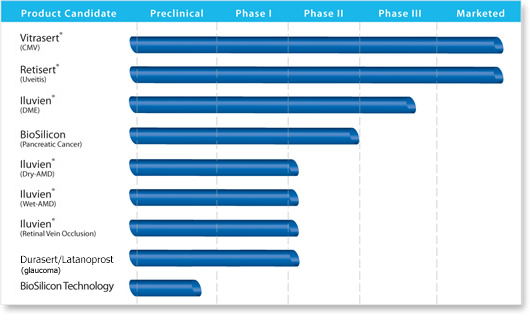 1) Retisert and Vitrasert
Retisert and Vitrasert are already approved by the FDA and are licensed to Bausch & Lomb.
1) Retisert for the treatment of posterior uveitis, an autoimmune condition characterized by inflammation of the posterior of the eye that can cause sudden or gradual vision loss.
2) Vitrasert for cytomegalovirus retinitis, a blinding eye disease that occurs in individuals with advanced AIDS.
2)Durasert/Latanaprost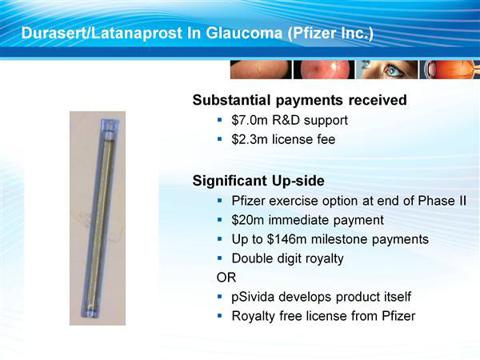 Durasert for glaucoma is a fully bioerodible, long-term, sustained release implant delivering latanoprost, the most commonly prescribed agent for ocular hypertension and glaucoma in the world. The product is designed to be administered by an eye care professional into the subconjunctival space of the eye in a minimally invasive procedure.
A Phase I/II clinical trial designed to assess the safety and efficacy of the implant is underway in patients with elevated intraocular pressure. If successful, we plan to advance the product into a multi-center Phase II clinical trial.
The Durasert/latanoprost program is being developed with Pfizer Inc. (NYSE:PFE) pursuant to the Collaborative Research and License Agreement between the two companies that are focused solely on this product.
In terms of the Pfizer agreement, at the moment Pfizer has no commitment to pSivida other than working with pSivida in terms of the Phase I/II trials using the latanaprost in the insert. Pfizer has an option to pick up the product at the end of the Phase II trial. If Pfizer agrees to pick up the option, pSivida would receive $20 million and Pfizer would take the product through Phase III. This would include performance milestone payments and a double-digit royalty rate over 10%. Pfizer would be the sole owner of the product. If Pfizer declines to pick it up, pSivida would keep all its rights to commercialize and be the sole owner of the Glaucoma drug with another partner if it chooses. Latanaprost is a billion dollar drug and pSivida would collect all the royalties. (Note: Pfizer owns over 7% of pSivida)
3) Tethadur
The CEO Dr. Paul Ashton states that Tethadur could be the company's most valuable technology. It delivers proteins peptides and other small molecules.

pSivida's Tethadur Technology is a platform drug delivery system that relies on nanostructuring to achieve optimal drug delivery. It can be used alone or in combination with pSivida's other technologies. Tethadur has:

Ability to provide long-term delivery of anti-bodies and other proteins
High efficiency/capacity of drug loading
Controlled nanostructuring can vary nanosized pores to accommodate different molecule sizes
Fully bioerodible over range of time periods
Big pharmas are salivating on the potential of this product.
4) Medidur
pSivida had a very positive meeting with the FDA and they've reviewed the plans for Phase III clinical trials. The company expects their Phase III clinical for this micro-insert for posterior uveitis to begin enrolling patients on schedule by the end of this quarter. It is expected that Medidur will eventually generate 600 million in revenue upon approval from FDA and Europe, of which 100% of the revenue will go directly to pSivida.
Conclusion
pSivida is definitely under the radar at the moment, fully diluted share count is 23,297,011, giving it a ridiculous valuation (78 million market cap), but will definitely be gaining steam as it marches towards its Prescription Drug User Fee Act (PDUFA) hearing in October. pSivida's PDUFA has a targeted date of October 17, 2013. This will be its third try at approval in the United States. (Read my last article on Iluvien here). The vast pipeline and the lending of its sophisticated technology alone make PSDV a truly undervalued stock. Of course there is a risk of losing 25-30% on rejection from the FDA, but like I mentioned, its fundamentals will help it from getting too much of a haircut. Astute investors will soon realize its potential and the company will eventually show its true double-digit value.
Disclosure: I am long PSDV. I wrote this article myself, and it expresses my own opinions. I am not receiving compensation for it (other than from Seeking Alpha). I have no business relationship with any company whose stock is mentioned in this article.