This is Part 11 of a series of articles that compare the risk profiles for the 25 business development companies ("BDCs") recently covered in my "The Good, The Bad, And The Maybe" series and focuses on the portfolio yields and credit quality trends for TICC Capital (TICC), Hercules Technology Growth Capital (NASDAQ:HTGC), Gladstone Capital (GLAD) and Full Circle Capital (FULL).
Previous Risk Profile Articles:
When assessing risk relative to other BDCs I take into account many factors including: portfolio credit quality, investment asset classes, diversification, non-accrual rates, portfolio yield, fixed/variable rate loans, leverage, interest rate sensitivity, volatility ratios, market capitalization, insider ownership and trends, institutional ownership and trends, and management/operational history. Below are the current risk rankings for each BDC and for the most recent overall rankings see "Latest BDC Rankings For Q1 2013."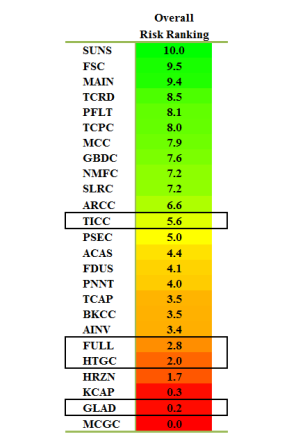 Portfolio Credit Quality
Portfolio credit quality is one of the most important indicators for many areas of BDC analysis including earnings predictability, NAV growth, dividend sustainability, valuation and risk profile. BDCs have many different methods of indicating the credit quality of the portfolio and are often inconsistent, making it difficult to compare. A few measures that are consistent but not necessarily the best are average portfolio yield and asset class mix, but I will cover portfolio leverage and interest coverage ratios as provided by each BDC.
Below is a table showing the average "portfolio grades," portfolio yields, the general direction of yields and credit quality, as well as the debt to EBITDA ratio when it is available. I did not include interest coverage ratios because very few BDCs disclose them and I will continue to add measurements as they become available. The "Quarterly Interest and Dividends percentage" metric is the amount of dividend and interest income (excluding income resulting from amortization of fees, discounts or other income) in the most recent quarter annualized and divided by the average fair value of the income producing investments during that quarter. Each BDC is placed into groups based on weighted average yields, leverage ratios of the portfolio companies, credit quality trends and yield direction.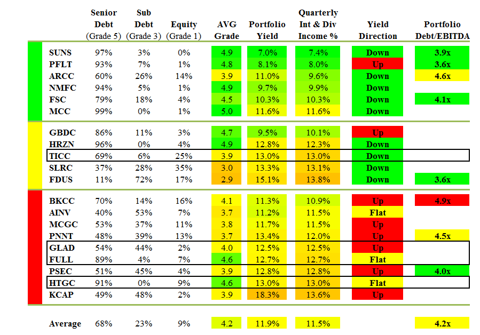 TICC Capital

TICC has been consistently decreasing its yield on debt investments and the overall portfolio over the last three years as seen in the table below: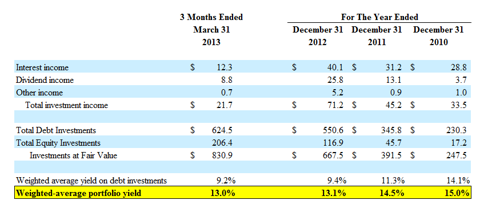 The reduction in the weighted average yield on its debt portfolio over the past year is primarily a result of the investment restrictions of the securitization vehicles, which requires TICC to invest in higher-rated and/or larger corporate loans which carry correspondingly lower yields, as well as the refinancing and repricing of many of those loans at lower rates due to current market conditions.
Collateralized Loan Obligations ("CLOs") have been a growing part of TICC's portfolio and is now 29% of total investments. As discussed in Part 10, CLO investments potentially have the following issues: less transparent than direct investments in portfolio companies, repayment priority of more senior debt holders, thinly traded, not listed on traditional exchanges, making them less liquid, difficult to value and more volatile.
TICC provides very little information regarding portfolio leverage ratios or credit quality. During the most recent earnings call the CEO mentioned: "Our weighted average credit rating on a fair value basis was 2.1 at the end of the first quarter of 2013, which remains the same from the credit rating at the end of the fourth quarter of 2012."
Hercules Technology Growth Capital
For the last two years overall weighted average yield on investments increased slightly, but for the most part has been flat and is currently 13.0% after excluding the effect of fee accelerations that occurred from early payoffs and one-time events.

The credit quality of its loan portfolio has remained stable over the last two years as seen in the chart below and currently has a weighted average loan rating of 2.03 (1.0 being the highest and 5.0 being the lowest).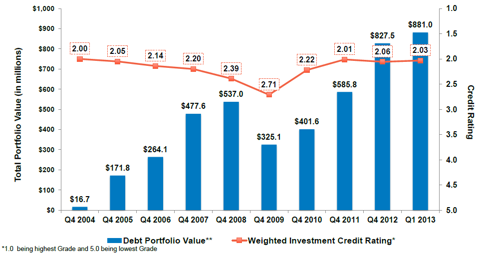 On the most recent earnings call the CEO was asked about competition and yield compression and replied: "So I'm not aware that many companies will talk about the same breadth of seeing increased competition, while at the same time seeing yields going up. I think it's a testimony to our continued focus on our credit quality, disciplined underwriting and a steadfast disciplined approach to underwritings. So we're less concerned about just reasoning to originate. And this is why you saw our yields actually go up during the quarter."
In another earnings call the CEO stated "We also continue to do something that other BDCs don't seem to want to do and that is we refuse to give up credit quality and more importantly reached down the capital structure in order to preserve yields. I have said more than once, Hercules is more than happy to give up 30 to 50 basis points in yields to ensure that they maintained a senior secured first party lien of its assets that is advancing capital too. We do not believe in trading off yields for going down the capital structure or for credit quality."
HTGC has the current ratings from Moody's and Kroll:·
Moody's Securitization Rating: A2
Kroll Corporate Rating: BBB+
Gladstone Capital
GLAD has slowly increased its portfolio yield from 11.4% in 2010 to 12.5%. The recent increases are due to the purchase of new proprietary investments during the quarter and the early payoffs of several of its syndicated loans, which generally bear lower interest rates than its proprietary investments.

On the most recent earnings call the CEO mentioned: "We have continued to see increased competitive pressures in our marketplace and from investment companies in this marketplace for senior and senior subordinated debt which is our specialty, and this has resulted in lower yields for increasing riskier investments."
GLAD does not disclose portfolio credit trends or leverage ratios of portfolio companies and has a history of high non-accruals as discussed in this article. Below is a chart showing non-accruals on a cost basis from a presentation provided by Triangle Capital (NYSE:TCAP). During the three months ended March 31, 2013, four of GLAD's portfolio companies were on non-accrual with an aggregate debt cost of approximately $56.8 million, or 16.4%, of the cost basis of all debt investments in its portfolio. This is much higher than any other BDC with the exception of American Capital (NASDAQ:ACAS) at 16.3%.

Full Circle Capital
FULL has the smallest portfolio of the 25 BDCs that I follow with a weighted average interest rate of 12.7% and a flat portfolio yield over the last two years.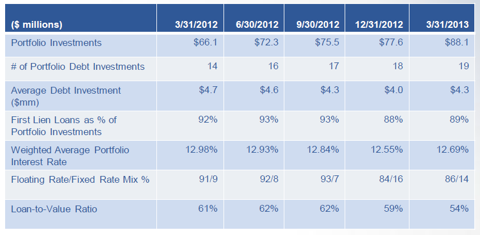 On a recent earnings call the management was asked if it tracks debt to EBITDA stats for its portfolio companies or interest coverage ratios and the CEO responded with: "We do not. We haven't used that as a metric. We really just use the loan-to-value ratio. But we do not disclose that or tally that up - on an aggregate basis."
Portfolio credit quality, portfolio yields, interest rate sensitivity, fixed/variable rate investments, industry diversification, market capitalization, insider and institutional ownership, leverage, volatility ratios, portfolio investment grades and non-accruals are many of the considerations when evaluating risk for BDCs. In the remainder of this series I will cover the portfolio credit quality for the remaining 5 BDCs, using the metrics they provide, as well as other risk considerations.
For more information about BDCs and how I evaluate them, please see this article.
Disclosure: I have no positions in any stocks mentioned, and no plans to initiate any positions within the next 72 hours. I wrote this article myself, and it expresses my own opinions. I am not receiving compensation for it (other than from Seeking Alpha). I have no business relationship with any company whose stock is mentioned in this article.