For 2012, the semiconductor equipment market registered a drop of 16%. Shown below are the revenues for the top 10 companies for 2012 and 2011.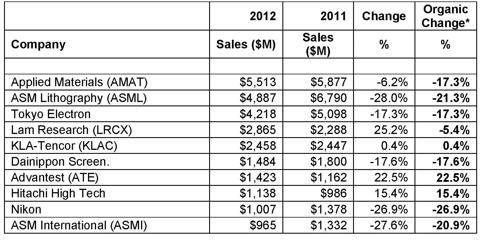 Applied Materials' (NASDAQ:AMAT) share of the Wafer Front End (WFE) increased, bringing Applied Materials back to the No. 1 position, but this was entirely due to the Varian Semiconductor Equipment Associates acquisition.
If we look at Applied's legacy products excluding the acquisition of Varian, revenues dropped 17.3%, worse than any major U.S. manufacturer. This is referred to as "Organic Change" in the table above. It also eliminates the impact of currency conversion for foreign manufacturers.
Excluding mergers and acquisitions, Applied Materials' share of WFE continues to decline. Applied Materials lost market share in etch, process control (metrology and inspection) and chemical mechanical planarization (CMP). The company maintained share in CVD and RTP, but these underperformed. The only sectors it gained share, were physical vapor deposition (PVD) and epitaxy, attributed to the assimilation of Novellus into Lam Research (in PVD where it already enjoys an 80% share) and even worse performance from ASM International (in epitaxy).
ASML's (NASDAQ:ASML) share of the lithography stepper market remained unchanged against Nikon and Canon. A drop in memory Capex impacted the competitors and the overall market. ASML is well positioned in the market with a backlog of extreme ultraviolet (EUV) lithography equipment at prices approaching $100 million each.
Lam Research's (NASDAQ:LRCX) market share increased 25.2% due to the Novellus Systems acquisition. If we look at Lam's organic change, which excludes the acquisition of Novellus, revenues decreased 5.4%. Lam Research grew share in etch.
KLA-Tencor's (NASDAQ:KLAC) market share of WFE decreased only 0.4%, as semiconductor manufacturers increase process control adoption due to increasing yield challenges with the relentless Moore's law.
Advantest (NYSE:ATE) was not impacted by currency changes but ASM International (ASMI) was.
The Future for Applied Materials
I have been analyzing the semiconductor equipment market and Applied Materials since 1985 when I started The Information Network. I have always been positive about the company in my Seeking Alpha articles, but my outlook for the company has changed. Main competitors have moved quickly to increase market share.
In 2002, Applied Material held a 48% share of its served available market (SAM). That share dropped on 44% in 2010, 39% in 2011 and if we exclude the VSEA acquisition, 38% in 2012.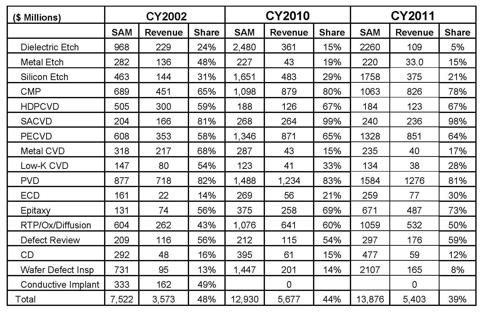 Many executives left Applied Materials in the past year and their posts were filled with Varian people, a company that Applied purchased for $4.7 billion in November 2011 as a means to re-enter the ion implantation space but primarily because of its novel application in the solar field.
The latest to leave is George S. Davis, effective 8 March 2013 after 13 years at the company, replaced by Bob Halliday, appointed as Applied Materials Senior Vice President and Chief Financial Officer. He had been Executive Vice President and Chief Financial Officer of Varian Semiconductor Equipment Associates prior to Applied's acquisition of the company. Since that time, he has worked as General Manager of the implant business unit within Applied's Silicon Systems Group.
Gary Dickerson ended his seven-year tenure as CEO of Varian Semiconductor and became President of Applied Materials in mid-2012. To his credit he saw VSEA dramatically increase market share because he was quick to move the company to single wafer ion implantation processing from batch processing.
Mike Splinter, who was named president and chief executive officer of Applied Materials in 2003 and chairman of the board of directors in 2009, relinquished his president title to Dickerson.
Senior executives Mark Pinto and Tom Edman left Applied Materials when its EES and Display divisions were merged and the company hired former senior VP Ali Salehpour from KLA-Tencor to head up the merged divisions. Pinto had been Executive Vice President and General Manager of EES, and Edman, group vice president and general manager of Display.
Applied Materials announced in October 2012 it would cut its workforce by between 6 percent and 9 percent to reduce costs as it struggled with a slowdown in its chip manufacturing equipment business and was plagued with poor business at its solar and display groups. The Santa Clara, California, company implemented a voluntary retirement program and other measures to eliminate between 900 and 1,300 positions. The marketing department is now decimated as most exited, including Randy Bane, Chief Economist.
Remaining employees are overwhelmed, and this is not the atmosphere conducive to gaining market share.
On the technology front, the vacuum created by executive departures and filled by Varian executives is not positive. VSEA had a 70% share of the ion implant business and a handful of competitors. They had one product, ion implantation. Applied Materials sells equipment in a dozen application areas and has fifty competitors, including powerhouses Lam Research and KLA-Tencor - a huge undertaking by these replacements.
CFO Halliday reiterated several times at a recent Cowan & Co presentation (the transcripts are available on Seeking Alpha) that the company was receiving large bookings for its Brightfield front-end inspection tool. That may be a positive, but Applied lost market share last year in the inspection/meteorology market to its chief competitor, KLA-Tencor, which has hundreds of different types of inspection/meteorology tools and has a 72% share of the Patterned Wafer Inspection market where the brightfield tool competes.
In the ion implant market, Applied has a commanding lead thanks to the Varian acquisition. Competitor Axcelis (NASDAQ:ACLS) launched the Purion product line in 2012, addressing the medium implant sector that Axcelis had a practically non-existent market share, and should steal share from Applied in 2013.
To reiterate what I said in my previous article in Seeking Alpha, "Pacific Crest analyst Weston Twigg sums it up best as he sees a complete transformation in Applied Materials over the next 5 years, as management continues plans for improvement. Twigg thinks earnings leverage will return. But five years is a long time in the semiconductor equipment industry."
Overall Lam Research, ASML and KLA-Tencor are in a better position to grow market share of WFE over time.
Disclosure: I have no positions in any stocks mentioned, and no plans to initiate any positions within the next 72 hours. I wrote this article myself, and it expresses my own opinions. I am not receiving compensation for it (other than from Seeking Alpha). I have no business relationship with any company whose stock is mentioned in this article.