We remain in the "Red Flag Flying" mode, expecting lower prices ahead.
The markets were ugly and messy last week, trending lower to log their 4th consecutive week of declines.
We have three positions in the Standard Portfolio, with unrealized gains of +4.1%, +2.2% and +5.0% and two positions in the Ultra portfolio, with unrealized gains of +6.9% and +2.4%.
So we remain positioned to the short side in both portfolios with 40% of the Standard and 60% of the Ultra still in cash.
The S&P 500 broke a significant bottom this week, generating a "sell" signal on the Point and Figure chart and putting in a new bearish price objective of near 800, as seen in the chart below.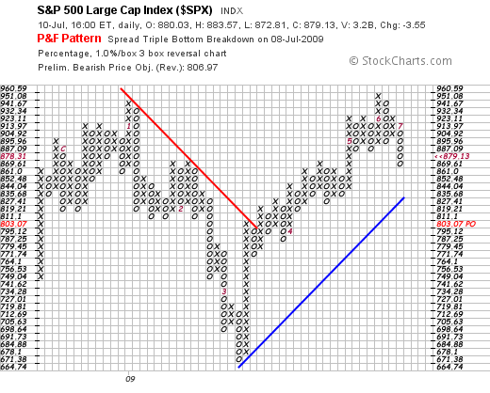 And it continues resting right at its 200 day moving average and the technically significant 880 level.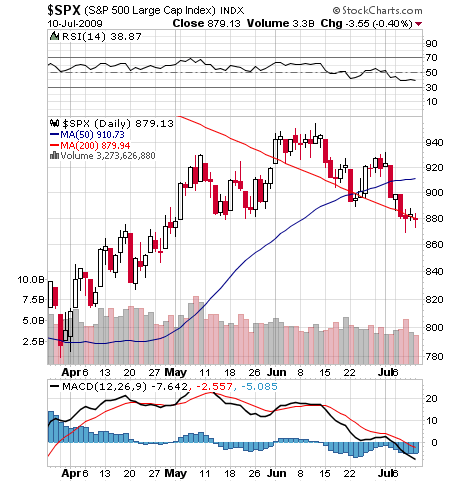 In the chart above you can see we're right at the support level of 880 and just a fraction below the very significant 200 day moving sverage. The MACD at the bottom of the chart also remains on a "sell" signal.
So, all this adds up to a very weak general tone in the market and a 7% decline from the June highs. Quite likely we could see a rebound in the short term because some indicators are becoming oversold, however, the general tone of the markets, both fundamentally and technically, remains negative.
Our strategy will be to continue to seek profits with inverse ETFs and add to our positions as this downtrend is further confirmed. And we will stay on the "short" side and in cash until we get a "Green Flag Flying" signal at which time we'll reposition to long positions.
We can expect significant volatility next week and in the next few weeks as earnings reports and economic data come in.
The View from 35,000 Feet
For the week, the Dow was down -1.5%, the S&P 500 gave back -1.9% and the NASDAQ lost -2.3%.
Downward pressure was provided by an unexpected slide in the University of Michigan Consumer Confidence Index and ongoing worries about the strength of the recovery and earnings season just getting underway.
This week, GM (GMGMQ.PK) emerged from bankruptcy and announced it will be a much smaller GM, with 6,000 white collar job cuts being the first announcement in their restructuring. The United States is now 60% owner of GM with a $60 Billion stake in the company that still seems to be in a fight for survival against Ford and the foreign car makers.
California continues tottering on the edge of disaster as they delayed a $4 Billion payment to their education system and issued more than $450 million in IOUs, with a total of some $3 Billion planned for July.
The only bad news is that a number of large banks have said they won't be accepting the IOUs after Friday.
Oil declined below $60/bbl on continuing concerns of economic weakness and demand.
The shares of CIT Group, the big commercial lender, dropped -18% on Friday when the FDIC balked at guaranteeing their debt that has been reduced to junk status.
And well known economist David Rosenberg wrote that he's expecting a retest of the March lows and that historically such a retest could result in a 20% decline. From the June high of 945, that would indicate a downside target of approximately 750 on the S&P and 7100 on the Dow, another 1,000 points or so from Friday's close of 8146.
And, finally, the trade gap came in at the lowest since November, 1999, indicating declining demand for foreign imports for the 10th straight month of declines, a further indication of U.S. economic weakness.
The Week Ahead
We have a huge week ahead with earnings reports from Intel on Tuesday and from the financial heavy hitters Bank of America, JP Morgan and Goldman Sachs. Overall S&P earnings are expected to be off more than -35% from last year and the outlooks companies offer will be even more important than the earnings they report.
Tuesday: June Producer Price Index, June Retail Sales, May Business Inventories
So I'm really not a bear or a bull but just following our signals which right now point downwards. It's hard to be bullish with the bad news that abounds but no matter which way the market goes, there are always opportunities to profit and that will be our goal.
Thursday: Weekly Jobless Claims, Philly Fed Report
Wednesday: June Consumer Price Index, June Empire State Manufacturing, June Industrial Production
Friday: June Building Permits, June Housing Starts
Sector Spotlight
Weekly Leaders: Inverse ETFs, Taiwan, Japanese Yen, U.S. Dollar
Weekly Laggards: Oil, Commodities, Precious Metals