Two Harbors Investment Corp. (NYSE:TWO) is a hybrid real estate investment trust (REIT) that invests in residential mortgage-backed securities, residential mortgage loans, residential real properties and other financial assets. TWO is the largest hybrid mortgage REIT focused on investing in residential mortgage assets with a $4.5 billion market capitalization.
Importantly, TWO has the flexibility as a hybrid REIT to take advantage of opportunities in both Agency and non Agency securities, residential mortgage loans and other residential assets. Since inception, TWO management has generated total stockholder returns of 130% (capital gains and dividends). As a mortgage REIT the company has elected to be taxed as a REIT for U.S. federal income tax purposes. This tax status requires that TWO distribute at least 90 percent of REIT income to stockholders on an annual basis. TWO is externally managed and advised by PRCM Advisers LLC, a wholly-owned subsidiary of Pine River Capital Management L.P.
As the market digests the idea that the Federal Reserve might "taper" its quantitative easing program, the bond market has sold off. The sell-off in bonds equates to rising yields for Treasuries and agencies. This "back-up" in rates as negatively impacted the share prices of mortgage REITs.

Mortgage REITs are levered investment vehicles which are sensitive to interest rate movements. The more broad iShares mortgage REIT index is down nearly 11% over the last three months. To put the price decline in perspective, investors have effectively lost a year's worth of dividend income with the mark-to-market loss in REIT shares over the last 90 days. The primary concern of investors is the erosion of book value due to the increase in interest rates.
While I believe agency focused mortgage REITs continue to remain vulnerable due to their inherent interest rate sensitivity, investors should add hybrid and non-agency REITs to their watch list as investors have sold off shares of mortgage REITs. Shares of TWO have sold off 10% over same time period, but I believe the book value and dividend yield are more stable than agency focused REITs. The primary rationale for this thesis is outlined herein and has been outlined by management in a recent industry conference.
American Capital Agency Corp. (NASDAQ:AGNC) is down more than 20% over the last three months while Annaly Capital Management, Inc. (NYSE:NLY) is down more than 12.5%. AGNC and NLY are two of the largest agency mortgage REITs in the market. See the discussion below for a discussion on the differences between agency and non-agency securities.
The rise in yields and agency spreads has impacted share prices of the mortgage REIT sector.
Agency Securities vs. Non Agency or Hybrid Securities
Mortgage REIT managers typically focus on an agency or hybrid strategies. Agency REITs carry limited credit risk as securities are guaranteed by government sponsored entities. Agency REITs are subject to interest rate and refinance risk.
As opposed to agency REITs, hybrid REITs invest in both agency and non-agency securities. Hybrid REIT managers have the flexibility to move between agency and non-agency securities to find the best risk/reward for shareholders. Purchased at the appropriate price, non-agency securities can offer REIT investors attractive risk adjusted returns and lower the volatility in a REIT portfolio. Non-agency mortgages trade more like equity securities than credit, thus as the economy heals, recoveries increase. Conversely, as the economy heals (or the FED discusses tapering) the market drives interest rates up which hurt agency securities.
Why is TWO Interesting?
As opposed to peers such as Annaly Capital and American Capital Agency, TWO management has the flexibility to invest in both agency and non-agency securities. Purchased at the appropriate price, non-agency securities can offer REIT investors attractive risk adjusted returns and lower the volatility in a REIT portfolio.
TWO has invested in down beat mortgage bonds including subprime at significant discounts to par value.
Agency Strategy
TWO maintains a $12.3 billion portfolio of Agency securities. TWO has implicit or explicit prepayment protection of 98% of its portfolio. Outlined below is TWO's book of agency securities. For instance, high loan-to-value securities and low balance loans typically experience lower prepayment rates.

Mortgage REIT investors should focus on conditional prepayment rates (CPR) to monitor the health and dividend potential for mortgage REITs. The CPR reflects the percentage of principal that is prepaid over a period of time on an annualized basis. As CPRs increase, the company will have to invest in securities with lower coupons, which will hurt earnings. Mortgage REITs are highly levered investment vehicles, which employ significant leverage to generate yields. Through wise security selection TWO has maintained low and stable CPRs (see chart below).
Non Agency Strategy
TWO $3.0 billion non agency strategy is a subprime focused strategy. Non-Agency underlying performance continues to improve as delinquencies are declining, home prices are rising. The increase in rent to own strategies including Silver Bay Realty Trust Corp. (NYSE:SBY), a spinoff of TWO are driving up the demand of "distressed" lower priced single family homes. The average loan size of TWO non-agency collateral is $236,000.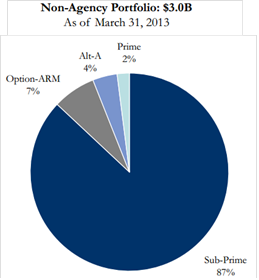 Given the discounted weighted average cost basis of $52.25, there is further potential upside embedded as home prices continue to stabilize.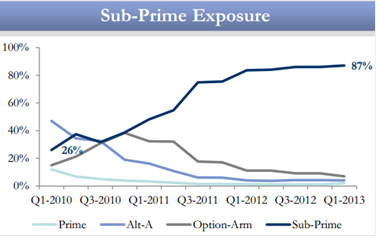 As investors and home buyers acquire low priced "distressed" homes, TWO's non-agency assets should increase in value. The combination of easy monetary policy fueling low mortgage rates, strong demand from institutional rent-to-own money managers coupled with low inventory has led to price appreciation on a nationwide basis.
Conclusion
While the Federal Reserve's discussion of tapering has impact bond prices and yields, mortgage REIT investors have sold off shares of once loved mortgage REITs. Patient investors should look to add TWO Harbors to their portfolio due to the relative strength of their agency and non-agency (subprime focused) book. Over the last few weeks, TWO shares have sold off more than 10%. In a recent Keefe, Bruyette & Woods Mortgage Finance Conference, management told attendees that the company's book value has not changed meaningfully since March 31, 2013. I believe TWO Harbor shares are worth a look.
Disclosure: I am long TWO, SBY. I wrote this article myself, and it expresses my own opinions. I am not receiving compensation for it (other than from Seeking Alpha). I have no business relationship with any company whose stock is mentioned in this article.