The Middleby Corporation (NASDAQ:MIDD) is a global manufacturer of commercial kitchen equipment, residential appliances and systems for industrial processing, packaging and baking. With more than 40 brands among its three business segments, the company designs, manufactures, markets, distributes, and services commercial food service and food processing equipment in the United States, Canada, Asia, Europe, the Middle East and Latin America.
Over the years the company has been able to grow its business through acquisitions. During the past three years the company has completed 12 acquisitions to add 14 new brands to its portfolio of brands and technologies in the Commercial Foodservice Equipment Group and its Food Processing Equipment Group. These acquisitions have strengthened its position as a leading contributor of equipment in both industries. The most recent acquisition of Viking Range Corporation in 2013 strengthens its position in the residential appliance market, as Viking is a leading brand in residential cooking equipment.
Market Growth:
Over the past few years, the food service equipment industry has enjoyed steady growth in the U.S. due to the expansion of new quick-service restaurant chains, the expansion into nontraditional locations by quick-service restaurants and the remodeling of kitchens in restaurants and hotels. The growth opportunities of food service equipment manufacturers have been rapidly increasing in the international markets as many U.S. and foreign food chains and restaurants expand into international markets.
Furthermore, the increasing concerns of food safety issues have resulted in an increasing demand for food processing units. There will be a greater need for safeguards in emerging markets as restaurant chains and supermarkets will require their food suppliers to make investments to ensure food quality and safety.
The new home construction market is also recovering slowly, which creates a significant potential for residential appliance makers to introduce new products in cooking and refrigeration to capture shares in this $1 billion market.
Analysis
In theory the company seems quite attractive with a lot of growth potential, but to get a better understanding of the company, I used fundamental analysis to evaluate it.

Source: Ycharts
The above graph shows the comparative stock price performance of Middleby with its competitors, including Graco (NYSE:GGG), Illinois Tool Works (NYSE:ITW) and the Dow Jones diversified industrial index. You can clearly see that the company's stock performed extremely well compared to its competitors and the industry index, as its stock price reflects the impact of its acquisitions over the period.
Consistent revenue Growth: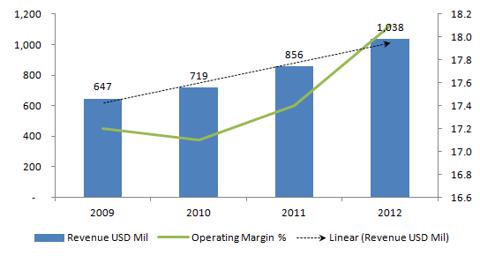 Source: Morningstar
The above graph shows the company's revenue growth and its operating margins over the years. As you can see, a consistent growth in revenues is indicated by the linear line, with a CAGR of 13.5 percent over the four-year period. The company has also maintained its operating margins over the years, despite the number of acquisitions.
Increasing Profit margins: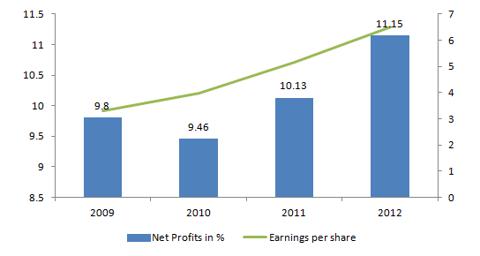 The above chart indicates company margins and earnings per share. You can see that over the period of four years the company managed to generate higher profit margins, proving its strength to its investors. The EPS has also grown substantially from 3.29 in 2009 to 6.49 in 2012, which indicates that the company has been efficiently using its capital to generate profits over the years. It is important for investors as well because a higher EPS indicates that each share of the company is worth more.
Strong Assets: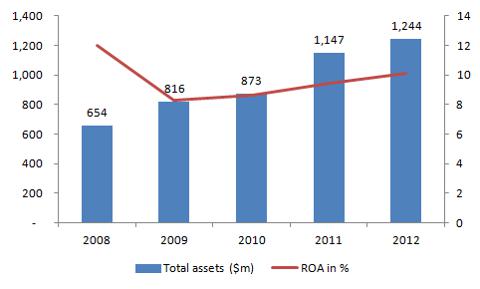 Source: Morningstar
This graph indicates the company's total assets and its return on assets over the years. Since 2010 you can see a consistent growth in total assets due to its series of acquisitions over the three-year period. Moreover, its increasing ROA signifies efficient management of its assets to generate higher profits.
Financial Analysis
The growth prospects of the company need to be supported by financial strength and stability in order to allow for sustainable profitable growth. In order to evaluate these aspects of the company's financial performance, a three-part DuPont analysis has been conducted.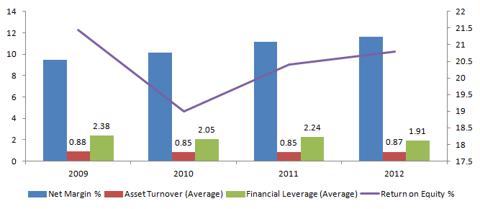 Source: Morningstar
The above chart indicates a breakdown of the company's ROE into three parts:net margin, asset turnover and financial leverage. The important points to be noted from this analysis are that the ROE is showing an upward trend in the long run over the years and it is supported majorly by net margins. The company has maintained its ROE by reducing its financial risk, which is reflected by the decreasing financial leverage ratio of the company, which is also a positive sign for investors.
Conclusion
The analysis of the company clearly indicates that this is a growth company. It is also supported by the fact that currently it pays zero dividends to stockholders and reinvests all of its profits back into its expanding business and strengthening its market presence. With its strong product portfolio and business segments, the company has sufficient resources to cater to the increasing demand in local as well as international markets. In the end, I conclude that this stock is not for value investors, but for growth investors this is a good stock to bet on.
Disclosure: I have no positions in any stocks mentioned, and no plans to initiate any positions within the next 72 hours. I wrote this article myself, and it expresses my own opinions. I am not receiving compensation for it (other than from Seeking Alpha). I have no business relationship with any company whose stock is mentioned in this article.