A big miss on the Zacks Consensus Estimate in Q1 has analysts scrambling to cut 2013 estimates on Expedia Inc. (NASDAQ:EXPE). Growth is now expected to decline on this Zacks Rank #5 (Strong Sell) by 8.4% in 2013.
Expedia is a well known online travel company that operates several travel sites in the United States and globally including Expedia.com, Hotels.com, Hotwire.com and, in China, eLong.
Expedia is the majority holder in eLong which is a bright spot in the business. It saw 71% year over year growth in room nights in China in the first quarter.
Big Miss Spooks Investors
On Apr 25, Expedia reported first quarter results and despite growing revenue 24% year over year due to strong growth in the Americas, Europe and Asia-Pacific, it wasn't quite as good as the analysts had been hoping for.
It reported a loss of 24 cents, missing the Zacks Consensus by 35 cents, or 318%. It was the first earnings miss in 5 quarters.
Investors showed no mercy as they sold off the shares.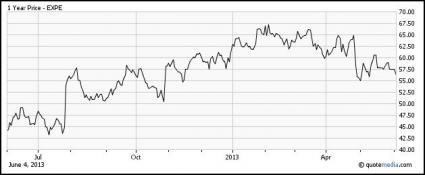 7 estimates were revised lower for 2013 in the last 60 days. The full year Zacks Consensus Estimate has fallen to $2.58 from $3.03 just 2 months ago.
The result is that Expedia has fallen to a Zacks Rank #5 (Strong Sell).
Despite the earnings miss, the analysts still like the online travel space. But investors might want to consider Priceline (PCLN), a Zacks Rank #3 (Hold), until the dust settles on Expedia.
Want More of Our Best Recommendations?
Zacks' Executive VP, Steve Reitmeister, knows when key trades are about to be triggered and which of our experts has the hottest hand. Then each week he hand-selects the most compelling trades and serves them up to you in a new program called Zacks Confidential.

EXPEDIA INC: Free Stock Analysis Report (email registration required)