After taking a beating during the height of the eurozone financial crisis scare, the Ireland country-specific exchange traded fund has pulled ahead, now outperforming other European markets.
The iShares MSCI Ireland Capped Index ETF (NYSEARCA:EIRL) has gained 16.8% so far this year, compared to the 5.7% rise in the Vanguard FTSE Europe ETF (NYSEARCA:VGK). Ireland only makes up about 1% of overall exposure in VGK.
Eric Balchunas for Bloomberg attributes the impressive turnaround in the Irish markets partly to the early adoption of the austerity measures, which forced the government to raise taxes and curtail spending.
The Ireland Department of Finance now expects GDP to expand 1.3% this year and 2.4% in 2014, whereas other parts of the eurozone are still stuck in a recession.
EIRL, unlike other country-specific ETFs, has a smaller weighting in financials. Instead, the fund overweights materials, consumer staples and industrials, which make up about three fourths of the ETF's portfolio.
The heavier tilt toward materials and industrials reflects the country's reliance on exports - Ireland is one of the most export-heavy economies in Europe and most of its exports go to non-eurozone members. Consequently, Ireland has benefited from a depreciating euro currency.
For example, looking at some of the fund's underlying holdings, CRH PLC, a construction materials company, which derives 44% of its revenue from the U.S., is benefiting from our housing recovery. Smurfit Kappa, a paper and packaging company, is capitalizing on the growing emerging markets.
iShares MSCI Ireland Capped Index ETF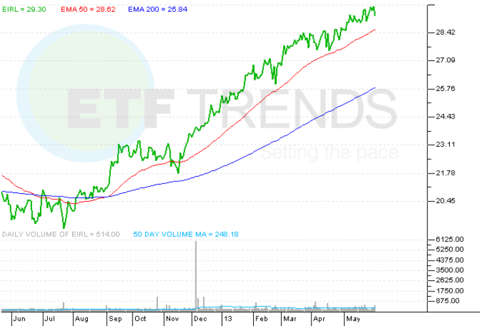 Max Chen contributed to this article.
Disclosure: I have no positions in any stocks mentioned, and no plans to initiate any positions within the next 72 hours. I wrote this article myself, and it expresses my own opinions. I am not receiving compensation for it. I have no business relationship with any company whose stock is mentioned in this article.