My recommended short on the AUD/JPY currency pair has played out as expected, hitting the 94 price target today. Even with QE-to-infinity full speed ahead in Japan, the yen (NYSE:FXY) rallies during market sell-offs as traders cover yen short positions. The classic risk-on, risk-off correlation remains. While it's possible and even probable that the pair will overshoot on the downside, I am still anticipating one leg higher. This fifth wave will complete a massive impulse wave higher from the May 2012 lows.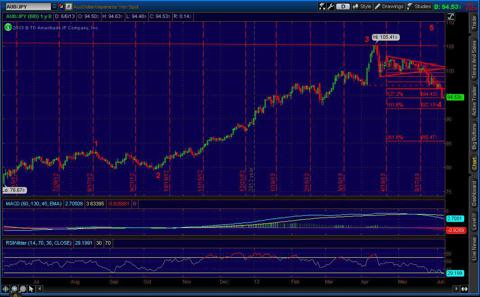 In order for this scenario to play out, the U.S. equity market needs to stabilize. Not surprisingly, the daily chart of the SPY looks a lot like the AUD/JPY chart. In fact, they're nearly identical with the currency pair leading on big moves.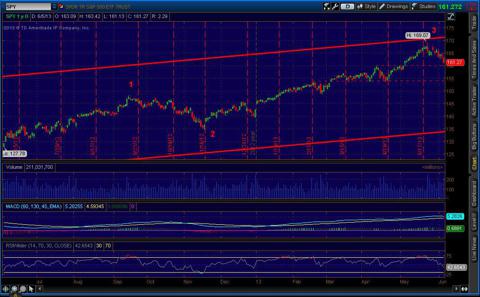 I'm anticipating a flush lower in both the AUD/JPY and the SPY before a fifth wave higher in risk. Total speculation of course, but I believe the bounce could begin as soon as Friday, June 7th with a poor non-farm payroll number that supports continuation of the Fed's quantitative easing program. If it doesn't happen then, the Fed meeting on June 19th offers another potential turn date. Here's how I'm playing it.
I like Apple (NASDAQ:AAPL) higher to $500. I like the S&P 500 (NYSEARCA:SPY) for a retest of recent highs. I like the AUD/JPY for a new high above 105.41. At that point, I expect things to get dicey. Perhaps European problems re-emerge? The Japanese bond market implodes? Impossible to know, but I believe a test of the lower channel line in the S&P 500 is a distinct possibility. This line sits just under 1400, which is a 12% correction from current levels. Be careful out there!
Disclosure: I am long AAPL. I wrote this article myself, and it expresses my own opinions. I am not receiving compensation for it (other than from Seeking Alpha). I have no business relationship with any company whose stock is mentioned in this article.