Vivus (NASDAQ:VVUS) is the company responsible for anti-obesity drug Qsymia that was designed, tested and brought to market in the global war on obesity. Instead of being able to focus its efforts on obesity the company finds itself fighting a different war, and worse yet, having to do it on three fronts.
The Control Front Of The Vivus War
Part of the focus of management and the current Board of Directors of Vivus has been for their very survival as the entities that lead the company. A major investor with about 10% of the company stock, First Manhattan, has come forward, been critical of management, and has nominated its own slate for voters to consider at the next annual meeting to be held in July.
First Manhattan mailed proxy materials to investors this week. While early sales of Qsymia have been very modest, the company has seen some traction. First Manhattan feels that the current path has been a failure and that a new board is needed. First Manhattan has stated that Vivus should be looking for a marketing partner similar to what Arena Pharmaceuticals did with Eisai with its own anti-obesity drug Belviq.
With its first shot in this battle, First Manhattan essentially stated that the current management and board is failing and needs to be replaced. Supporting its stance First Manhattan offered two simple graphs outlining escalating expenses and a declining stock price: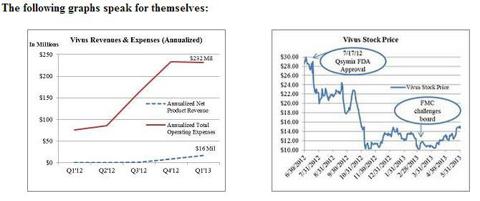 Look at the graphs, and you would have to agree that the evidence is damning. Clearly costs have gone way up and the stock price has gone way down.
The second shot fired by First Manhattan was to attack the revenue estimates. In September of 2012 it was estimated by the street that Vivus would have 2013 revenue of $201 million. Just nine months later the consensus estimate sits at just $45 million.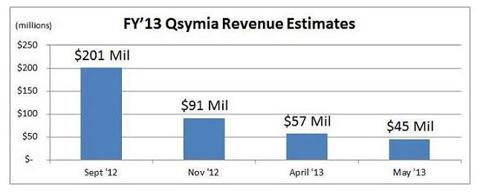 Clearly the expectation level was very high and is now substantially lower. Ironically, Arena (NASDAQ:ARNA) partner Eisai (OTCPK:ESALY) is projecting about $200 million in Belviq revenue between the launch and March 31st of 2014 (10 months worth of sales). If Arena appears to do what Vivus was initially expected to First Manhattan may have an open and shut case.
The third shot for First Manhattan was it attacked the pay that management and Board members are receiving, alleging that this group is paid substantially more than its peers and, given the failures, substantially more than they should be compensated. First Manhattan laid out many negatives and is requesting that shareholders vote the white cards at the shareholder meeting.
Vivus did fire back with its own proxy. Management came back outlining the challenges overcome, the traction the company is seeing, the fact that it has increased awareness and insurance coverage, but the big bullet was this:
Members of our current Board and our management team are deeply involved in the discussions with large pharmaceutical companies and a complete change of the Board and management during this critical time will likely delay or potentially derail a transaction.
At this point, obtaining a major pharma partner would be a shot in the arm for the company. Vivus alleges that shaking up the board could derail the current negotiations.
Another scoring shot by the current team was that in its filing, First Manhattan offered no real solutions and is seeking far more control than a 10% shareholder should have. This is a salient point and one investors should consider closely. It could be argued that if First Manhattan wants full control it should step up to the plate and make an offer. Such an event would likely come at a premium to current share prices. Vivus wants investors to vote the gold proxy cards at the annual meeting.
As if this one battle has not been long enough, First Manhattan responded to the Vivus proxy with a website including materials outling its case. I encourage Vivus investors to view the materials closely. In fact, investors in Arena and Orexigen (NASDAQ:OREX) should review the materials as well. There are many unknowns in this sector, but the path taken thus far by Vivus and Qsymia can serve as lessons learned and better educate investors as to the potentials and pitfalls.
I fully anticipate Vivus management to have a response of its own. I know I certainly would. The problem with that is at this most critical time, the management of Vivus and the Board are expending time, energy, and perhaps shareholder value focusing on this front of the war, let alone the focus on the other fronts below.
The Competition Front Of The Vivus War
As if the battle above was not enough, Vivus has another front to worry about. Competitor Arena Pharmaceuticals has a little blue anti-obesity pill of its own, Belviq, that is getting ready to launch on June 7th. After about 8 months of having the entire playground to itself, Vivus and Qsymia must now share. That would not be a major problem if Qsymia was already selling well, but it isn't. The major question is the size of the anti-obesity market. Did current Vivus management really misjudge the market, or is it a question of the Vivus product not resonating with consumers? You can bet all your shares that everyone will be eager to see channel checks of Belviq sales.
For its part Arena is staying out of the First Manhattan and Vivus fray. To its credit, Arena is simply going about its own business. Arena is projecting some big sales numbers. If successful, the sales of Belviq, even at the lower end of its bonus structure, would outshine the sales of Qsymia by a wide margin. If you think that Vivus' sales to date are not being used as a measuring stick, think again. Everyone is watching this unfold.
The competition battle is just now heating up. It is just now getting meaningful. Doctors now have choices. Patients also have choices. Vivus is no longer the only guy in the desert selling water. Vivus needs to be able to respond to the initial results that Belviq shows in sales. It takes thinking, focus and cunning to deal with a competitor. With everything that is happening can management direct enough energy to stay in the game?
The Insurance Front In The Vivus War
Vivus has been fighting this front for quite some time, and it needs to keep a laser-like focus on this. The company needs to meet with insurers, point out the benefits of weight loss on the overall cost structure of patient health. It needs to meet with legislators and have them join in the fight. This takes time, energy, and commitment. If Vivus can garner more coverage the potential consumer base increases. A larger pool of potential patients means that Vivus can sell more Qsymia. There is only another month before the shareholder meeting. The clock is ticking.
With all that said, it likely makes an investor stand back and wonder if betting on an anti-obesity pill is worth it. There are enough unknowns already in this market. There are enough challenges. Investors bought into the concept of a long awaited anti-obesity pill to assist in getting a nation that is 66% overweight thin again. Your investment is now far more complex. So what is an investor to do?
Look out for yourself. Measure the risk level you are willing to absorb and do not step beyond it. If you are in the green, keep yourself there by proceeding with extra caution. If you are in the red, weigh the board vote closely and determine if you are simply looking to get out or in it for the longer term potential. There are positives and negatives to each slate. You have a month before the shareholder meeting. Eat drink and sleep this sector, because you need as much information as you can get to arrive at the best solution for yourself.
Disclosure: I am long ARNA. I wrote this article myself, and it expresses my own opinions. I am not receiving compensation for it (other than from Seeking Alpha). I have no business relationship with any company whose stock is mentioned in this article.
Additional disclosure: I have no position in Vivus or Orexigen.