Asset outflows from GLD
There has been a significant amount of outflows recently in gold-backed exchanged traded funds such as the SPDR Gold Trust (NYSEARCA:GLD). State Street (NYSE:STT), which is the distribution agent for GLD, has seen outflows of 11% in the month of April alone. Also, there are various high profile investors that have cut their gold position. First, there was news out that billionaire investor George Soros cut his gold holdings in the first quarter of 2013. Then came news that gold-heavy investor John Paulson, who manages the $18 billion Paulson & Co, sold a portion of his gold positions. Paulson exited its $32 million stake in Barrick Gold Corp (ABX). This was on top of his gold holdings that he sold in the previous quarter, which included significant shares in NovaGold Resources, Iamgold Corp, Gold Fields Ltd, Randgold Resources, and Agnico Eagle Mines.

Gold as an inflation hedge
As equities continue their impressive climb up, gold prices have stayed muted. The climb in equities has come alongside a climb in the U.S. dollar. Gold may be losing its appeal as a hedge against inflation. The debate is whether inflation and the expectation of future inflation will increase significantly for that investment thesis to play out. Recent numbers for consumer prices in April doesn't help that thesis, but rather goes against it. Even renowned bond guru Jeff Gundlach of DoubleLine has suggested investors should use silver instead of gold to hedge against inflation. Gold as an inflation hedge also loses a lot of its urgency as equities have regained their momentum and that shows in the flow of assets.
Negative perception from prominent figures
Dr. Nouriel Roubini, also known as Dr. Doom, has stated that gold is going lower based on a number of factors. Among his biggest argument is the fact that gold is not a means of payment and that you can't pay for your groceries with gold. Even legendary investor Warren Buffett has publicly said that he is not a buyer of gold. With such influential investors and public figures such as Roubini and Buffett stating their concerns with gold, it creates a significant negative perception on gold and may be a factor in influencing other investors to get out of GLD.
Headwinds for gold moving higher
There are also recent data points that have become significant headwinds for gold and GLD.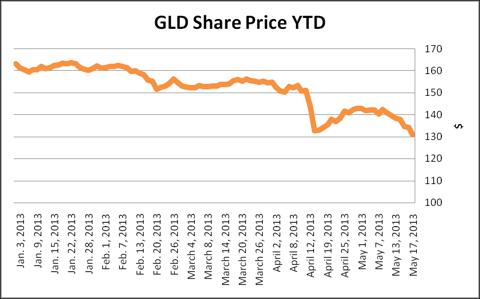 Source: Yahoo! Finance
Disclosure: I have no positions in any stocks mentioned, and no plans to initiate any positions within the next 72 hours. I wrote this article myself, and it expresses my own opinions. I am not receiving compensation for it (other than from Seeking Alpha). I have no business relationship with any company whose stock is mentioned in this article.