When it comes to the Federal Reserve's current policy on maintaining record low interest rate levels, investors must ask themselves how well positioned many of the bigger banks are if and when a rate increase were to occur. With that said, one of the larger US-based banks recently noted how well positioned it happens to be if and when the Fed were to bump up rates.
On Wednesday June 5th it was noted by Tim Sloan, CFO of Wells Fargo (NYSE:WFC) that the bank is positioned in such a way that it would be able to capitalize on rising interest rates, especially since it has the potential to earn higher returns on the $160 billion in cash the bank currently has stockpiled.
However, the one catalyst that could negatively impact such growth concerns the possibility of a slowdown in the number of residential mortgage refinances the bank will transact in the coming months as a result of potentially higher interest rates, and such a downtrend could negatively affect the growth of WFC. Why? Given the fact that WFC has emerged as one the leading banks in the residential mortgage space, any downturn could almost certainly impede growth.
How does the bank plan on capitalizing on the potential rise in interest rates? Simply speaking, it plans on buying more bonds that yield a higher return than the minimal interest it is currently earning on the near $160 billion in cash and cash-like equivalents the bank presently owns. "The current back-up in rate, we think, is attractive and will allow us to invest at a slightly faster rate than how we were investing maybe 30 days ago and 60 days ago," Wells Fargo chief financial officer Tim Sloan said at Deutsche Bank's Global Financial Services Investor Conference on Wednesday.
Are there any other factors that are driving my decision to consider a position in Wells Fargo aside from the bank's potential growth as a result of rising interest rates? As a matter of fact, I'm not only attracted to the potential growth a higher interest rate environment brings to the table but by examining the company's most recent earnings performance and its dividend behavior over the last 24-months, WFC stands out as a solid growth and income play among many of its fellow bigger banks.
Trend Status: On Wednesday shares of WFC, which possess a market cap of $210.90 billion and a yield of 3.01% ($1.20), were trading 0.39% above their 20-day simple moving average, 4.73% above their 50-day simple moving average, and 13.65% above their 200-day simple moving average. These numbers indicate a short-term, mid-term and long-term uptrend for the stock, which generally translates into a buying mode for both near-term traders and long-term investors.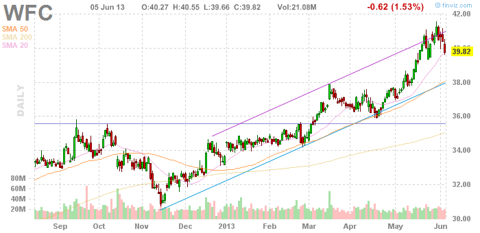 Recent Earnings Performance: On Friday, April 12th, Wells Fargo reported the results of what I believe to be a very strong first quarter. The company's Q1 EPS of $0.92/share beat Street estimates by $0.03/share, and its revenue of $21.30 billion missed Street estimates by a minimal margin of just $0.29 billion. During the quarter Wells Fargo's return on average assets grew 18 bps to 1.49 percent in the March 2013 quarter compared to the 1.31 percent generated during March 2012 quarter. Contributing to the company's quarterly performance were a number of ancillary catalysts which include but were not limited to an 11.94% increase in the bank's return on equity, a 23% increase in diluted earnings per share and a $55.4 million dollar increase in quarter-end core deposits.
24-Month Dividend Behavior: Since May 4, 2011, WFC has increased its quarterly distribution a total of three times by an average of $0.06/share each time. From an income perspective, the company's forward yield of 3.01% ($1.20) coupled with both payout ratio (26.00%) and continued increases in its annual payout make the bank a very viable income option for long-term investors in search of a moderate yielding financial services play.
Conclusion: When it comes to those who may be looking to establish a position in Wells Fargo, I'd continue keep a watchful eye on not only the company's dividend behavior over the next 12-24 months, but any growth which could occur as a direct result of a potentially higher interest-rate-based environment.
Disclosure: I am long WFC. I wrote this article myself, and it expresses my own opinions. I am not receiving compensation for it (other than from Seeking Alpha). I have no business relationship with any company whose stock is mentioned in this article.