I have previously briefly covered XIN as a portion of my dividend portfolio for the strong-stomached that I plan to track for long term performance. It was pointed out to me in the comments of that article that XIN is indeed the largest source of risk in that portfolio. With this piece I am aiming to cover why I think the company deserves to stay in that position and why others should consider this company for future investment.
Xinyuan Real Estate Company (XIN) is a Chinese Real Estate development company that focuses on properties in Tier 2 and Tier 3 cities in China and has recently started purchasing projects in the US, with a development in Brooklyn, NY being the company's premier development in the states. Year to date the return has been 22.6% with a sudden spike up to 5.90 on March 1, before concerns about newly announced reforms in the Chinese Real Estate market brought the stock back down to the mid 4 dollar level. The current 1Q13 earnings are a bit lower than 4Q12 earnings, but this follows a historical trend of slow first quarters due to the Chinese New year and was addressed in the company's 1Q13 conference call, "The impact of Chinese New Year is always the source of consternation. In predicting the first quarter results in any year, but this year the impact seem softer than before and despite more government's business about enforcement of the home purchase restrictions, we did not suffer any discernible ill effects in pricing or sales volume."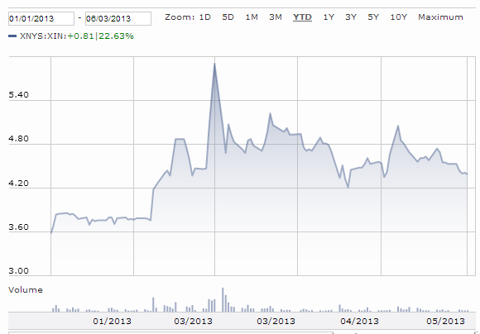 XIN is a small cap Chinese company with a market capital of only 304.5 million with an extremely undervalued current P/E of 2 and a forward P/E of 1.4. A related competitor in comparison, China HSG Holdings Inc. (HGSH), who specializes in real estate developments in tier 3 and tier 4 cities in China has a market capital of 428 million and a current P/E of 30. By comparing XIN to a reasonable competitor, it becomes increasingly evident that the company is extremely undervalued. Since 2009, XIN's gross margin has climbed from 19.9 with revenue of 449 million to a TTM for this year of 31.4 and 912 million. Compared to HGSH which is receiving a higher valuation, with decreasing EPS, revenues and a negative FCF TTM, XIN looks like a stellar position to be in even after the appreciation that has occurred thus far. Come for the numbers, stay for the dividend.

Dividend
Since the 2009 all time high price of 7.37 and subsequent implosion in share price, the only action by management that has succeeded in lifting the share price from a long term bottom of 1.70 in 2011 was the implementation of a quarterly dividend of 0.0375. This was raised to 0.0475 after 3 quarters of payouts. The current yearly payout is 0.20 and management has stated repeatedly it plans to maintain and expand this feature for, "the foreseeable future".
Is the Dividend Safe?
My calculated free cash flow payout for the stock in 2012 is 15.6%, and in the conference call for March the CFO commented, "The payout ratio on 2013 earnings is less than 14% and on 2012 earnings less than 8%." The dividend has been paid since April 2012 and has since been raised from 0.0375 to 0.0475 in February 2013. With these payouts comprising such a small hit to the balance sheet, there should be little to no worry of the company having to take on debilitating debt to maintain this payout to shareholders.
Forward Earnings
XIN's most recent guidance for the year is 820 million in revenue, with 105 million in net income at the midway point in the year which represents an 11% increase of this metric YOY. Considering that XIN typically has the slowdown in income at the beginning of the year, doubling this expectation to 210 million in net income for the whole year would be considered fairly conservative. Using this value, a share count of 72 million and the current P/E TTM of 2 as a realistic expectation based on past performance (maintaining significant undervaluation), my expected price for XIN after second quarter earnings is 5.83. This represents a 34% premium to current valuation and is likely an extremely conservative estimate if the market begins to correct the low valuation that is presently occurring with this company. If this estimate is calculated using the forward P/E of 3.3 that is mentioned in the conference call, the calculated price becomes 9.63, representing a 121% premium compared to current levels without beginning to approach a conservative P/E that would be reasonable for most other companies, say 8-10.
Complications:
Inventory
For the second quarter, guidance for contract sales is down YOY by 16%. This is due to the company running out of sellable inventory and has been foreseen and mentioned in previous conference calls. There have been moves to address this problem previously, with changes made to their land acquisition process in an effort to prevent this situation in the future. This scenario means contract sales are essentially occurring on 3 current projects (Shandong Splendid in Jinan, Zhengzhou Century East A and B in Zhengzhou and Royal Palace also in Zhengzhou). This is set to be remedied in Q3 and Q4 of 2013 as 3 or four projects come online (in Zhengzhou, Xuzhou, Beijing, and Suzhou) and are able to be sold and generate higher income in the latter half of the year.
Are They Cooking Their Books?
It's commonly assumed that all Chinese companies are cooking the books and earnings that are too good to be true must be falsified. This has had the effect of making some ADS shares of Chinese companies very cheap in price for their stated balance sheets as investors are extremely gun-shy on the apparent lack of transparency for small Chinese companies. The CFO had this to say about these comments, "Actually we are not and then I tell them that we have been audited for about eight years by Ernst & Young, and that we are audited, we just in fact, we just put out the 20-F. So we went through a full rigorous audit, published that on April 15." He has addressed comments to this effect on the conference call pretty much every quarter for the last two years, and management has gone out of their way to increase transparency in their accounting methods. As a younger investor, I tend to think that a company that will pay a solid dividend that can be cashed quarterly for a return that is much higher than I can find in treasury bonds is a pretty good deal and reasonably hard to fake. I am also only talking about a reasonable portion of my portfolio and fully realize that any position could also evaporate overnight, thus is the nature of investing.
What about the Chinese Government?
In February 2013, the government implemented a policy that restricts ownership of properties to local people and has the aim to stabilize property prices in areas that have appreciated. For cities that have appreciated too highly, strict limits on deposits and interest rates for second properties will be strictly enforced. The gains from these property sales will be taxed at 20% and these taxes will be strictly enforced. This information is all clearly stated in the 20-F filed on April 15. These measures are designed to combat the heated demand for property in China as an investment vehicle. It is my understanding that XIN has a bit less exposure to these pressures due to the fact that they build in Tier 2 and Tier 3 cities where people are buying their primary homes and not as many investment properties that will run afoul of the increased taxation. I suspect this will have an impact on their projects in the US with Chinese nationals buying second homes in the states, but this may not be true depending on how out of country holdings are taxed. I am not an international tax guru, this is why accountants make good money.
The CFO is Retiring.
It has been announced that the CFO, Tom Gurnee will be retiring in August 2013, but will remain on the board and in the meantime will be training his replacement. The fact that he is remaining on the board for the company is welcome news as he had a large hand in improving the company's balance sheet over the last few years and should be able to continue to have input on the direction of the company for the long term.
Bottom Line:
I think XIN is a great value at these prices, both for the dividend yield and for the growth potential over the near/long term. I am currently comfortable with my position and will look to add to it if the stock retreats below $4.
Disclosure: I am long XIN. I wrote this article myself, and it expresses my own opinions. I am not receiving compensation for it (other than from Seeking Alpha). I have no business relationship with any company whose stock is mentioned in this article.
Additional disclosure: This is my compiled research and opinion with forward looking guidance taken from the most recent earnings conference call, please do your due diligence and research yourself before investing.