Today investors are focusing upon the jobs numbers and going over such esoteric details as to whether a good number is bad and if a bad number will be good. The fear is obviously whether the Fed will be forced to tip its hand for the next few months to further encourage this rally and keep the economy on track for a full recovery. The numbers probably will be a bit worse than expected and oddly enough that should be enough to push the markets into positive territory.
While investors look to the jobs numbers, the rest of America's attention is on Verizon (NYSE:VZ) and the news that they have been turning over large amounts of data concerning their customers' phone usage to the government without a traditional warrant. It is a very strange situation where there is a blanket warrant which was secret that covered this information hand-off. Now that this is no longer a secret and because everyone is simply telling the press that they have 'no comment' we are left to wonder how many other telecom companies are doing the same thing via secret court order and how big the backlash will be. Those conspiracy theorists may have been on to something...
Chart of the Day:
It does look as though we are having a flight to safety as the 10-yr Treasury has seen its rates rise and this 3-month chart shows the rotation in and out that investors have done between the 10-year and utilities (via the XLU ETF).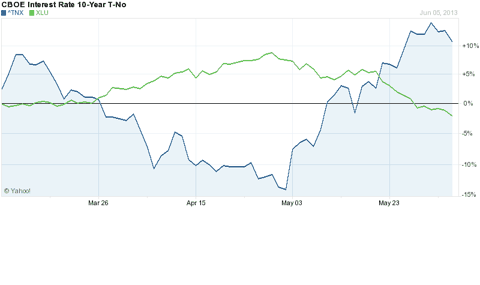 Chart courtesy of Yahoo Finance.
We have economic news due out today, and it is as follows:
Challenger Job Cuts (7:30 a.m. ET): N/A
Initial Claims (8:30 a.m. ET): 348k
Continuing Claims (8:30 a.m. ET): 2980k
Natural Gas Inventories (10:30 a.m. ET): N/A
Asian markets finished lower today:
All Ordinaries -- down 1.11%
Shanghai Composite -- CLOSED
Nikkei 225 -- down 0.85%
NZSE 50 -- up 0.04%
Seoul Composite -- CLOSED
In Europe, markets are higher this morning:
CAC 40 -- up 0.48%
DAX -- up 0.34%
FTSE 100 -- up 0.13%
OSE -- down 0.23%
Wall Street investors are once again looking for growth, especially as the economy has improved and balance sheets continue to show outrageous sums of cash piling up. One could look to this as being the reason that Pepsico (NYSE:PEP) may make a run at Sodastream (NASDAQ:SODA), as is being reported this morning (see article here), for a sum around $2 billion. Pepsico's CEO has stated this morning that the rumors are untrue, according to CNBC (see here), but this would not be the first time a deal was announced in the media before the companies got around to announcing it. The main issue here is not that a deal may or may not be getting done, it is that a deal even needed to get done. Pepsico was on the verge of getting broken up recently and now they are looking for ways to bulk up their beverage business to provide higher growth so that the tandem of their beverage and snacks business have numbers closer to the higher growth of the two segments, the snack business. If this is not the deal Pepsico wants to do, look for them to deploy that cash in another way via bolt on acquisition now that they have cleaned house and made operations leaner.
It took some time to get their house in order, but now that it is could Pepsico be looking for growth via acquisition rather than internally? Seems likely.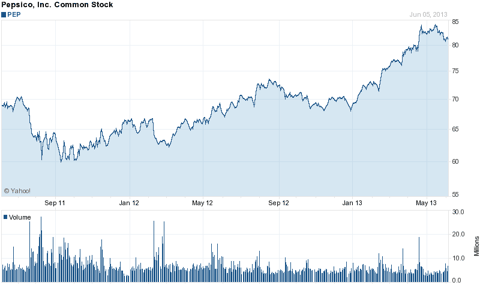 Chart courtesy of Yahoo Finance.
Which brings us to Procter & Gamble (NYSE:PG) and their plan to reorganize the global operations under 4 segments. The company announced yesterday via press release (see here) that they would group the global operations into four segments which are industry-based. This will drive efficiencies and create more of a focus. P&G is looking for further gains in reorganization while setting the table for internal growth long-term by getting their house in order. The move puts more control over the business segments into the leaders' hands and should allow P&G to get back to what they do best, develop brands and innovate...something that has been missing lately. Investors are hoping that the good days of strong internal growth can return.
Strong internal growth is exactly what is happening at Under Armour (NYSE:UA) but the stock yesterday did not indicate that. Investors pushed the shares over 3% lower as the company guided in-line for the most part on their numbers at an investor day presentation. Chalk it up to one of those 'when good news is bad news' types of events, which is not to be confused with what investors are looking for from today's jobs numbers...bad news, which will be good news. Investors may have been disappointed with the company not guiding higher, however they did indicate that growth would be about 22% and that marketing expenses would grow at the same rate as sales, so they are not having to spend more to grow more. Also, margins should be improving during this time which is even better news, especially as the company expands overseas.
The chart did get kind of toppy here, however the company has continued upon its strong internal growth which is something not found on Wall Street these days, especially among large clothing brands. Their recent good news was bad news, but long-term it shall be good...UA is worth a look.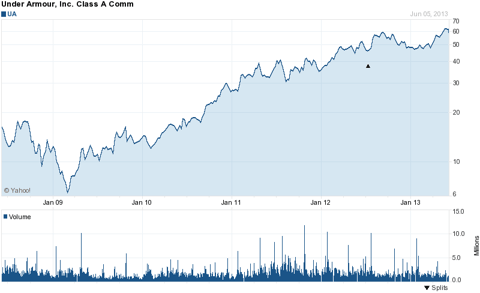 Chart courtesy of Yahoo Finance.
Disclosure: I have no positions in any stocks mentioned, and no plans to initiate any positions within the next 72 hours. I wrote this article myself, and it expresses my own opinions. I am not receiving compensation for it (other than from Seeking Alpha). I have no business relationship with any company whose stock is mentioned in this article.