Five years from the housing collapse, the consensus view is that the real estate has reached a bottom and the recovery is ongoing at full steam. One of the best ways to play the housing recovery has been through the SPDR Homebuilders ETF (NYSEARCA:XHB), which is a large basket of homebuilders and has more than tripled from its bottom, rising more than 13% year-to-date.
Although some data support the housing recovery theme, there are also some contradictory indicators emerging. For instance, housing prices have risen at the fastest rate in seven years, as shown recently by the Case-Shiller Index of national housing prices. However, the source of this rise is dubious.
While house prices are rising, incomes, purchasing power, and lending are not keeping up. Also, this recovery appears largely related with the foreclosure crisis, given that the areas where house prices have risen the most, such as California, are all areas that were hurt most deeply by the housing crash. In addition, this rise in prices is also due to low supply in the market because lenders are controlling the housing supply by reducing the number of houses for sale. According to RealtyTrac, the average time for a foreclosed property to sell hit a record at nearly 400 days across the country. This is hardly coincident with a housing recovery. As housing, like all products, responds to the laws of supply and demand, this lower supply is artificially giving a boost to prices.
Furthermore, institutional investors have been very aggressive cash buyers in the formerly hardest-hit markets over the last few months, usually outbidding normal buyers and pushing up house prices. This is obviously unsustainable and when institutional investors stop buying, housing prices will certainly not increase as they have in the past few months.
The key to a real estate rebound is a rebound in sales activity. As shown in the graph below, U.S. new home sales are still at very low levels despite the increase from its bottom in 2010-11. If someone looks at the year-on-year growth rate that person may conclude that housing is recovering at a good pace, but is just recovering back to its historical-average levels. This is clearly another yellow flag that the housing recovery is not as strong as many believe.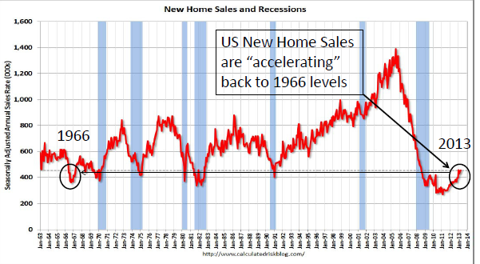 Another sign that all is not well in this housing recovery myth is lumber prices. For the past two months, lumber prices have fallen sharply despite being a major raw material for new housing construction. Moreover, the relationship between lumber and homebuilder stocks have completely fallen apart, as shown in the following graph from ZeroHedge.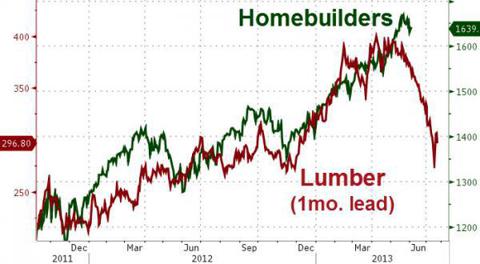 Conclusion
Despite the current thinking that housing has recovered and another boom cycle is upon us, there are a number of data points that do not support this view such as lumber prices, new home sales, and time to sell foreclosure homes. For investors playing this theme through an ETF like XHB, maybe this is the time to take some profits. Maybe the Federal Reserve will continue to support stock prices and homebuilders will continue to ascend, but if the market returns to price fundamentals a strong pullback may lay ahead.
Disclosure: I have no positions in any stocks mentioned, and no plans to initiate any positions within the next 72 hours. I wrote this article myself, and it expresses my own opinions. I am not receiving compensation for it (other than from Seeking Alpha). I have no business relationship with any company whose stock is mentioned in this article.