Cognizant Technology Solutions Corporation (NASDAQ:CTSH) is one of the world's leading suppliers of outsourced IT services. This $19.5 Bn market cap company bases its operations in India, with corporate headquarters located in the U.S. It has a record of strong earnings, has little debt and is well poised for the future. It is currently selling at a discount to its intrinsic value, which presents an excellent buying opportunity.
This article surveys changes affecting the IT consulting industry, positions Cognizant beside two Indian competitors that also trade on the NYSE, and makes a compelling case for buying Cognizant Technologies now.
Recent Disruptive Technologies
One of the recent disruptive technologies that is having an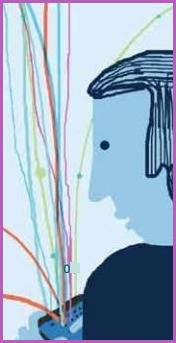 important positive impact on IT consulting firms is the increase in availability and use of mobile devices. This includes the many and evolving forms of tablet devices and the ever-expanding use of smartphones. In some cases, the distinction between the two types of devices is blurred; I offer the Samsung Galaxy Note II as an example. "Phone? Tablet? Best of both." Enabling these tablets and phones is the availability of wireless internet, which links the myriad of devices to each other and to the cloud. That is becoming the new model for a growing percentage of computer users.
The proliferation of devices and the connectivity to the cloud are creating countless opportunities for IT consulting firms, especially those focusing on consumer devices and accomplishing the task of tying them to the corporate data world. Cognizant Technology is a leader in that area and this is discussed below in the section on, "Next Generation Solutions." The changing computing environment is not overlooked by Cognizant's competitors - one of them is IBM (NYSE:IBM). Chairman and CEO Ginni Rometty is quoted by Rajesh Prabhakar in his study on the Global Outsourcing Industry.
"IBM is targeting Social Media software for business as a key growth area in 2013. 'Our performance in the fourth quarter and for the full year was driven by our strategic growth initiatives - growth markets, analytics, cloud computing, Smarter Planet solutions - which support our continued shift to higher-value businesses,' said Ginni Rometty, IBM chairman, president and chief executive officer. Ms. Rometty also highlighted IBM is focusing on new growth areas such as mobile technology, social media software for businesses and security technology.
Cognizant describes its approach this way:
Increasingly, clients are seeking out Cognizant's services in connection with the emerging social, mobile, analytics and cloud (SMAC) technologies. Businesses today must embrace and optimize the promise of these technologies - and they must do so in an integrative manner. Only when social, mobile, analytics and cloud technologies are implemented as a stack, and applied to key processes, will meaningful results then follow. The shift to the SMAC StackTM is occurring with astonishing speed. IDC projects that the SMAC market will represent $5 trillion in spending by 2020. It is further estimated that by 2020 as many as 100 billion computing devices will be connected to the Web, and corporations will be managing 50 times the data they do currently. But to realize the benefits of an increasingly social, mobile, analytics and cloud-based world, companies must build SMAC technologies into their IT architecture.
Socially Disruptive Legislation - Obamacare
Another large disruption to the current order of things is taking place with the passage of the "The Patient Protection and Affordable Care Act," legislation also known as Obamacare. The current U.S. Healthcare IT outsourcing cost is on the order of $20 billion. It is going to undergo a surge in growth.
Obamacare will extend insurance coverage to 32 million uninsured Americans. It also aims to reduce healthcare costs significantly. The development of new and efficient software systems is one of the ways to accomplish this. Key applications include patient records and enhancement of billing systems to reflect the reimbursement of expenses to providers in accordance with the new laws. This will create projects for Indian IT service providers and that will help them to keep up their revenue, maintain margin and grow their businesses. Indian offshore IT consultants, vendors such as Cognizant Technology, Wipro (WIT) and Infosys (INFY) will be some of the beneficiaries of this new business.
A Risk
IT consultants, including Cognizant, have been under pressure recently given the uncertainty surrounding the changes proposed by the immigration bill. The probable negative impact has caused at least one analyst to downgrade a firm, Infosys. However, Cognizant is maintaining its forecast for the full year, seeing no immediate issues. Others have stated they expect a long-term negative effect.
Cognizant Technology - History
Cognizant was founded in 1994 as a development and maintenance services arm of The Dun & Bradstreet Corporation. The company was spun-off as an independent organization two years later. Since 1996, Cognizant has worked closely with large organizations. Today, they are helping clients embrace powerful forces - including accelerating globalization, virtualization, a millennial mindset and new cloud-based technologies - that are forcing companies to rethink traditional ways of working. Officially based in Teaneck, N.J., Cognizant Technologies is operationally a Bangalore, India-based firm. By choosing to build a U.S. based management team, Cognizant won the confidence of U.S. Corporations. Using Americans with experience in the U.S. business culture has helped greatly in solidifying consultant-client roles - this is a competitive advantage. Most of the deliverables come through the cost-saving offshore work force.
Cognizant Technology delivers its consulting and outsourcing services with 162,700 employees serving over 800+ active clients on 5 continents. This resulted in revenues of $7.66 Bn for 2012.
The company calls its consulting model the Two-in-a-Box client engagement model, and tell customers, "You're assured the onsite attention of a Client Manager, experienced in your industry, working on site with you. Paired with the Client Manager is a dedicated Delivery Manager, who may be located at any of our global, near shore or local delivery centers. One team is assigned to work on your project from start to finish, becoming an extension of your staff."
Cognizant's recent success is shown in this series of charts from the 2012 Annual Report.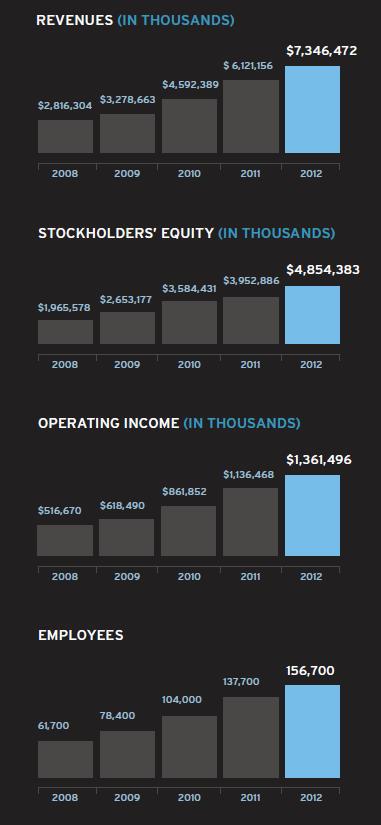 Next Generation Solutions
Cognizant Technology is an innovative leader in reshaping the way businesses work and deliver value in this time of dynamic change. It introduces its approach by stating,
"The way businesses work and deliver value has never been more dynamic: Globalization, cloud and social computing technologies, new workforce demographics, and a stubborn economic reset are all reshaping how work gets done. To prepare for the future, organizations are rethinking how to define, deploy, source and manage their technology and business services. We provide forward-thinking companies with new solutions and perspectives that help navigate the challenges, and exciting opportunities, facing today's enterprise."
Throughout the Information Technology world, both IT managers and their consultants acknowledge that new solutions are required by the proliferation of mobile devices. One consultant sums it up in an article by quoting IDC and saying,
"The connected individual is bringing their preference for devices and applications into the workplace, and employers today face the challenge of allowing employees to work from the location of their choice, on a device running an operating system of their choice, and yet demanding connectivity to all business tools and data. IDC recently reported that in 2011, 20% of respondents to their survey said that they use Facebook and MySpace for business, and this had more than doubled from 8% of respondents in 2010. This should be seen as a positive trend, as not only does it bring the latest technology to the workplace, it also helps lower the cost of procuring and provisioning hardware and software for the employer."
Exploitation of this growing area, which focuses in part on the integration of typically consumer devices, such as Smart Phones and Tablets, into the corporate IT environment is part of the Next Generation of computing. There is a new acronym in the IT world describing this phenomenon, BYOD, which is short for Bring Your Own Device. These devices, with growing access to wireless internet and cloud computing, are part of an important paradigm shift.
Focused Marketing - Flexibility in Solutions
Business growth rarely happens accidentally. Cognizant Technology finds success in a focused approach with a limited number of verticals. The Financial Times reports,
On the surface Cognizant provides much the same services as its rivals, winning more than half of its income helping large businesses develop and use heavy-duty software applications, often made by the likes of Oracle or SAP. But Francisco D'Souza, the group's 43-year-old chief executive, says Cognizant's success also stems from a decision to focus resources on fewer sectors.

"We have consciously chosen to serve a small number of clients, meaning our footprint is narrow and very deep," he says, noting that the company earns around two-thirds of its income from work in just two sectors, financial services and healthcare.
Besides the good luck of being well positioned in the U.S. Healthcare market, Cognizant Technologies brings a qualitative difference to the table, flexibility. It is able to combine the various IT services it offers into more flexible packages that appeal to cost-conscious blue-chip clients, such as those in the financial industries.
"Cognizant is trying to do something different," says one senior IT specialist at a global company familiar with the major Indian groups. "With most of them it is like dealing with an army. They save you money by offering standardized bits of kit at huge scale, but they aren't good at customizing . . . Cognizant doesn't have that same command and control mentality."
Recessionary Setbacks
Slashed IT budgets caused Cognizant Technologies and its competitors to suffer greatly during the economic downturn starting in 2008, and IT departments are still cautious about spending. The red line on the below chart indicates the year-to-year percentage of growth in outsourced computing. The industry is crawling back to growth, but it is growth at a slower rate than in the past and often with lower margins.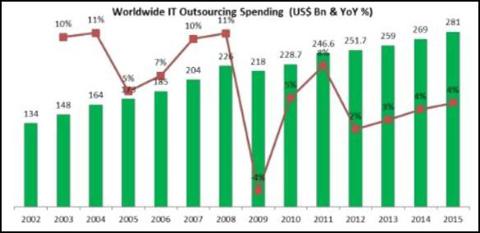 As can be seen from the below 5-year stock price chart, Cognizant Technology has not only recovered from the recession but is clearly outpacing its Indian competitors.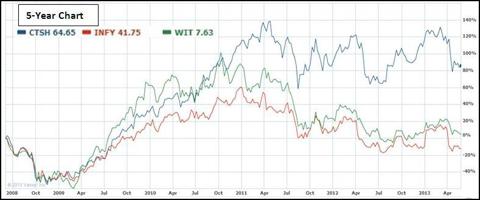 Missing its numbers for the quarter that ended March 31, 2013 caused the two similar sized Indian based consultancies to take a hit in the market in April. Infosys suffered the worst blow, and was down 20% on April 13, 2013, after missing by 7%. Wipro missed by 4%. Generally, it was a bad quarter for technology, as giant U.S. based IBM missed numbers by 8%. The market punished Cognizant Technologies for the failure of its peers.
Cognizant is seeing demand across the board, company CEO Francisco D'Souza said in the earnings release.
"Our performance during the first quarter was strong and we are encouraged by the healthy demand for our broad range of services," he said. "We continue to make solid progress developing emerging offerings in new markets, new SMAC (social, mobile, analytics and cloud computing) technologies and new non-linear solutions and services."
Valuation

The future price of a stock is more closely associated with its future earnings than other measurable factors. Being a younger firm than its Tier I Indian competitors, the last 10 years of P/E ratios includes the rapid early growth of a new firm. Therefore, the early growth of earnings and resultant high P/E ratios are less relevant as a predictive factor than the more recent ones. In addition, since the beginning of the recession, there has been a great caution and restraint in IT spending. To some degree, we believe that will continue. So, therefore, while we are basing our intermediate and longer-term outlook on the F.A.S.T. Graph tools, we are selecting to use a relatively short backward look of 4 years to establish a baseline P/E ratio.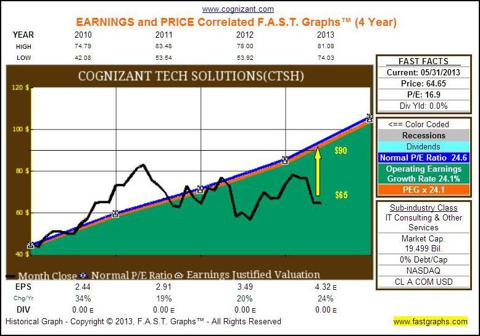 The black line in the above graph depicts the price history of Cognizant for the past 4 years. The stock has been fairly volatile and has a 3-year beta of 1.27, which is an increase from the 5-year beta of 1.11, and a lower still pre-recession volatility. The current price shows the stock underpriced compared to its earnings justified valuation of $90, as it is currently trading at about $65.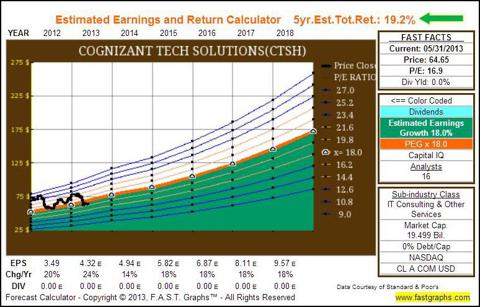 While part of the reason for Cognizant's current low price is lower expectations in a time of slower IT industry growth, the majority of the disconnect is caused by contagion from poorly performing peers. This Forecast Calculator anticipates an average 5-year return of 19.2%.
This, very simply, illustrates the excellent opportunity to buy this stock well below its intrinsic value. To purchase the stock at $65 should put the 30% difference to earnings justified value in your pocket within a reasonably short time, and larger gains are expected longer term.
Hard Data
The tables below, with data adapted from FinVis, provide the current financial numbers of the firm and its peers, and show clearly why Cognizant Technology is a buy. Comparing the earnings growth and analysts' recommendation of the three firms might be a good place to start. Data are from the close of market on Friday, May 31, 2013.


Projections based on past performance are subject to methodological error and unknowable future circumstances. Investors should do their own due diligence, understand the risks and take appropriate steps to protect their capital.
Disclosure: I have no positions in any stocks mentioned, but may initiate a long position in CTSH over the next 72 hours. I wrote this article myself, and it expresses my own opinions. I am not receiving compensation for it (other than from Seeking Alpha). I have no business relationship with any company whose stock is mentioned in this article.