Berkshire Hills Bancorp (NASDAQ:BHLB) is a regional bank that continues to provide a solid return on investment for shareholders. The long-term outlook for the bank is solid, and provides the opportunity for long-term shareholders to experience huge upside. The bank has branches primarily on the east coast, with branches in Massachusetts, Connecticut, New York, Vermont, and two branches in Tennessee. Berkshire has the potential to continue to provide strong upside for long-term oriented shareholders.
Recent Acquisitions
Recent acquisitions have helped to drive some of Berkshire's recent growth and should help to drive Berkshire's long term growth. During 2012, it completed two acquisitions, both of which appear to have been solid decisions. The first acquisition that we will analyze is the acquisition of the Connecticut Bank and Trust Company
Connecticut Bank and Trust was a bank that was struggling before Berkshire swooped in and scooped it up for $9 million and 965,000 shares of stock. This deal brought the total offer at the time to around $30 million. The deal was definitely not a bad one for Berkshire, buying Connecticut Bank and Trust for just 1.4 times book, and acquiring $280 million in assets. The deal has helped to provide a basis for growth for Berkshire in Connecticut, as Connecticut Bank and Trust had eight branches in Connecticut. It does not appear as though Berkshire overpaid for the assets, and it will help them to make sustainable revenue growth into the future.
The other acquisition by Berkshire Hills was Beacon Federal Bancorp. The Beacon Federal acquisition is more exciting in my opinion. First of all it was for more money total, approximately $132 million. Also, this provided more branches in the Central New York area. This acquisition should help to drive more growth than the Connecticut based acquisition. There was also a vote of confidence in Berkshire during the acquisition, when 82.3% of outstanding shareholders voted to receive shares of Berkshire Bancorp for their shares in Beacon. It seems as though Berkshire received some fantastic investment partners as a result of the acquisition, as well as a group of banks that have the potential to drive long term shareholder value for the company.
The acquisitions were done in a manner that provided substantial value for shareholders, as well as in a manner that was sustainable. The acquisition of other banks could be in Berkshire's future, but it is assuring for shareholders to know that Berkshire seems to find value in the acquisitions that it makes.
Financial Position
Berkshire Bancorp has a financial position that is growing stronger with each passing quarter. Berkshire Bancorp saw substantial EPS growth as a result of the mergers discussed above, and also due to the fact that Berkshire has been steadily increasing its number of banks. As long as Berkshire continues to expand its revenue in a safe way as it has, long term shareholders should continue to see fantastic upside in Berkshire.
For the first quarter EPS were up 20% to 54 cents per share on a non-GAAP basis, and up to 42 cents per share on a GAAP basis. This growth in earnings per share is important for any company to be able to drive long-term growth. This EPS increase is projected to get even better for Berkshire Hills. According to its conference call, Berkshire gave the following guidance for EPS in the second quarter:
Okay, thank you Kevin. Our second quarter EPS guidance of $0.55 to $0.56 does represent more than a 15% growth over last year's second quarter core results and it's also a solid gain over our $0.54 first quarter core results.
As Earnings Per share continue to increase, the share price should increase. The long-term earnings growth outlook will be very important, if we want to find out if there is projected to be long-term upside potential at Berkshire Hills.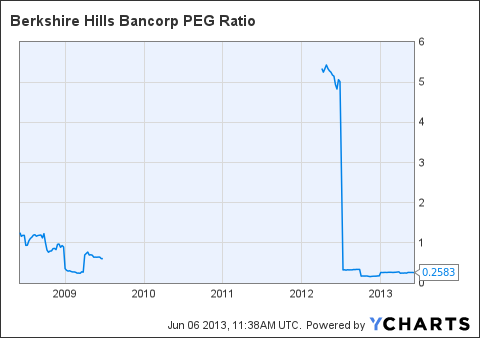 BHLB PEG Ratio data by YCharts
As you can see through the chart, Berkshire Hills has a very low PEG ratio. This means that currently the price is not taking into account the projected earnings growth. This would suggest that Berkshire Hills is currently undervalued, but if we want to know about long term upside potential, we should take a look at the future PEG ratio.
While this PEG ratio is not as pretty as the current PEG ratio, it still suggests that Berkshire Hills is substantially undervalued over the long term when compared to its projected earnings growth. Of course, this is good news for long-term oriented shareholders, as this means that the price should rise if Berkshire meets its Earnings Growth estimates over the next few years. There are also many more indicators that Berkshire Hills is currently undervalued, and is way undervalued in the long term.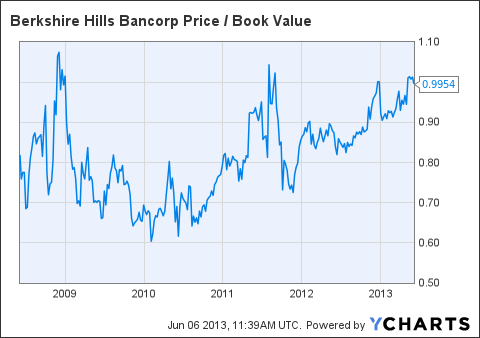 BHLB Price / Book Value data by YCharts
As you can see, Berkshire Hills is trading slightly below book value per share. This would suggest that Berkshire Hills is underpriced for today, and definitely underpriced given that its book value is only projected to go up over the next few years.
Finally, yet another metric that is working in the favor of Berkshire Hills is the fact that it has been increasing its Free Cash Flow. According to the chart below, you can observe a big spike in free cash flow, which should only continue into the future and should also provide sufficient capital to initiate mergers and acquisitions to further increase shareholder value and future growth prospects.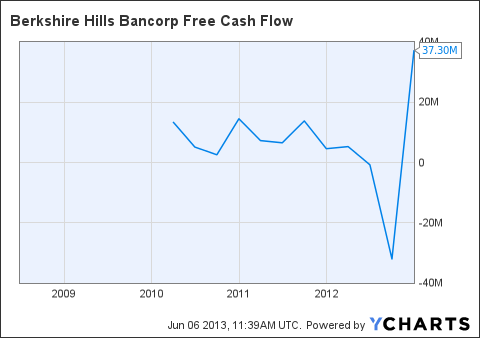 BHLB Free Cash Flow data by YCharts
Conclusion
Regional banks are sometimes a rather risky investment. However, in Berkshire Hills we have found that it is currently substantially undervalued compared to its long-term outlook. This long-term outlook helps to suggest that Berkshire Hills has an asymmetric upside potential over the long term. Berkshire Hills is increasing its banking operations, which will help to provide even more revenue and earnings per share growth in future quarters. Berkshire Bancorp is very well positioned to provide substantial returns to shareholders. Not to mention the fact that shareholders already receive a nice dividend from Berkshire Hills, this will just be an added bonus in terms of return on investment. Berkshire Hills is a long term investment, and will be able to provide substantial upside for shareholders.
Disclosure: I have no positions in any stocks mentioned, but may initiate a long position in BHLB over the next 72 hours. I wrote this article myself, and it expresses my own opinions. I am not receiving compensation for it (other than from Seeking Alpha). I have no business relationship with any company whose stock is mentioned in this article.