I've been following Acorn Energy (NASDAQ:ACFN) for over two years, mainly because of its 72% ownership stake in Coalogix Inc. (Coalogix technology explained here.) Coalogix has been growing revenue 120% yr/yr the past four years now with expansion funding coming from Acorn Energy and Enertech Capital. Coalogix won the 2008 Platts Global Energy Award for Commercial Technology of the Year.
As the CEO of Coalogix stated, this award is really the equivalent of the Academy Awards with this award being the most coveted. The company was up against 200 nominees in 22 countries, most of which were multi billion energy producers, refiners, laboratories etc. So what I'm trying to say is this company is legit as it's not a small two man scientist crew based in some warehouse deep in China. Coalogix is based out of good ole Charlotte, NC on a multi hundred acre plot of land with a 117,000 sq ft facility. Growth drivers for Coalogix stem from current and/or impending regulations to improve air quality in the United States such as: NOx SIP Call, Clean Air Interstate Rule [CAIR], and the Clean Air Mercury Rule [CAMR].
ACFN, Coalogix's parent, is a private company incubator similar to Safeguard Scientific (NYSE:
SFE
), except ACFN really only invests in energy technology. Investors might remember ACFN and Enertech's most recent successful spin off and IPO of Comverge (NASDAQ:
COMV
), a leader in smart grid technologies, which successfully IPOed around $20/share in 2007. COMV traded as high as $35/share and ACFN owned a significant piece of the IPO. ACFN has successfully sold off most of its position and has used the proceeds to acquire stakes in five other companies including
Coalogix
.
ACFN currently is trading at a $30M market cap with $14m in cash on its balance sheet although some of this cash is spoken for with the most recent $10 million financing commitment to Coalogix by both
ACFN and Enertech
. ACFN's CEO, John Moore, has been quite successful in the past and brings a
refreshing vision
for the company . I've had the pleasure to speak with Mr. Moore on a couple of occasions, and he is quite impressive.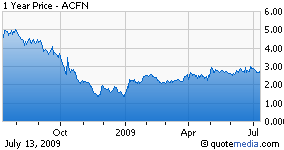 ACFN has some other very interesting investments, but Coalogix continues to be the reason why I'm watching it. I believe the most recent round of funding to Coalogix will be its last as a private company, and I would expect to see Coalogix spun off in the next 12-24 months. I estimate that Coalogix would trade $75-$100m+ market cap right now if it was a public company given the scarcity value of the product, service, and technology it provides. In essence, you are buying a cheap call option on Coalogix by owning ACFN at its current market cap. When ACFN spun off COMV two years ago, COMV IPOed at a $250m valuation and there is no reason why Coalogix won't be a similar success.
Disclosure: No Position and No Affiliation