Emerging Markets have not done too well so far this year. Even as the U.S. stock market has surged, emerging markets as a whole have been in the red: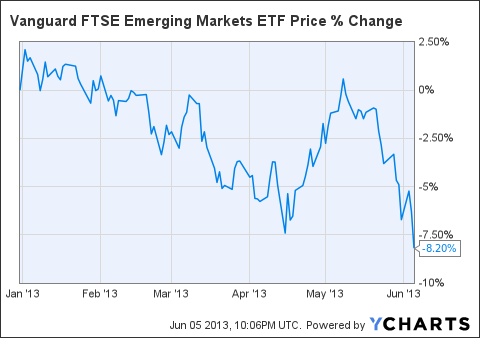 VWO data by YCharts
Whenever I see a certain asset class underperforming, the contrarian in me wonders whether it is due to deteriorating fundamentals or deteriorating investor sentiment. If it is more the latter than the former, it could be a good time to buy. The goal of this article is to get a sense of which emerging markets seem like good values right now.
Methodology
Although there are a variety of different valuation methods for equity markets, in this article I'll use a discounted cash flow analysis for the equity markets of entire countries. Future earnings growth will be a direct function of future economic growth, and equity markets will be represented by single-country ETFs. This makes two simplifying assumptions: 1.) Currently available country ETFs are reasonable proxies for an entire country's equity market 2.) Any economic growth will be shared between capital and labor at current proportions. While these assumptions do some violence to reality, I think they are not too unreasonable.
My DCF analysis will work backwards from current valuations as per the iShares website to the growth expectations they suggest and how they diverge from current growth projections for 2013. I use a one-stage DCF model that uses a discount rate of 11% and estimates a single terminal economic growth rate for the sake of simplicity, although an argument could be made for a two-stage model with a high growth "catch up" period followed by lower growth.
Results
Emerging markets have widely divergent terminal growth expectations embedded within equity prices:
Not too surprisingly, investors have the most pessimistic growth expectations for Russia, Poland and Turkey. All three have significant eurozone exposure, fighting in Syria is at risk of overflowing into Turkey, Russia and Poland have aging populations, and Russia is notorious for its governance problems. On the other hand, investors are quite optimistic about future growth in India, Chile, the Philippines, Taiwan and Mexico, which seems reasonable to me.
Expectations vs. Projections
Although investors do not seem to be too off the mark in their relative levels of optimism towards various emerging markets, history suggests that optimistic valuations are often overextended while pessimistic valuations give rise to bargains.
To get a sense of the extent to which investors agree with econometricians, I subtracted the implied terminal growth rate embedded in equity prices from forecasted economic growth for 2013.
In the above figure, countries below 0% represent markets in which prices suggest either 1.) Economists are overly optimistic about their projections for 2013, or 2.) 2013 levels of growth are unsustainable. Conversely, countries above 0% represent markets in which prices suggest either 1.) Economists are overly pessimistic about their projections for 2013, or 2.) 2013 levels of growth will be followed by more robust growth in the future.
Countries for which the difference between the terminal growth rate implied by equity prices and 2013 projected growth is less than two percentage points do not really interest me: the future is uncertain and valuations for these markets fall within a reasonable margin of error. This leaves three markets towards which investors seem to have unreasonable pessimism, Russia (NYSEARCA:ERUS), China (NYSEARCA:MCHI), and Peru (NYSEARCA:EPU). On the other hand, Mexico (NYSEARCA:EWW) and South Africa (NYSEARCA:EZA) seem a bit overextended. In other words, not a whole lot has to go right in the Russian, Chinese, and Peruvian economies for their ETFs to turn into decent long-term investments, but all the stars must align for Mexico and South Africa to provide reasonable returns at current valuations.
Dividends As A Margin of Safety
Given that I'm investing for the long term, dividends will be an important component of my overall returns. This is especially the case for emerging market equities, which often carry high yields. Dividends can provide a margin of safety for investments because reinvested dividends can offset mediocre price appreciation. I therefore subtracted trailing yields from implied terminal growth to see which markets offer yields sufficiently juicy to produce decent returns even if earnings growth is lower than investors anticipate.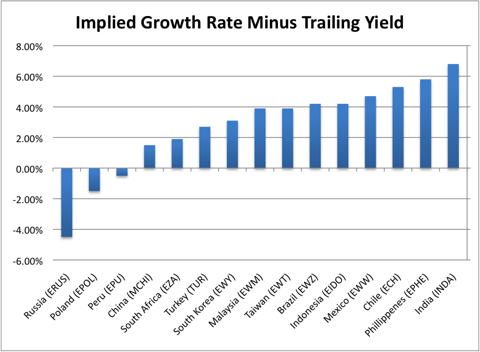 In the above figure, a low or negative percentage suggests that simply reinvesting current dividends will be sufficient to provide most or all of the compounded growth implied by current valuations. A high figure suggests that reinvesting current dividends will not do too much to provide the required returns and that investors must depend upon either earnings growth or rising dividend payouts.
Take Russia for example. At current valuations, Russia has an implied terminal growth rate of -1.7% (P/E 7.7) but a trailing yield of 2.5%. This gives holders of ERUS an additional buffer even if earnings growth for the underlying companies are weak. On the other hand, the implied terminal growth rate for India (BATS:INDA) is 7.2% while trailing dividends are a mere 0.40%. This means that earnings growth will have to do the heavy lifting to produce good long-term returns.
Investment Implications
In conclusion, I do not know if emerging markets in general (NYSEARCA:VWO) are overvalued or undervalued, but some particular markets appear to be bargains right now. At current valuations and yields, Russia, China and Peru seem particularly interesting to me. Poland (NYSEARCA:EPOL) may also be worth a look. Investors have priced in significant surprises to the downside in these markets, so if meltdowns can be avoided they may well turn into decent investments.
On the other hand, investors are pretty sanguine about Brazil (NYSEARCA:EWZ), India, Chile (NYSEARCA:ECH), Taiwan (NYSEARCA:EWT), Mexico and South Africa, so I think I'll take a pass on them for now. And at this point, I do not see anything in South Korea (NYSEARCA:EWY), the Philippines (NYSEARCA:EPHE), Malaysia (NYSEARCA:EWM), Indonesia (NYSEARCA:EIDO) or Turkey (NYSEARCA:TUR) that make these markets a screaming buy.
Although I do not do much shorting myself because most of my risk capital is in tax-advantaged retirement accounts, the findings presented here also imply some interesting regional pair trades. Investors interested in exposure to China may also wish to add a short Taiwan position to either hedge risk or supercharge returns. Similarly, Peru bulls might want to consider an offsetting Brazil position.
Disclosure: I have no positions in any stocks mentioned, but may initiate a long position in ERUS, EPU, MCHI over the next 72 hours. I wrote this article myself, and it expresses my own opinions. I am not receiving compensation for it (other than from Seeking Alpha). I have no business relationship with any company whose stock is mentioned in this article.