A recent article in the Washington Post, "Will higher mortgage rates kill the housing market? Maybe not!," cites a Goldman Sachs (NYSE:GS) study that shows interest rates would have to rise substantially higher before home sales would be negatively impacted. We explain below that the assumptions used in the Goldman report may not be viable in today's economic environment. That makes the recent interest rate spike much more detrimental to homebuilders - and the housing recovery in general - than Goldman realizes.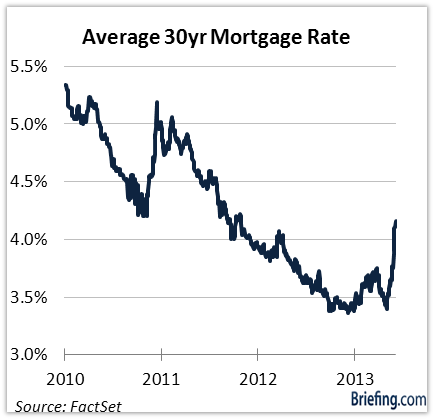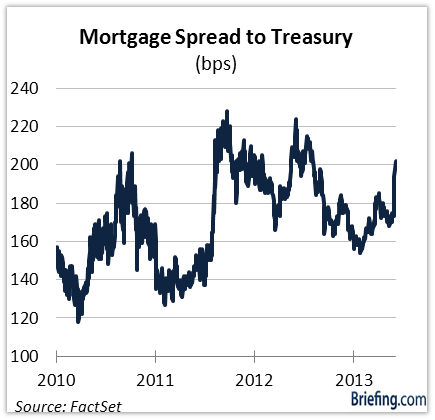 Last week, the average interest rate on a conventional 30-year mortgage jumped past 4.00% for the first time since April 2012. Rates have increased by more than 60 bps over the last month.
Most of the rate gain cannot be attributed to the recent rise in Treasury yields. If it was, the mortgage spread to Treasury bonds would have remained steady rather than widening by 30 bps since May 1. Instead, the market seems to be growing fearful that the Fed will taper its purchases of mortgage-backed securities.
That means mortgage rates could rise by at least another 20 bps, which would return the spread to levels seen when the Fed last discussed altering its MBS purchase policies. The average 30-year conventional mortgage rate could reach nearly 4.5% without any changes to Treasury yields.
The obvious implication, to us anyways, is that higher rates would adversely affect housing demand. Yet, Goldman believes current low home prices may give the sector some cushion against rising interest rates.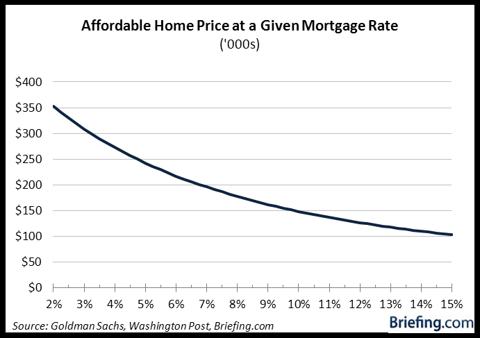 The Goldman study predicts the maximum affordable housing price based on the assumption that home buyers would use a 20% down payment, spend 25% of their income on mortgage payments, and have a median income level of $50,000. Changing interest rates would reduce (increase) their mortgage payments and increase (decrease) the amount of money a household could spend to purchase a home.
At today's 4.16% mortgage rate, the median home buyer could afford a home that costs $267,500. In 2012, the median existing home sold for $177,200 and the median new home sold for $245,200. The Goldman study shows that existing and new home prices could rise by nearly 50% and 10%, respectively, and still be considered affordable at today's interest rates. In fact, mortgage rates would have to increase to an astounding 8% before existing homes would become unaffordable at today's home prices.
Using these numbers, it is easy to see why Goldman believes 4% mortgage rates are not a big deal. The problem with the Goldman study is the assumption that households would spend 25% of their income on mortgage payments.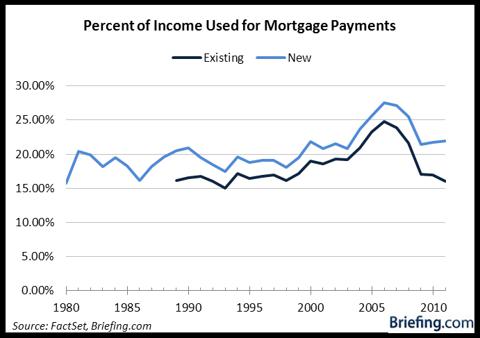 Using the same 20% down payment assumption, households at the median income level spent, on average, 16.5% of their income on mortgage payments for existing homes before the housing bubble. Households spent slightly more, 18.9%, on mortgage payments for new homes due to the new home price premium. These figures are substantially less than the 25% assumed by Goldman.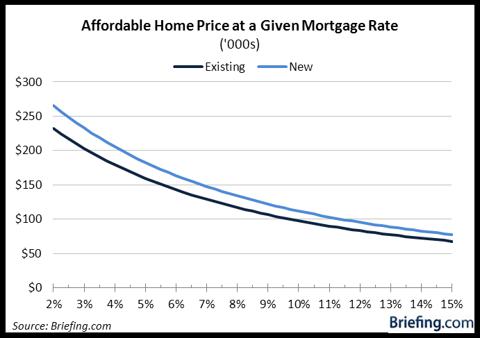 At today's mortgage rate, households willing to spend 16.5% of their income on mortgage payments could only afford a home costing $176,046. That is 0.7% less than what was spent on the median existing home last year.
Existing home prices will have to decline in order for sales to match 2012 levels or households will have to be willing/able to take on higher debt loads. Households of course were willing to take on higher payments during the housing bubble, yet that simply led to disastrous effects. In contrast to Goldman's findings, the data do not show that home prices are low enough to provide any cushion against higher interest rates.
For new homebuilders - especially those that cater to median income families such as NVR Inc. (NYSE:NVR), D.R. Horton (NYSE:DHI), PulteGroup (NYSE:PHM), KB Home (NYSE:KBH), Ryland Group (NYSE:RYL), Hovnanian Enterprises (NYSE:HOV), and Beazer Homes USA (NYSE:BZH) - the situation is much worse.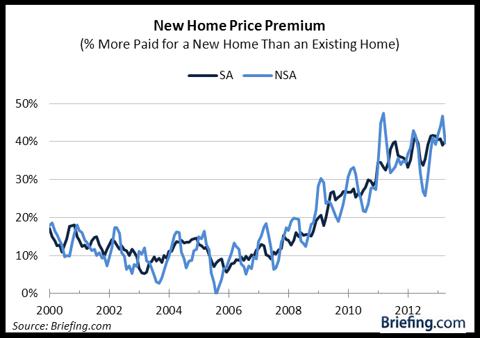 Over the past several months, we have cautioned that the price premium of a new home, which is near historical highs, would deter potential buyers. We expected the premium to cause new home sales growth to lag the existing home sector. The effects of the higher premium are magnified in a rising interest rate environment.
According to our analysis, the maximum for new home affordability is $201,681 at today's interest rates. If rates rise to 4.5%, which is very possible, new home affordability drops to $193,720. That would mean the median new home price would have to fall 21.0% in order to be affordable.
Interestingly, if the new home premium was at 10% - which is what it was immediately prior to the crash - and not at historical highs, the median price of a new home would be $194,920. That would only be slightly more than what is considered affordable if mortgage rates rise to 4.5%.
So far, homebuilders have been unwilling to lower their prices to put them more in-line with the trends in existing homes. With mortgage rates moving higher, homebuilders will be forced to drop prices or face circumstances in which buyers simply cannot afford their product.
In summary, even though home prices are low by historical standards, the recent increase in mortgage rates will likely dent sales unless prices fall from today's levels. Contrary to Goldman's view, the recovery in the housing sector is not as secure as it once was.
Disclosure: I have no positions in any stocks mentioned, and no plans to initiate any positions within the next 72 hours. I wrote this article myself, and it expresses my own opinions. I am not receiving compensation for it. I have no business relationship with any company whose stock is mentioned in this article.