The single most important number for U.S. refineries is the spread between the price of North Sea Brent crude oil and the price of West Texas Intermediate (WTI) oil.
The spread is so important for refiners as the price of their refined products, e.g. gasoline, is based on the international Brent crude benchmark, while they buy in and refine WTI, meaning that they pocket the difference.
Due to supply bottlenecks during 2012, the WTI-Brent spread widened to around $25 per barrel at some points, a highly lucrative position for U.S. refiners and this showed up in their earnings, which reached record highs.
The wide spread was a result of bottlenecks in main distribution terminals such as Cushing, causing a build-up of supplies. However, now that the infrastructure has had time to catch up with the rest of the oil boom the oil industry has dozens of new rail terminals, thousands of tank rail cars and plenty of new pipelines that can carry crude to every corner of the United States.
This mini oil transportation boom has removed bottlenecks and the spread has closed. Furthermore, the spread continues to come under pressure as more pipelines are set to open in the second half of this year.
Having said that, the WTI-Brent spread is not the only number refiners are interested in.
A large amount of U.S. crude is produced in areas that are dependent on rail transportation, which increases costs of transportation significantly. Refineries are not prepared to pay a premium to receive the oil, so they are driving down the prices. Indeed, prices at Clearbrook Minnesota, which are not traded on an exchange, have fallen to $90 a barrel (early May), around $5.50 below WTI and $13 below Brent. Additionally, these prices should fall lower in order to maintain both railroads and refinery profitability.
[In this case it would appear as if the hydrocarbon producers are not price setters and they are subject to adjusting prices to suit their customers. Oil producers are having to sell their oil at a lower price than the market in order to be able to find a buyer.]
With some oil prices being traded away from a public exchange, it is not possible for many investors to be able to establish an outlook for the refining market. However, based on the declining Brent-WTI spread, refineries could be facing lower profits throughout this year and into 2014.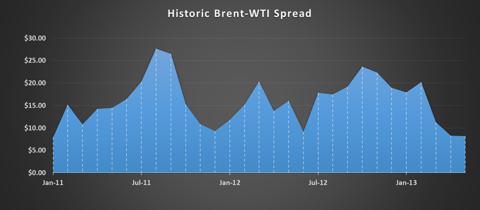 Furthermore, this spread is set to decline further, according to futures dated into next year. Traders are betting that an increasing number of pipelines coming on-stream next year will increase supply and push down WTI prices.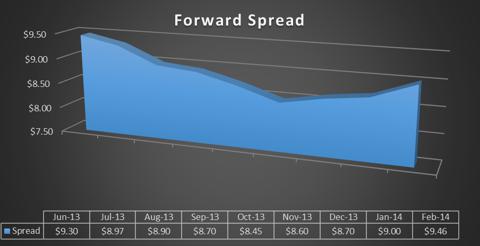 Refiners are taking action to offset the falling spread
To offset the rapidly contracting spread between WTI and Brent, refineries are switching their oil input from a mix of Brent and WTI to overweight WTI. For example, a switch to U.S. light sweet rather than Brent has helped improve profitability for Valero Energy Corp. (NYSE:VLO) and Marathon Petroleum Corp. (NYSE:MPC). In Q1 this year, Valero's intake of light, sweet crude, most of it produced in the U.S., reached an all-time high of one million barrels a day in the first quarter, up 25% from the year before. That helped the San Antonio refiner beat earnings expectations.
Elsewhere, Philips 66 (NYSE:PSX) is currently working on an advantage crude strategy. Advantage crude is a name given to oils such as heavy crude from Canada, Latin America, lighter Canadian grades WTI and shale oil from the Bakken. The prices of these oils are usually tied to the WTI benchmark and Philips is working on using more of these oils in its refining operations over the more expensive Brent crude from the Middle East. During Q1 2013, 67% of Philips' oil input was from advantage crude, up from 60% in the previous period. Allowing the company to almost double EPS from $1 per share in Q1 2012, to $2.23 in Q1 2013.
Northern Tier Energy (NYSE:NTI) only has one refinery but as it is well located on the Minnesota Pipe Line, the company is able to access cheap oil from both Canada, and North Dakota, giving the company a wide choice of cheap oil to refine and more importantly, large profit margins.
Meanwhile, for Q1 this year, CVR Energy Inc. (NYSE:CVI) reported higher profits on wider refining margins and larger crack spreads due to lower WTI input costs, a trend taking place across the industry.
| | | |
| --- | --- | --- |
| Key Operating Statistics: | 2013 | 2012 |
| Per crude oil throughput barrel: | | |
| Refining margin* | $26.71 | $20.07 |
| FIFO impact (favorable) unfavorable | (0.27) | (1.45) |
| Refining margin adjusted for FIFO impact* | $26.44 | $18.62 |
| Gross profit | $20.20 | $11.15 |
Higher margins are a result of widening crack spreads in the industry:
Three Months Ended

March 31,

2013

2012

Market Indicators (dollars per barrel):

West Texas Intermediate NYMEX

$94.36

$103.03

Crude oil differentials:

WTI less WTS (light/medium sour)

6.33

3.67

WTI less WCS (heavy sour)

27.26

27.12

NYMEX crack spreads:

Gasoline

31.24

25.44

Heating oil

33.43

29.61

NYMEX 2-1-1 crack spread

32.33

27.53
However, as highlighted within this article, crack spreads are falling back after a record run at the beginning of this year - the reason for the refiners' higher margins.
The 3-2-1 crack spread is proxy for refiners' profit margins but this benchmark has been falling during the past month or so as demand for gasoline has slowed throughout the U.S.
HollyFrontier (NYSE:HFC) exhibited the same trend as CVR despite lower utilization rates during the first quarter of this year. Even though the company has to grapple with unscheduled maintenance, HollyFrontier has benefited from a switch to lighter crude.
In addition, falling WTI prices and oversupply have led to a 39% increase in HollyFrontier's net operating margin.
| | | |
| --- | --- | --- |
| Feedstocks | 2013 | 2012 |
| Sweet crude oil | 53% | 52% |
| Sour crude oil (Brent) | 19% | 22% |
| Heavy sour crude oil (Brent) | 16% | 16% |
| Black wax crude oil | 2% | 2% |
| Other feedstocks and blends | 10% | 8% |
| Total | 100% | 100% |
HollyFrontier's marginal adjustment from heavier sour Brent crude to lighter, cheap WTI based oil has been part of the reason for the company's rising profit margins.
| | | | |
| --- | --- | --- | --- |
| Average per produced barrel | 2013 | 2012 | Change |
| Net sales | $116.00 | $119.54 | -2.96% |
| Cost of products | $92.68 | $102.08 | -9.21% |
| Refinery gross margin | $23.32 | $17.46 | 33.56% |
| Refinery operating expenses | $6.68 | $5.51 | 21.23% |
| Net operating margin | $16.64 | $11.95 | 39.25% |
| | | | |
| Refinery operating expenses per throughput barrel | $6.12 | $5.28 | 15.91% |
| WTI average cost | $94.40 | $102.90 | -8.26% |
| Brent average cost | $112.90 | $118.50 | -4.73% |
| Refinery utilization | 85.90% | 92% | -6.63% |
Conclusion
So in conclusion the WTI-Brent spread is declining but refiners are still pushing profit margins wider as they buy cheaper un-traded oil.
Indeed even as the WTI-Brent spread reaches its tightest in two years, the refiners are still managing to achieve record profit margins thanks to oversupply in the domestic and Canadian oil markets.
Disclosure: I am long HFC, NTI. I wrote this article myself, and it expresses my own opinions. I am not receiving compensation for it (other than from Seeking Alpha). I have no business relationship with any company whose stock is mentioned in this article.