I was recently reviewing the portfolio holdings of Sequoia Fund (MUTF:SEQUX), which I have owned since 2008, on Morningstar when one of the holdings struck me. That holding was Novozymes A/S (OTCPK:NVZMY), and it struck me since it was also on a list I recently compiled of international stocks that have a record of increasing dividends each year for the past 10 years. With the same stock appearing on both lists, I decided to take a look to see if I wanted to own it outright.
Sequoia Fund
Before focusing directly on Novozymes, I thought it appropriate to take a moment to describe why I am interested in the stocks that Sequoia Fund owns. The Fund's investment objective is:
The Fund's investment objective is long-term growth of capital. In pursuing this objective, the fund focuses principally on common stocks that it believes are undervalued at the time of purchase and have potential for growth. A guiding principle is the consideration of common stocks as units of ownership of a business and the purchase of them when the price appears low in relation to the value of the total enterprise. No weight is given to technical stock market studies. The balance sheet and earnings history and prospects of each investment are extensively studied to appraise fundamental value.

While the Fund normally invests in U.S. companies, it also may invest in foreign securities. The Fund is not required to be fully invested in common stocks.
They are traditional, disciplined value investors. The turnover in the fund, as reported by Morningstar, was 5% as of its last reporting on March 31. They are not afraid to run large cash balances when they do not find attractive valuations, and they also buy companies for the long haul. As an individual investor looking to increase my international exposure and currency diversification, I pay extra attention when a group like Sequoia Fund holds an international stock that has the potential to meet my other criteria for individual stock selection.
Backtracking through the fund's reports, they established a position in Novozymes between September 30 and December 31, 2011. While they still own the shares today, I am cautious in taking that as a recommendation to buy at today's prices. The position comprises approximately 1% of the portfolio. Morningstar also reports that Sequoia holds about .67% of the total shares and is the second largest fund owner of Novozymes B shares behind Vanguard International Growth Inv (MUTF:VWIGX).
Company Background
Novozymes A/S is headquartered in Denmark and its B shares are listed on the NASDAQ OMX Copenhagen. Its home currency is the Danish Krone (approximately .18 US dollars = 1 DKK). I will report all currency amounts in US dollars as converted at today's exchange rate unless otherwise indicated. Its market capitalization is about 11 billion US dollars. Novozymes A/S B shares trade as an ADR with ticker (OTCPK:NVZMY).
The A common stock is held by Novo A/S, which is owned by the Novo Nordisk Foundation. In addition, Novo A/S owns about 11% of the B shares, giving Novo A/S in total 25.5% of the common stock and 70.1% of the votes. US based investors may be more familiar with Novo Nordisk A/S (NYSE:NVO), which is similarly situated in the corporate hierarchy.
Novozymes is a biotech company. It boasts over 700 products in 130 countries. It holds over 6,500 patents. Its business has two segments: Enzyme Business and BioBusiness. Between the two segments, they have activities in Food and Beverages, Bioenergy, Wastewater solutions, Textiles, Pulp and Paper, Leather, Biopharma, Agriculture and Household care. Sales distribution by unit and by geographical location are:

Source: Novozymes' factsheet
Management's Targets
Management has given explicit long-term targets for their shareholders to measure them by:
annual organic sales growth greater than 10%
EBIT margin greater than 24%
Annual return on invested capital greater than 22%
Enable a 75 million ton reduction in CO2 emissions by 2015 as a result of customers applying Novozymes' products
Reduce Novozymes CO2 emissions by 50% by 2015 as compared to 2005
Be a preferred employer globally
This is an ambitious set of goals, and I would be very pleased to own a business able to achieve the sales growth and returns they have targeted. They plan to meet these targets by 2015.
Historic Performance
It's worth taking a moment to compare the historic performance to some of the company's stated long-term targets. First, here is the breakdown of sales by unit. All numbers are in US dollar millions.
| | | | | | |
| --- | --- | --- | --- | --- | --- |
| | 2012 | 2011 | 2010 | 2009 | 2008 |
| Household Care Enzymes | 680 | 599 | 567 | 481 | 450 |
| Food & Beverages Enzymes | 573 | 546 | 513 | 444 | 436 |
| BioEnergy Enzymes | 315 | 321 | 332 | 266 | 250 |
| Feed & Other Technical Enzymes | 261 | 243 | 227 | 212 | 220 |
| Microorganisms | 170 | 138 | 77 | 75 | 73 |
| Biopharma | 23 | 46 | 33 | 42 | 37 |
| Total | 2,022 | 1,892 | 1,750 | 1,521 | 1,466 |
The year over year percentage increases in each unit are:
| | | | | |
| --- | --- | --- | --- | --- |
| | 2011 - 2012 | 2010 - 2011 | 2009 - 2010 | 2008 - 2009 |
| Household Care Enzymes | 13.7% | 5.5% | 17.9% | 7.0% |
| Food & Beverages Enzymes | 5.0% | 6.4% | 15.6% | 1.8% |
| BioEnergy Enzymes | -1.9% | -3.5% | 24.7% | 6.6% |
| Feed & Other Technical Enzymes | 7.4% | 6.9% | 6.9% | -3.5% |
| Microorganisms | 23.1% | 78.8% | 3.4% | 2.5% |
| Biopharma | -50.0% | 36.6% | -20.9% | 13.0% |
| Total | 6.9% | 8.1% | 15.1% | 3.7% |
Looking at the total sales numbers and the percentage increase numbers, we see that Household Care Enzymes both has the highest share of sales as well as consistent and strong growth. Food and Beverages is also a strong performer here. Based on the history, annual organic sales growth greater than 10% looks like a high bar. The good news is that the two largest units by sales are both showing consistent sales growth, and should this trend continue, its growth will have a disproportionate impact on total sales growth. Also, I am reassured that the two largest units are Household Care Enzymes and Food & Beverage as I see these areas being more stable and consistent than BioEnergy or Biopharma might be.
We can also take a look at the EBIT margin, return on equity, and return on invested capital (including goodwill) over time: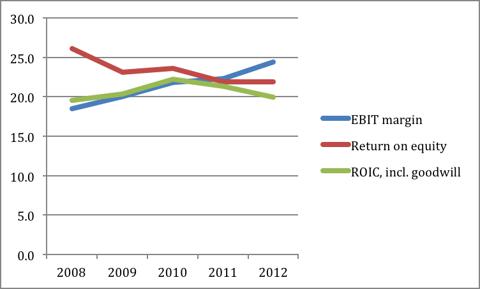 The EBIT margin is showing very strong performance, increasing over time toward 25%. Both return on equity and on invested capital are very healthy as well. Finally, let's take a look at earnings per share over the last 5 years on a fully diluted basis: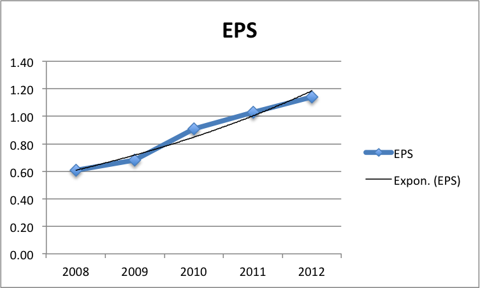 From 2008 to 2012, earnings per share have grown at a compound average growth rate of about 17%.
Dividend History
Novozymes has increased its dividend, paid in DKK, each year since 2000. In addition, over that time period, the share count has decreased. As investors might care significantly about the dividend amount both in DKK and in US dollars, I report the dividend as paid in DKK and as it would have been paid if converted into US dollars near the time of dividend payment.
| | | | |
| --- | --- | --- | --- |
| Year | Div/share (DKK) | Div/share (US dollars) | Average share count (in millions) |
| ​2012 | ​2.20 | .40 | ​313.9 |
| 2011 | 1.9 | .36 | 315.2 |
| 2010 | 1.6 | .29 | 313.2 |
| 2009 | 1.15 | .22 | 310.3 |
| 2008 | 1.05 | .21 | 309.3 |
| 2007 | 1 | .18 | 309.6 |
| 2006 | 0.9 | .15 | 314.4 |
| 2005 | 0.8 | .13 | 327.3 |
| 2004 | 0.7 | .12 | 341.4 |
| 2003 | 0.63 | .10 | 352.3 |
| 2002 | 0.45 | .07 | 361.7 |
| 2001 | 0.4 | .05 | 368.1 |
| 2000 | 0.33 | .04 | 376.5 |
Novozymes has increased its dividend aggressively. Below is a graphical depiction of the year over year percentage increase, computed from the DKK dividend payment, in the dividend per share: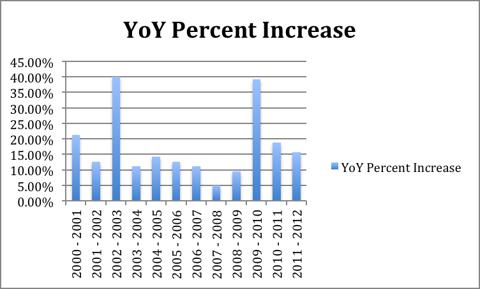 From a dividend growth standpoint, this is a fairly impressive record over time. Unfortunately, at the present stock price of $34.4 for the ADR, the dividend yield based on the 2012 payout is approximately 1.12%. If we give credit for a strong dividend growth history and project a 2013 dividend payment 10% higher than the 2012 payment, we would estimate a forward yield of 1.23% at today's price.
The payout ratio, dividends per share divided by earnings per share, is at a healthy 34.8%. Management has given a target payout ratio of 35%, so for the near term, we should expect the dividend to grow in line with earnings.
Investment Thesis
What I like most about Novozymes is that they are developing partnerships to support other businesses. If you are making laundry detergents, they can work with you to sell you enzymes to make your detergent work better. If you are in the food industry, they can work with you to use enzymes to replace some of the chemical additives you may have been using. In farming, they can offer pesticides based on enzymes that you might prefer over other industrial pesticides. And so on. By establishing relationships with other businesses and supporting their products, they are laying the groundwork for consistent earnings over time. Additionally, they can support a very wide range of business type so that there is built-in diversification built around their core strength. In some sense, while a biotech company, it operates like an industrial.
In this space, Novozymes is a large player and has approximately 47% of the global enzyme market share as estimated in 2011. To me, this says that Novozymes is at the top of a growing industry. Novozymes spends approximately 14% of revenues on research and development each year, which should serve to maintain its lead and open routes for future growth.
Finally, many of their products support greener initiatives, which means Novozymes stands to benefit from increasing environmental regulation across the globe.
Valuation
I like the business, and management has historically rewarded shareholders through dividend increases and occasional share buybacks. Management also sets high performance targets, which I believe is very healthy. The only question remaining to me is whether the price is appropriate.
Your view of Novozymes valuation will depend heavily upon how you view its ability to meet its revenue growth targets. At the current price and 2012 earnings, the P/E ratio is just north of 31. At a price of $34.40 US dollars, the ADR is priced in line with shares on the Copenhagen exchange assuming an exchange rate of 1 dollar to 5.69 DKK. For comparison purposes, Sequoia Fund appears to have initiated its holding at a P/E between 27 and 32.5 if we use earnings as the average of 2010 and 2011 EPS. Here is the chart over the past 5 years for the B shares on the Copenhagen exchange.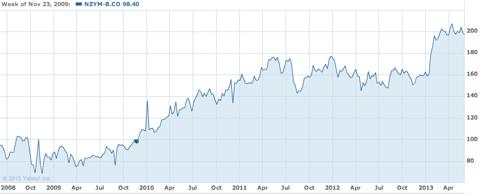 Source: Yahoo Finance
Personally, I am still thinking through the stock price. My gut says too expensive at present prices, so I am going to take my time, watch, and not rush.
Tax Consequences for US Investors
As a US investor considering an investment in an international stock, you should carefully examine the tax consequences of investment. My understanding, which you probably would want to verify if considering an investment, is that US investors will have 15% of the dividends withheld as foreign tax. If the investment is in a taxable account, the investor can file for a tax credit at tax time. If the investment is in an IRA or 401(k) account, then there is no mechanism to recover the withheld tax.
Finally, US based investors will also face currency exchange risk. If the US dollar becomes significantly stronger than the Danish Krone, then the dividend payment received by US investors will decrease in US dollars. Here is a chart showing the currency conversion rate to turn DKK into US dollars over the period of time that Novozymes A/S has been paying a dividend.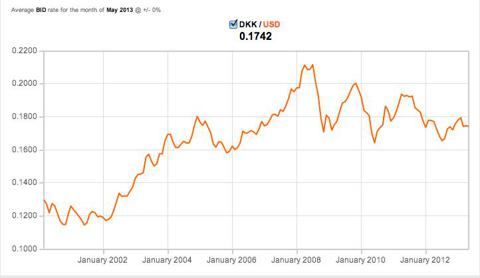 Source: www.oanda.com/currency/historical-rates/
Disclosure: I have no positions in any stocks mentioned, but may initiate a long position in OTCPK:NVZMY over the next 72 hours. I wrote this article myself, and it expresses my own opinions. I am not receiving compensation for it (other than from Seeking Alpha). I have no business relationship with any company whose stock is mentioned in this article.
Additional disclosure: All data used in this article, unless otherwise noted, was sourced from Novozymes Investor website available at www.novozymes.com/en/investor/Pages/default.aspx