I've already said how much I like Wal-Mart (NYSE:WMT). However, there are those who do not. Target Corporation (NYSE:TGT) is its main discount retailing competitor. The company was founded in 1902, as Dayton Dry Goods Company by George Draper Dayton in Minneapolis, Minnesota. In 1962 the company opened its first Target branded store as a discount retailer.
Target's revenues for the past 12 months are $73.41 billion. Target's assets amount to $44.23 billion and liabilities are $27.71 billion. Tangible assets are $16.52 Billion.
Target is a Dividend Aristocrat increasing dividends for the last 45 years. The company pays a dividend of $1.44 at a yield of 2.10%. Over the past 20 years, Target has increased its dividend by 981%. The current payout ratio is 32%. There is plenty of room for the dividend to grow.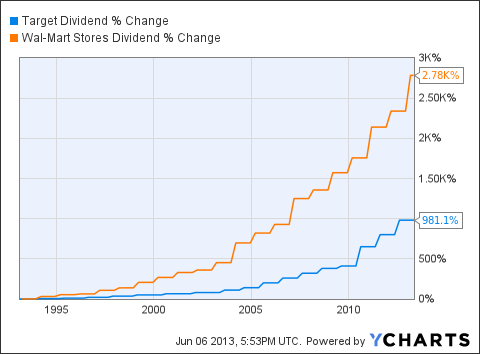 TGT Dividend data by YCharts
From the chart we see that Target's dividend has not grown as much as Wal-Mart's. In fact Wal-Mart's dividend has increased by 283% over Target, almost three times faster.
Earnings for Target are $4.26 for the last 12 months. Target's Graham Number is $49.69. Earnings for the past seven fiscal years are as follows.
| | | | | | | | | | | |
| --- | --- | --- | --- | --- | --- | --- | --- | --- | --- | --- |
| Year | FY 2013 | FY 2012 | FY 2011 | FY 2010 | FY 2009 | FY 2008 | FY 2007 | | AVG | @ $70.00 |
| EPS | $4.46 | $4.28 | $4.00 | $3.30 | $2.86 | $3.35 | $3.21 | | $3.64 | P/E 19.23 |
As we see earnings for the past seven years are solid. We see a 15% dip in FY 2009 over FY 2008. This is expected due to the recession. What I like about this is that in FY 2010, earnings almost bounced back to the FY 2008 earnings, only $0.05 shy, not bad.
Outstanding Shares
All in all, Target is a solid company. Let's take a look at share buybacks. With any solid long-term dividend growth stock we should have a solid buyback program in place.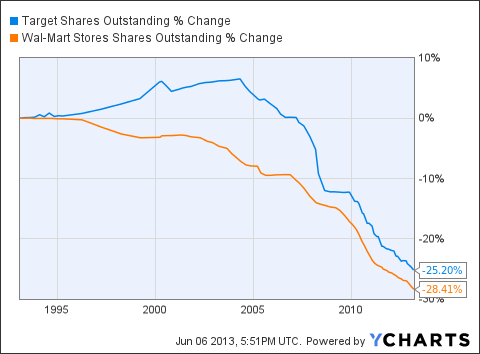 TGT Shares Outstanding data by YCharts
In the last 20 years Target has retired 25.2% of shares. This is in comparison to Wal-Mart, that retired 28.4% of shares. There is not much difference in the share buyback programs. Target returns shareholder value with not only a solid dividend but also share buybacks.
Equity Pricing
So our fundamentals show that Target is a solid company, there is no doubt about it. But target falls behind when it comes to growing dividends and slightly behind on share buybacks. Well what about pricing?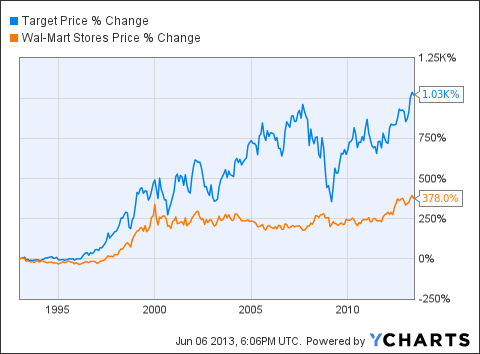 TGT data by YCharts
We see the opposite when it comes to price action. Target's price has significantly increased more than that of Wal-Mart over the last 20 years. Target's price has increased 272% more than Wal-mart's price.
Conclusions
Target is a solid company and as far as I see there is no reason to not consider Target for the long-term investor. Target is well financed, has a solid dividend and reduces shares, returning shareholder value. The company was able to regain earnings only one year after the major crash.
What it mainly comes down to for long-term investors is what would they rather own. Target has mainly stayed out of the spot light as Wal-Mart constantly receives negative criticism. This in a way may explain the underperformance of the equity price of Wal-Mart as opposed to Target.
If investors are undecided about the two companies they should take into account two differences that are apparent. Target's equity price has increase significantly more than Wal-Mart's. However, Wal-Mart has significantly increased its dividend over the past two decades. How would you, the investor rather grow your return, through price increases or dividends? It's a matter of preference really.
Disclosure: I am long IBM, KO, MPC, WMT. I wrote this article myself, and it expresses my own opinions. I am not receiving compensation for it (other than from Seeking Alpha). I have no business relationship with any company whose stock is mentioned in this article.