"Our goal is to go after reducing decline as much as possible." Janet Weiss, President, BP Alaska
As the mature oilfields developed during the 1970s declined, Alaska oil production leveled at 526,000 barrels a day, a little more than half its level a decade ago.
ExxonMobil (NYSE:XOM), BP Plc. (NYSE:BP) and ConocoPhillips (NYSE:COP) have come to the rescue with plans to invest $1 billion into revving up crude production from Alaska's North Slope. The plans were announced just weeks after the state decided to give the oil industry a $750 million annual tax cut.
BP, which has 26% of the Prudhoe Bay oilfield on Alaska's northern coast, plans to increase its capital spending there by about 30% and add two onshore rigs to bring the total in the area to nine.
BP, together with Exxon and Conoco, which own 36% each while Chevron (NYSE:CVX) owns the remaining 1%, plan to spend an additional $3 billions on projects to raise production and drilling by an additional 110 wells.
Meanwhile, last Friday in Vienna, leaders of the Organization of the Petroleum Exporting Countries (OPEC) concluded their 163rd Meeting by deciding to keep production levels unchanged at 30 million barrels a day, same as they have been maintained over the previous 18 months.
All stakeholders were happy with the decision and believe that these production levels will continue till December, when the next ordinary OPEC meeting is scheduled.
World oil demand is expected to rise from 89 million barrels a day in 2012 to 90 million barrels a day in 2013, driven almost entirely by China and non-OECD countries.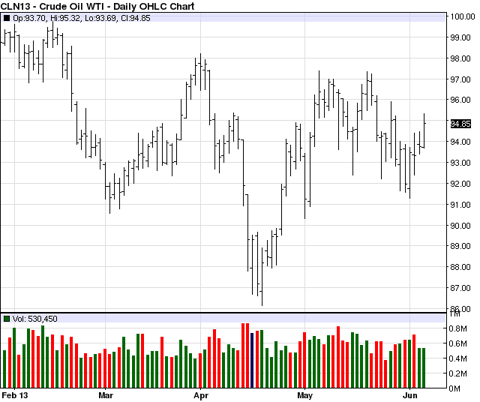 World economic growth is projected to reach 3.2% in 2013, up from 3% in 2012 but many analysts are predicting that slowing demand from China could offset a surge in summer demand in Europe and the U.S., which could provide for price stability during the summer and well towards the end of the year.
However, there is always the possibility of downside risks in Europe and other OECD regions with some easing in fundamentals during the second half of 2013.
Also, China has been recently under-bidding for Iraq oil contracts and has built its own airport near the Iranian border to ferry workers to Iraq's southern oil fields, which are becoming some of the most productive in the word after their recent upgrade.
With all this oil flowing around, coupled with the possibilities of further slowing in the Chinese economy, a short-term oil glut could be on the cards.
My advice is to hedge your bets against those predicting oil price stability towards the end of the year and try to profit from eminent volatilities.
Disclosure: I have no positions in any stocks mentioned, and no plans to initiate any positions within the next 72 hours. I wrote this article myself, and it expresses my own opinions. I am not receiving compensation for it (other than from Seeking Alpha). I have no business relationship with any company whose stock is mentioned in this article.