Joe's Jeans (NASDAQ:JOEZ), known for premium jeans, should not be overlooked when researching possible small-cap investments. The luxury apparel company has returned 65% this year, and is currently looking to triple the number of domestic locations over the next four years. This type of growth, along with improving economic conditions, makes Joe's Jeans a attractive small-cap investment. First, a look at current valuation and margins will give us some insight where Joe's is now. Then, analyzing increases in consumer discretionary spending, coupled with store expansion will show us where Joe's is heading in the future, and how it will lead to impressive returns.
Current Valuation
Joe's Jeans currently has a strong balance sheet and above average margins. If we take a look at the assets and liabilities side of the balance sheet, we can see how Joe's Jeans has position itself for stable and unleveraged growth. Joe's currently has a quick ratio of approximately 1.5x, a current ratio of 3.5x, and no long-term debt. This places Joe's in the top tier of retailers in terms of balance sheet strength. With little to no leveraged growth, Joe's Jeans must rely on high margins to expand. Margins are currently above the industry average across the board. The most impressive margin statistic that i would like to point out is the 48.6% percent gross margin. This is approximately 73% higher than other companies in the apparel industry.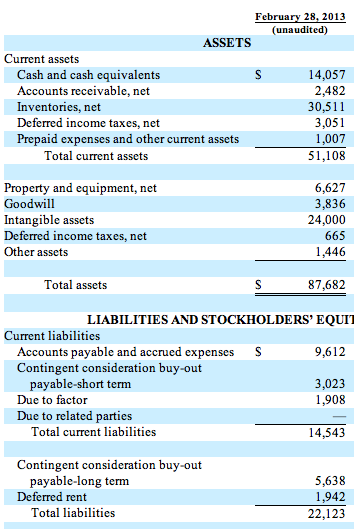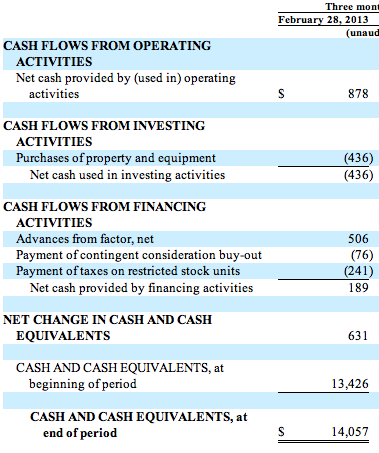 In order for Joe's to expand to the estimated 100 locations by the end of 2017, a number of macro economic factors have to be considered. Most importantly, increases in spending and improvement in the economy. Luxury Retailers must count on increases in spending by high income consumers.
Discretionary Spending
Consumer discretionary spending is currently at all time highs. A number of economic indicators show how the economic recovery has led consumer spending higher. Below, the Consumer Discretionary Spending SPDR (NYSEARCA:XLY) has returned 31% for the past year, including a 12% return since the beginning of January.
Click to enlarge images.

Joe's Jeans is in the high-end, luxury apparel industry. Therefore, an increase in discretionary spending, although positive, is not enough of a correlation to justify how this will impact revenues. We must focus on high-income spending. The following is a Gallup survey of approximately 15,000 Americans. Increases in spending for high income individuals is trending higher at an exponential rate, indicating increased spending on luxury items.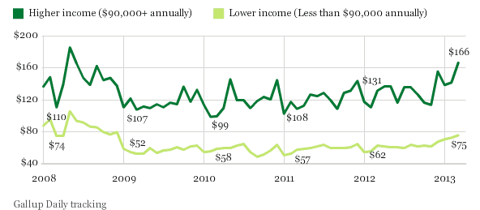 Next, I want to splice together a number of indexes. We all know the market has been performing well this year, but what is to say that the luxury market is a more attractive, high growth investment when compared with the S&P 500? The main purpose of the data below is to display how luxury items, as well as small-cap companies have lead the market in returns. The data below is not only simple, but convincing.

We can see here that the Dow Jones Luxury Index has outperformed the market by about 9% for the past year. This either indicates increased earnings among luxury retailers, or an increase in expected growth for the luxury consumer marketplace. Next, we can see that small-cap securities have returned approximately 29.16% for the year, 4% higher than the S&P 500. Finally, an increase of more than 20% in the Global Wealth Effect Index is positive news for the cyclical industry, as well as luxury retailers. Increases in perceived wealth coincides with increases in spending across the board.
Store Increases
Currently, Joe's Jeans has 31 domestic locations. This equates to approximately $119 million in revenue. That is $3.8 million per location. If we were to annualize the estimated store increases to 100 locations in 2017, this would be 15.33 stores per year. The following revenue estimates are based on $3.8 million in revenue per store per year.
2013: $146.9 million
2014: $205.2 million
2015: $263.4 million
2016: $321.7 million
2017: $380 million
This type of growth represents around 25% increases in revenue year over year for the next four years. Impressive numbers, assuming the press release from Joe's Jeans today is accurate. I feel that increases in stores will not lead to lower revenue per store. To further explain this opinion, it can be assumed that increases in brand awareness and consumer spending will ultimately offset possible lower marginal revenues per store. Therefore, revenue per store would remain constant. At a 4.69% profit margin, coupled with high revenue growth, Joe's Jeans could be looking at fantastic returns over the next few years.
Disclosure: I have no positions in any stocks mentioned, and no plans to initiate any positions within the next 72 hours. I wrote this article myself, and it expresses my own opinions. I am not receiving compensation for it (other than from Seeking Alpha). I have no business relationship with any company whose stock is mentioned in this article.