Qualcomm (NASDAQ:QCOM), a leading designer of CDMA-based, RF and power management ICs for system software used in wireless handsets, modem cards and networks, has been a long-term winner. It is up about four-fold in the last decade, while the average technology stock as represented by the iShares Goldman Sachs Technology Index Fund (NYSEARCA:IGM) has doubled during the same period. The stock has been powered higher in the past decade mostly due to the explosion in wireless communications. In this next phase, the promise is that the worldwide demand for smartphones and tablets, and the need for higher-speed 3G and 4G telecom networks, especially in emerging markets, will continue to drive higher the demand for its products and the share price.
In its latest March 2013 quarter, the company reported in-line revenue and earnings at $6.12 billion and $1.17, respectively, up 24% and 16% year-over-year from the March quarter a year ago. Its guidance for the next June quarter was mixed at $5.8-$6.3 billion and 97c-$1.05 v/s Street estimates of $5.9 billion and $1.04, respectively, raising concerns about gross margins and operating leverage. However, the second half of calendar year 2013 is expected to be better, with the company guiding FY 2013 revenues and earnings solidly higher at $24.0-$25.0 billion and $4.40-$4.55 v/s its prior guidance of $23.4-$24.5 billion and $4.25 to $4.45, respectively.
The stock continues to trade near all-time highs, but its share price in recent years hasn't kept up with the increase in earnings. It trades at a steep discount at 12-13 times FY 2014 forward earnings compared to the 21.3 average for its peers in the wireless equipment group (based on financial data from Zacks.com), while earnings are projected to rise at a growth rate of 14.9% from $3.72 in FY 2012 to $4.91 in FY 2014. The company also recently raised its quarterly dividend in Q1 from 25c to 35c per share, with the dividend yield now above 2.2%, compared to the 0.8% average in its industry group.
QCOM shares have been under accumulation by legendary or guru fund managers, with our database of 79 gurus with outstanding long-term market returns collectively or in consensus adding 1.77 million net shares in Q1/2013 to their 50.96 million share position in the prior quarter. The stock has a 4.1 GuruRank® based on our ranking system that numerically represents on a scale of 1 to 5 the attractiveness of the stock to guru fund managers (see more explanation on the ranking system at the end of the article). The top guru fund buyers in Q1/2013 were legendary billionaire investor Ken Griffin's Chicago-based hedge fund Citadel Advisers that added 2.48 million shares and Stephen Mandel's Lone Pine Capital that added 1.79 million shares.
Besides guru fund managers, our database of 31 technology sector-focused funds also added 5.33 million shares to their 2.54 million share prior quarter position in the stock, giving it a 4.7 SectorRank®, based on the relative attractiveness of the stock to those 31 tech sector-focused fund managers. Also, from our database, 54 New Masters fund managers, leading fund managers that haven't quite earned the status of being called gurus, added a net 3.23 million shares to their 6.18 million share prior quarter position. Furthermore, Tiger fund managers, including those who directly or indirectly honed their skills at Julian Robertson's Tiger Management, added a net 1.63 million shares to their 25.65 million share prior quarter position.
We believe that with the market in bullish-mode, and the positive demand outlook and competitive strength of its products, especially at the high-end, the stock is unlikely to dip significantly below its 200-day moving average. Thus, current prices in the $62 range, cutting slightly below that average, represent a low-risk entry point into the stock, based on both its relative discount valuation compared with its peers and its projected earnings growth rate. Of the 44 analysts that cover the company, 37 rate it at buy/strong buy, five rate it hold and the remaining two rate it underperform/sell, with a median price target of $77, well above current prices in the $62 range. We rate the stock an Outperform, and would accumulate the stock at these levels, adding more as it dips lower, especially as it cuts below the 200-day moving average.
Overall, the 79 guru fund managers included in our database are slightly bearish on telecom equipment stocks, cutting $45.2 million in Q1/2013 from their $8.11 billion prior quarter position in the group.
Besides QCOM, guru fund managers also were bullish on the following telecom equipment stocks in Q1/2013 (see table below):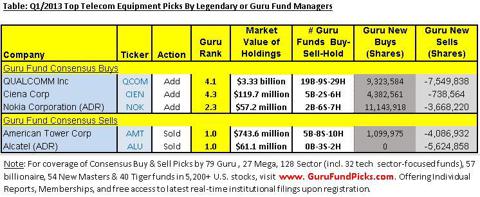 Ciena Corp. (NASDAQ:CIEN),

a designer of Ethernet transport and switching systems used in network infrastructure by telecom and cable service providers, in which guru fund managers collectively or in consensus added a net 3.64 million shares to their 2.79 million share prior quarter position.

Finland-based Nokia Corp. Ads (NYSE:NOK),

a leading supplier of mobile devices, a leading supplier of mobile, fixed and IP networks, and a provider of Internet and digital mapping and navigation services worldwide, in which guru fund managers collectively or in consensus added a net 7.48 million shares to their 8.91 million share prior quarter position.
Guru fund managers together sold the following telecom equipment stocks in Q1/2013:
American Tower Corp. (NYSE:AMT), which operates cellular towers used by wireless service providers and TV and radio broadcast companies, in which guru fund managers collectively or in consensus cut a net 2.99 million shares from their 12.62 million share prior quarter position.
Alcatel-Lucent ADS (ALU), the French telecommunications giant,

a leading provider of telecommunications equipment and services to fixed line, wireless and Internet service providers, in which guru fund managers collectively or in consensus cut a net 5.62 million share from their 40.15 million share prior quarter position.
The collective or consensus moves of guru fund managers in the remaining 67 stocks in the telecom equipment group included in our database can be obtained from our website, GuruFundPicks.
With the Dow currently flirting with 15,000, the market and the telecom equipment group are in bullish mode. However, despite the bull market and the strong upward trend in smartphone and tablet use, and the demand for high-speed 3G and 4G services, there will be both winners and losers in the group in the coming months. We believe that knowledge of how the best minds in the investment community, in the form of guru fund managers, are collectively positioning themselves can inform our investment decision-making. We have observed predictive power in the moves of leading fund managers on stock prices going forward, some of which are documented in our earlier articles on Q4/2012 small-cap biotech picks by guru funds and Q1/2013 small-cap biotech top picks by guru funds. Additional examples of how leading funds have successfully predicted stock moves for many popular stocks, across all industries, including in the case of Apple Inc. (NASDAQ:AAPL), are outlined on GuruFundPicks.com.
General Methodology and Background Information: The latest available institutional 13-F filings of 79 legendary or guru hedge fund and mutual fund managers, such as Warren Buffet, George Soros, Carl Icahn, Steven Cohen and Mario Gabelli, were analyzed to determine their capital allocation from among different industry groupings, and to determine their favorite picks and pans in each group. The hedge fund and mutual fund managers included in this select group include only high profile names who by virtue of their long-term market-beating returns have earned their standing in the investment community and are worthy of our attention. They include well-known names such as those mentioned above, as well as perhaps relatively lesser-known names that also have a stellar long-term history of beating the markets, such as Seth Klarman, John Griffin, Prem Watsa, Robert Karr and Lee Ainslie. Each guru has been carefully selected based on their long-term performance and standing in the investment community. Furthermore, the credentials of most of the 79 guru funds that justify their inclusion in this elite group were detailed in our previous articles that can be accessed from our author page and from the 13-F pages for those funds on our website, GuruFundPicks.com
These legendary or guru fund managers number less than one percent of all funds and yet they control over ten percent of U.S. equity discretionary fund assets. The argument is that institutional investors have the resources and the access to information, knowledge and expertise to conduct extensive due diligence in informing their investment decisions. When high alpha generating or guru Institutional Investors by virtue of their fund performance, low volatility and elite reputation in the investment community, invest and maybe even converge on a specific investment idea, the idea deserves consideration for further investigation. The savvy investor may then leverage this information either as a starting point to conduct his own due diligence or even go as far as constructing a model diversified portfolio based on the guru funds' best picks.
GuruRank® and SectorRank® are based on our proprietary and relative ranking system that numerically represents on a scale of 1 to 5 the attractiveness of the stock to guru and sector-focused fund managers respectively, based on their holdings, change in holdings, percent of outstanding shares and number of guru funds in the stock, as compared to the rest of the 5,200+ stocks in our database on our website.
This article is part of a series on institutional holdings in various industry groups and sectors, and other articles in the series for this and prior quarters can be accessed from our author page.
Credit: Fundamental data in this article were based on SEC filings, Zacks Investment Research, Thomson Reuters and Briefing.com. The information and data is believed to be accurate, but no guarantees or representations are made.
Disclaimer: Material presented here is for informational purposes only. Nothing in this article should be taken as a solicitation to purchase or sell securities. Before buying or selling any stock you should do your own research and reach your own conclusion. Further, these are our "opinions" and we may be wrong. We may have positions in securities mentioned in this article. You should take this into consideration before acting on any advice given in this article. If this makes you uncomfortable, then do not listen to our thoughts and opinions. The contents of this article do not take into consideration your individual investment objectives so consult with your own financial adviser before making an investment decision. Investing includes certain risks including loss of principal.
Disclosure: I have no positions in any stocks mentioned, and no plans to initiate any positions within the next 72 hours.
Business relationship disclosure: Business Relationship Disclosure: The article has been written by the Hedge and Mutual Fund Analyst at GuruFundPicks.com. GuruFundPicks.com is not receiving compensation for it (other than from Seeking Alpha). GuruFundPicks.com has no business relationship with any company whose stock is mentioned in this article.