I'll likely be dragged through the streets if I am wrong, but I do not think I am.
I believe Sirius XM (NASDAQ:SIRI) has, along with the rest of the market, hit a short-term bottom. A quick glance at Sirius XM's chart followed by a chart of the SPDR S&P 500 Trust (NYSEARCA:SPY) shows with crystal clarity how Sirius XM's moves have, by and large, mimicked the market's.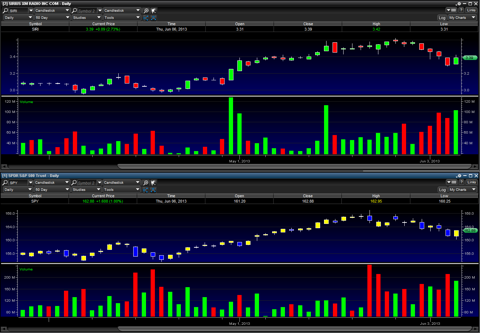 One can argue all they wish that the overall market has not weighed upon Sirius XM as it has on nearly every other security out there, but the fact of the matter is that a great many individual stock charts out there look the exact same way.
For those chasing ghosts and trying desperately to find a fundamental reason as to "why" Sirius XM decreased in share price over the last few days, and disingenuously blaming it on Apple's (NASDAQ:AAPL) "rumored" plans to unveil what people are calling iRadio, I ask a simple question.
If the recent drop was due to rumors surrounding Apple, then why did the stock rebound today? Why the heavy buying volume? Why the $85 million in cash flow pouring into Sirius XM?
Don't waste too much time on those questions, though. The answer was given:
And even better, I have given advice time and again to buy the 50-day moving average. This time is no different.

What else bounced the 50-day moving average? None other than the good old SPDR S&P 500 Trust.

And I expect if the market reacts favorably to Friday's non-farm payroll data that it will be game on to re-test highs. The trick here? It's all about expectations surrounding the Fed's QE. It will likely have nothing at all to do with the actual data released, but rather the expectations on whether or not QE will begin to taper based on the numbers.
If the numbers are exceptional? I'd expect the market to suffer and Sirius XM right along with it due to expectations that QE will begin to ease sooner rather than later.
If the numbers are "OK?" That's best. QE should continue and the market will reward that.
Conversely, if the numbers are exceptionally poor and surprise greatly to the downside, it could give people the jitters and send the market into a deeper correction.
Basically, you want the news to be boring. Mediocre numbers should be the greatest blessing for the overall market and should allow Sirius XM to, at the very least, re-test that $3.625 intraday high. I still believe $3.75 to be in the cards by the end of June, though with the recent dip I have learned my lesson on trying to nail the exact day it will happen.
Investors should look at this sharp dip as a blessing from the overall market. It's a gift from Uncle Ben, to you, as it was his words of eventual tapering that started this "mess." Buy Sirius XM here as part of your long-term strategy, and hold.
As Sirius XM continues with its $2 billion buyback plan, and as auto sales continue to show steady improvement, boosting Sirius XM's base of trial and eventually paying subscribers, the stock should continue to outperform the indexes. This is not a one or two-week play. This is not a one or two-month play. As with most things, good things come to those who wait. When you have a strong fundamental story such as the one Sirius XM exhibits, you will need to exhibit patience personally from start to finish.
That means riding in the rough sometimes. That means buying those dips.
Be wary of the overall market and understand how its behavior can and will drag on your investments, including Sirius XM. And while I would not suggest turning a blind eye to potential competition by Apple, Google (NASDAQ:GOOG) and Pandora (NYSE:P), I'd argue that these things are not immediate threats, and that for the short term, Sirius XM has found a bottom.
Disclosure: I am long SIRI. I wrote this article myself, and it expresses my own opinions. I am not receiving compensation for it (other than from Seeking Alpha). I have no business relationship with any company whose stock is mentioned in this article.
Additional disclosure: I am long SIRI January $2, $2.50 and $3 calls.