Market Recap/Outlook:
The market lost and then came back in a strong way, reacting positively to start the day with initial jobless claims coming in just under expectations along with continuing jobless claims. Additionally, the market got better news from Challenger Job Cuts that came in at -40%, which is another positive for job growth. Yet positive for job growth means negative for QE because if the Fed is more confident about the economy, they might start to taper QE. That sort of crossroads for the market may account for such a negative reaction to positive data. The key for the market is Nonfarm Payrolls tomorrow. If NFP is good, it may suggest that the Fed will taper QE sooner than expected. If NFP is bad, it may suggest QE can last a bit longer. Either way, though, the seed has been planted fora tapering of QE. Therefore, it is likely better for the market to get a solid NFP and get any correction from a QE pullback out of the way. Additionally, we will get the market reacting to Consumer Credit and Hourly Earnings. Credit is expected to rise month-over-month from $10B from $8B in March. Hourly Earnings are expected to rise 0.2%. A rise in both shows a more confident and richer consumer, which is definitely a positive. No matter what happens, it could be a weak day for the market overall. Yet a very positive report could help the market gain some confidence about our economy as the past couple weeks may have priced in QE disappointment to a certain point.
The Dow Jones (NYSEARCA:DIA) increased 80 points, while the S&P 500 (NYSEARCA:SPY) increased 14 points.
Stocks To Trade:
Today, we are looking at positions in Pfizer (NYSE:PFE), VeriFone Systems (NYSE:PAY), and US Airways (LCC).
Over the past couple of weeks, we have seen significant downside in Pfizer due to a number of headline developments that are causing risk to shares. What we would like to do today is take a look at the developments and break down if they are issues that can create longstanding problems for PFE, or if the company's recent downside has created value that is attractive for buying. First, let's discuss what's developed:
- Pfizer Announced Plans to Spin Off Zoetis:
Zoetis was the animal health division of PFE, and the company announced intentions to split off its remaining interest of Zoetis by allowing investors to transfer PFE shares to ZTS shares at whatever rate they would like. The spinoff will bring total shares outstanding of PFE down. Since the transfer is voluntary, it is impossible to know how many shares of ZTS Pfizer will still own. The company still could have a controlling interest if not enough shares are transferred. At this point, PFE has 400M shares of ZTS stock. The company will sell shares of ZTS for a 7% discount, but they still stand to make substantial money. At a current rate of about $30 per share, the company could make as much as $6B in earnings from this exchange. It is more likely they will sell about 50% and make around $3B. That added value to shareholders is pretty significant. It will subtract around 30M shares from PFE, bringing total shares down to 6.8B. The sale increases earnings as well, working doubly to improve EPS. Future earnings are expected to improve by about 8% year/year including the sale of stock, and future PE has now come down to 12, which shows a lot of value for PFE.
- Pressure from Obama's Health Reform Bill
According to Reuters, prices could be coming down for PFE's drugs as generic rivals gain on them and the bill will bring more scrutiny on drugs, causing prices to drop. Here are notes from the Reuters article:
Companies like Pfizer Inc and AstraZeneca have grown dependent on higher U.S. prices to generate profits as generic rivals to their best-selling medicines enter the world market, Europe's government-run health plans clamp down on spending and sales growth in emerging markets stutters.

Now President Barack Obama's health reform law will bring more scrutiny of spending on drugs and medical care in the United States. As a result, healthcare experts say, downward pressure on drug prices will begin to mount within three to five years.

That not only presents a risk to the robust profits generated by the industry, but could influence the amount of money companies chose to invest to develop innovative medicines.

Drugmakers' reliance on the U.S. market "is the greatest risk to the sector," said Rajiv Kaul, portfolio manager of Fidelity Investments Select Biotechnology Portfolio. "Healthcare pricing is going to get tougher. It would be foolhardy to think otherwise."
This issue is very large for PFE, and it may end up being quite negative for the company moving forward. Pfizer needs higher prices to maintain its stature, and if those prices cannot be maintained, we could see less innovation from Pfizer as well as fewer profits. Yet PFE has seen a bump up in net margins and gross margins over the past two years. Those gains could be coming to an end, though. Is this priced in? With a future PE at 12 and price/sales at 3.5, the company is not overly cheap if margins stay compressed. We tend to look for less than 2.0 for price/sales for value.
Right now, we see that the ZTS deal looks exciting for PFE in the near team, but the long term remains questionable for the company. If the company cannot maintain high prices in the U.S., it is likely to see substantial margin compression. That compression is still being developed, and we have not seen any signs of it yet. Therefore, we believe that the recent value drop in shares is attractive and should be bought. Still, investors should be cautious and watch for margin compression moving forward. At the first sign of this, it may be time to rethink large profit pharmaceuticals.
Position: Long, PFE
Entry: Over $28
Exit: $30, $32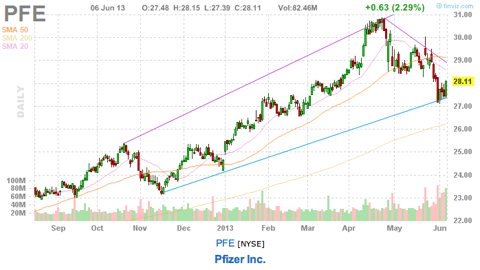 Today was not a good for VeriFone investors as the stock plummeted on its recent earnings report. As we noted in our weekly outlook, the company has not done well in the past couple of years on earnings reports. Today's drop occurred after PAY missed earnings expectations and guided below expectations. The company reported EPS at 0.42 versus 0.47 expectations. The company reported revenues at $430M versus $440M expectations. The real issue, though, came from the company's forward guidance. The company reported that they expect Q3 EPS at 0.20 versus consensus expectations of 0.50. Why the big cut for PAY?
The company is facing delays in global markets due to a canceled distribution plan in the Middle East and lack of new product launches in Europe, Brazil, and Canada. The real problem, though, for PAY is rising competition that is appealing to new businesses such as the success of Square, PayPal's pay stations, and Bank of America's terminal stations. The economic moat for PAY is fairly weak because the similar business models are replicable, and PayPal and Square have done a much better job of implementing easier to use options that have lower overhead. Square, for example, has a 2.75% per transaction cost. There are no hidden fees. PayPal's terminal has a 2.7% fee. VeriFone has much lower fees per transaction, but they charge maintenance costs for their large terminals. They are appealing to larger companies that benefit from a lower fee and do not mind high monthly costs. At the same time, some larger companies are converting to the other model. Starbucks has introduced Square Wallet to customers to allow them to use their phones to pay, and they also allow you to fill a virtual card with PayPal Mobile to use at Starbucks as well. If this trend continues, more and more companies are going to be using terminals less. The future of terminals seems bleak to us, and PAY may be a company that becomes outdated the same way cash registers have become outdated. It's the natural evolution of payment solutions.
The company is not executing well in addition to seeing headwinds, which is a red flag to us. At the same time, VeriFone is still nearly $2B in revenue, and the company should see a strong cycle in the 2H of 2013 and 1H of 2014 as new products come online. The company believes mobile payments are unprofitable, but mobile is the future. Terminals are going to continue to be important in large retailers and in developing markets that have less mobile access, but growth in the U.S. may be at a standstill. The drop in shares has made PAY a potential buyout candidate, but we believe a lot of question marks remain with shares. We do not recommend going long on the buyout theory, though, as it's just another question mark. We do not recommend shorting shares as value is very low, and today's drop was definitely an overreaction. Existing investors in PAY may want to start considering the long-term fundamental upside in payment terminals. We recommend selling shares if long.
Position: None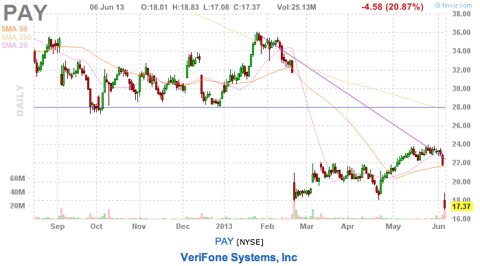 Finally, US Airways announced May traffic yesterday. The company announced that revenue passenger miles were up 6% or 6B miles year/year. Additionally mainline passenger load factor was at 86%, which is up 1.7 points year/year. The results were very solid, and the stock declined due to a Merrill Lynch downgrade that seems to contradict these results as well as a recent IATA global profit outlook increase due to improvement in demand for the company. Global profits are now expected to be at $12.7B for 2013 versus previous expectations of $10.6. Despite these two attractive headlines that have developed, shares have dropped over 5% this month already. To us, that moves make little sense. Profits are razor thin for airlines, and the industry as a whole is unattractive. For those that do want to invest in airlines, though, this pullback is an opportunity. The PE sits at 5.3, which is very low. While that value is very low, the company's price/FCF is over 100, which shows a truer indicator of the value for LCC.
Demand for airlines is coming back. Oil prices have remained in check. Can the May results be sustained? Results in April and March were very promising as well. Airline investors should not expect vast growth in profits, but growth in demand creates upside. Expectations are for LCC to see revenue growth of around 4% this year, but a 3% drop next year. Revenue is expected to slow due to higher comps, but we believe that a rebound in Europe, continued growth in the U.S., and some new initiatives make continued growth in 2014 attractive. First off, business in Europe is starting to show some green shoots. Recent data from Europe has been improving, and if that can be sustained, air traffic demand will really start to see a pick up. Some other new initiatives look attractive as well, mostly the merger with American Airlines. Here are Trefis' comments on the merger:
US Airways also announced its merger with American Airlines during the quarter. When complete, the merged entity will surpass United Airlines (NYSE:UAL) to become the largest airline in the world. Currently, both US Airways and American Airlines are completing the merger regulatory process, which among other things requires approval from US Airways' shareholders.

We believe that this merger is in the long-term interest of US Airways due to the following major reasons. First, the merger will reduce the impact of price competition from low-cost carriers like Southwest and JetBlue on US Airways through the addition of American's vast international operations. (See US Airways' Merger With American Helps Mitigate The Impact Of Low Cost Carrier). Second, the merger will bring enhanced growth opportunities on U.S.-Latin American and U.S.-Asia-Pacific routes through American's greater presence in these markets. And third, American will provide US Airways a much larger share of the lucrative U.S.-London travel market through its significant presence at the Heathrow Airport in London.
The most appealing near-term catalyst, though, may be oil prices coming down. If QE tapers, the dollar increases in value, which hurts oil prices. Yet does QE tapering hurt business growth? Not at the same rate. We believe that LCC may be a great play for a QE taper, especially after this recent decline that seems completely unwarranted.
Position: LCC, Long
Entry: Over $17
Targets: $18, $19.50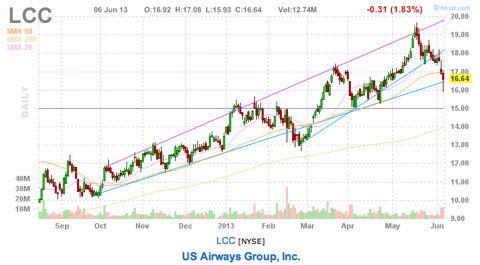 Charts courtesy of finviz.com
Disclosure: I have no positions in any stocks mentioned, and no plans to initiate any positions within the next 72 hours.
Business relationship disclosure: The Oxen Group is a team of analysts. This article was written by David Ristau, one of our writers. We did not receive compensation for this article (other than from Seeking Alpha), and we have no business relationship with any company whose stock is mentioned in this article.