On Tuesday, we received a variety of information about Amazon's (NASDAQ:AMZN) expansion into different product lines. The company is looking to expand its AmazonFresh same-day grocery delivery service and could enter as many as 40 markets this year. Additionally, the firm entered into the highest streaming content contract ever, purchasing the rights to stream over 4,000 episodes of Viacom (NYSE:VIA) TV shows. Let's dig into the details.
AmazonFresh
For years, people have speculated that the end-game for Amazon was to build so many warehouses that it could effectively offer same-day shipping on any product and compete with brick-and-mortar shops on the basis of time. Thus, the expansion of AmazonFresh comes as little surprise.
The service has been in testing in Seattle for a few years, and it offers the delivery of fresh foods as well as prepared meals from restaurants. Grocery delivery is no new concept; in fact, Buffett and Sons' Grocers in Omaha, Nebraska was delivering groceries to customer back when Warren was a young lad. Peapod, Webvan (now part of Amazon), and FreshDirect have all helped pioneer the grocery delivery renaissance of the dotcom era, with varying degrees of success. Still, no existing service grabbed huge share in the grocery business.
We think the tide could turn. Let's not forget, AmazonFresh will compete with the likes of Whole Foods (WFM), Kroger (NYSE:KR), and Safeway (NYSE:SWY), but also the cheaper options like Wal-Mart (NYSE:WMT) and Costco (NASDAQ:COST). If there's any company with a cost structure flexible enough to run on razor-thin margins, it is Amazon. With Amazon, it isn't unreasonable to believe the company may even lose money on the endeavor if it believes it can dominate the market over the long term.
Further, unlike the early competitors in the grocery delivery space, Amazon has the warehouse infrastructure to support same and next-day delivery, on top of delivery of existing Amazon products that wouldn't be found at some grocery outlets (books, electronics, etc.)--not to mention that the company has an enormous membership base to which it can blast emails about the service at practically no cost. Generating awareness about the service wouldn't be a problem at all, in our view, and we think Amazon gains instant credibility with several millions of consumers.
In several urban markets where grocery shopping can be an "adventure" like San Francisco, New York, and Chicago, AmazonFresh could readily replace the shopping experience. Knowing the firm's history, we assume it would be able to cover ample product lines in order to appeal to the most people.
However, this expansion isn't without risks. As we stated earlier, the grocery business has been around for a long time, and perhaps the market for it simply isn't that big. Services like Peapod have fairly strong recognition, yet it has not bankrupted competitors. We think people may enjoy the shopping process, or perhaps there is some level of distrust for the service. Regardless, online grocery shopping isn't a huge hit-yet.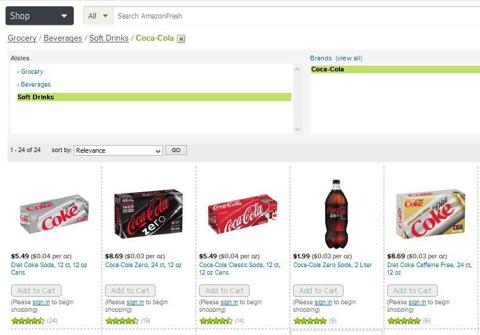 Image Source: AmazonFresh
Additionally, we question whether or not vendors will want to give Amazon favorable terms for its products. Currently, the grocery retail business is cutthroat, with Wal-Mart, Target (NYSE:TGT), the traditional grocery stores, and smaller companies like Trader Joe's all fighting for consumer dollars. This fragmentation works out well for big suppliers with negotiating power like Campbell Soup (NYSE:CPB) and Coca-Cola (NYSE:KO). Assuming suppliers (correctly) fear that Amazon could end up dominating the grocery market, we're not sure suppliers would be on board, especially if it meant a transfer of power to Amazon.
Overall, we feel that an entry into the grocery market was a natural evolution for Amazon as it continues to expand its warehouse and distribution network. We believe the company has an excellent chance to be the first blockbuster success in the grocery delivery business, but we think it is no guarantee.
Content Battles
There's little doubt at the moment that Netflix (NASDAQ:NFLX) is king of the video streaming space. As Valuentum subscribers are well aware of, the company simply isn't generating robust free cash flow, so it cannot house all of the content it would like to-especially with the likes of Hulu and Amazon joining in on the bidding wars.
Amazon's move to gain exclusive rights to Viacom's children's programming is a distinctly offensive move showing that the company is very serious about turning its streaming product into a legitimate rival for Netflix. Since Amazon Prime already has a large amount of programming for adults, consumers may be attracted to move to the service if it has the content their children want. Or, we could see consumers simply subscribe to both services; a relatively likely outcome, in our view, unless Amazon begins to charge more for its instant streaming.
The broader implication of the situation is that content wars are intensifying. Verizon (NYSE:VZ) recently agreed to pay $1 billion over the next four years for exclusive NFL mobile streaming. We think this will result in value-destructive behavior for shareholders of Netflix and Amazon, but it will certainly benefit those who own the content, like Viacom, Disney (NYSE:DIS), and CBS (NYSE:CBS).
While we're not particularly positive on Amazon's move, we believe the firm's streaming costs could be lower than peers' since Amazon develops its own cloud infrastructure. Even though Amazon isn't that profitable (yet), it still has a war chest capable of bidding up content costs to acquire exclusive deals. We think it could begin to price Netflix out of the market, but Netflix CEO Reed Hastings has done a remarkable job of keeping his firm nimble. We never bet against Amazon, but Netflix will be a worthy foe.
The Valuentum Take
Taking a look at both the content and grocery business expansion, we think it's valid to worry that Amazon is going in too many directions. The grocery business could be an expensive battle, and the war for content can also escalate quickly. Let's not forget Amazon is not a highly-profitable entity at this time, so over-expansion remains a real risk. Still, we think the company's future looks bright, but we think shares are fairly valued at this time. We're not anxious to put money to work in the company.
Disclosure: I have no positions in any stocks mentioned, and no plans to initiate any positions within the next 72 hours. I wrote this article myself, and it expresses my own opinions. I am not receiving compensation for it (other than from Seeking Alpha). I have no business relationship with any company whose stock is mentioned in this article.